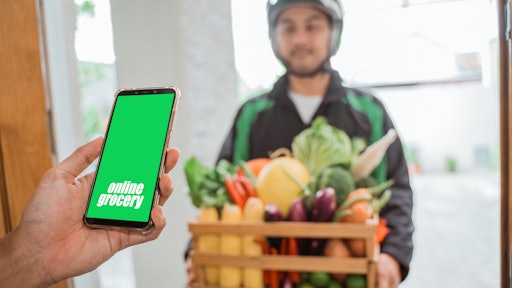 AdobeStock_346469883
The logistics network strains being felt around the world have reached a level of prominence and consumer awareness of the global supply chain that the industry hasn't experienced before. There are very few times in recent history when consumers have been more aware of product shortages, supply disruptions and extended delivery times – all while demand for certain products like food has skyrocketed and others have sharply declined, like restaurant orders.
The good news is that there has never been a higher available level of supply chain visibility than there is today. Technology solutions throughout the manufacturing, shipping and final-mile journey make products and freight more trackable today than ever before. However, not all transportation and logistics companies have adopted these visibility solutions that consumers have now come to expect for their final-mile home deliveries, and it can create disappointment and frustration – or even dissuade consumers from purchasing from a certain company again.
Here's a look at how consumer expectations are driving final-mile trends and the technology evolution.
Driver-to-consumer workflow
Today, consumers expect to have a certain level of visibility into and control over not only the status of their packages, but also where they are delivered (such as in a certain area around their home or to a locker for pickup), the time of day the delivery occurs and more.
This heightened degree of consumer control over shipments may not be available to all people from all carriers on all platforms, but the broader knowledge that it is available to some consumers on some platforms and via some carriers, drives expectations across the board, setting a new standard for final-mile delivery. This mismatch between expectation and reality often drives end-consumer dissatisfaction with final mile deliveries.
Take, for example, 70% of consumers who say they have a bad delivery experience from a supplier hesitate to use them again. This fact alone raises the standard for last-mile carriers to ensure their supplier customers are happy and that their delivery options are not negatively affecting sales.
As a result, the industry is seeing a rise in need for a driver-to-consumer workflow in order to provide the most accurate ETAs for packages, as well as giving the consumer control over certain aspects of the delivery, like being able to provide a gate code so a delivery can be made in a specific location, or re-routing a food delivery so that it can arrive during non-peak restaurant hours.
Shippers and carriers who don't currently have this functionality may not realize they are creating a point of friction with their customers, which could be impacting their bottom line.
Just-in-time to just-in-case
In recent history, just-in-time (JIT) delivery models rose in popularity, becoming the norm for many shippers. The appeal of this model is understandable: the supply chain itself functions as the "warehouse" for goods, eliminating the need to stockpile inventory. However, the JIT approach only works when the supply chain is functioning perfectly and when demand for products is consistent.
The past two years have demonstrated just how unpredictable consumer demand can be and have been a true case study in the effect that just one area of the supply chain can have on the entire world.
Now, the supplier that wins the sale is often the one that has the product closest to the customer – or who can get it there fastest. This has resulted in the growth of the just-in-case (JIC) model, where shippers are holding increased inventory levels. But, that doesn't come without its challenges, either -- with available warehouse space at historic lows, suppliers are investing in innovative new infrastructure and solutions, such as distribution centers operating out of retail spaces, pick-up lockers, curbside pickup and more.
The bad news is that the end speed of delivery for the consumer does not necessarily result in efficiency gains or a faster supply chain – it's more or less table stakes now to deliver as fast as possible. However, the main point is that supply chains need to be balanced in order to be reliable, between consumer flexibility and speed – one cannot outweigh the other.
There will continue to be short-term growing pains as the supply chain figures out how to balance these needs, but technology has amazing potential to drive all parties forward with driver-to-consumer workflows and robust visibility solutions.
Cloud enables experimentation
One thing all carriers and shippers should consider is what it will cost them to not evolve with the changing supply chain technology landscape. It is hugely important for shippers and carriers to be ready to accommodate new changes that come up in the future as supply chains continue to evolve, but what's exciting is the speed at which new technologies are unfolding and being created.
The blunt reality of today's supply chain environment is that none of the solutions designed to help optimize operations or overcome obstacles like transportation management systems, visibility and advanced route optimization solutions, drone or robot deliveries and more would be possible without the cloud. Traditionally, transportation and logistics organizations have been very cost-conscious, with high levels of concern regarding the upfront capital expense of implementing new technology.
However, some of the biggest benefits of cloud-based solutions are that they do not require a large development cost for staff or their time, and they are typically priced on a subscription model, eliminating the costly upfront investment. This allows for greater experimentation with new solutions, without taking a massive risk – operations teams can and should be empowered to try new things that have great potential to create new efficiencies and increase customer satisfaction.
With so many final-mile technology solutions available on the market today, there has never been a better time to be a forward-thinking, innovative supply chain logistics professional. There are many opportunities to delight customers and boost the bottom line, and the options for doing so are plentiful. The current supply chain crunch is a headache for many, but it is also a perfect time for innovation to flourish and to set the new standard for the future of final-mile delivery.
Click here to hear more about the cloud in the supply chain: