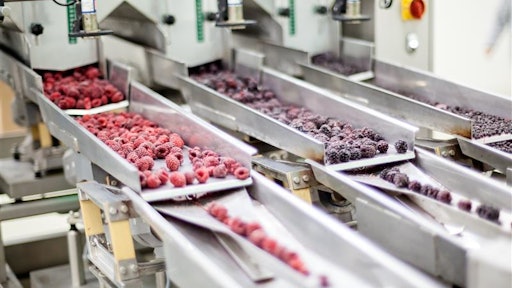 vladimirnenezic
Compac has overhauled its Multi Lane Sorter from the ground up to futureproof packhouses. The new platform is designed to meet and exceed the industry's evolving requirements driven by a tightening of food safety legislation and ever-increasing grading complexity. The complete overhaul of the TOMRA 5S Advanced has benefited from Compac's access to TOMRA's design resources, global manufacturing footprint and supply chain. The result is a professional and precision engineered product that for the first time is being released under the TOMRA 5 Series brand, signifying the quality engineering from TOMRA and Compac that has gone into the product.
The TOMRA 5S Advanced builds on the strengths of Compac's already industry-leading Multi Lane Sorter, with enhancements to throughput, gentlest handling and best reliability. "It innovates in the areas that address current and future modern packing requirements, explains Sebastian Stoof, VP and head of product at Compac. "It facilitates stricter cleaning and sanitization to meet stringent food safety legislation. It delivers consistent reliability throughout longer packing seasons. It helps packhouses with traceability through information sharing within the business and across the supply chain. It ensures our customers will always have access to ongoing developments and innovations. The design, which reflects the premium food safety and hygiene characteristics of the sorter also gives our customers brand value they can leverage when approaching growers and retailers. It is a cost-effective investment all round."
"It is in Compac's DNA to support our customers as both our technology and their business evolve. The TOMRA 5S Advanced is true to this heritage; it has been designed to be an advanced sorting platform that grows with our customer's business," states Ken Moynihan, CEO at Compac. "We gave our engineers the challenge to deliver a step-change in food hygiene and increased efficiency, while improving further on our already excellent food handling and value-for-money proposition. Creating a design to satisfy any of these challenges individually would be easy. You can simply slow a machine down to improve handling or add unhygienic padding to improve gentle handling. There is an old quote from Bontrager, the racing bike wheels manufacturer that says: 'Strong, Light, Low Cost – you can have any two'. The real engineering challenge that we set the team was to deliver improvements across the board. We were not happy with just two, we wanted to reshape the paradigm. The TOMRA 5S Advanced strikes the perfect balance to sort a wide variety of fruit types with exceptional accuracy and industryleading performance. It achieves this whilst improving gentle handling, introducing hygienic design principles and maintaining excellent value." Designed and built for Food Safety Compac has taken a comprehensive approach in overhauling the design of the TOMRA 5S Advanced to enable packhouses to ensure the highest standards of hygiene and food safety. Every single component that comes into contact with the fruit is made of stainless steel or specialized food grade injectionmolded polymers. These materials are specifically engineered for the harsh environments that exist within a packhouse. They are resistant to juice and other corrosive elements, as well as the chemicals used in the cleaning process.
The true measure of hygienic design is the ease of accessibility for cleaning and sanitization, as Sebastian Stoof explains: "Any machine can be deemed to be hygienic, but if it takes a full engineering team to disassemble and access the areas that need to be cleaned, then is it truly fit for purpose? That is why a key design principle of the new platform was to make it as quick and easy to clean and maintain the sorter as possible."
The new design simplifies the process, facilitating more frequent and thorough cleaning and sanitization, and improves machine up-time. Surfaces that contact fruit are engineered for quick release, enabling fast and toolless removal. For example, regular tasks such as removing and cleaning cross belts typically takes hours, and requires skilled mechanical staff and specialized tools. The TOMRA 5S Advanced, with its revolutionary Food Trust design, now offers cross belts that take just 5 to 10 minutes to clean and replace. This option means that this operation can be carried out more regularly, and it can be done by the cleaning, rather than the technical crew.
Built-in reliability
"At Compac we understand that if a customer's machine is not running, they are not making money. Our sorters have a well-established reputation for both reliability and longevity, and the TOMRA 5S Advanced builds on this," states Sebastian Stoof.
All the materials have been specifically chosen and tested for compatibility to ensure that they stand up to the harsh environments within a packhouse. The electrical backbone has been completely redesigned to further enhance reliability and futureproof the design. New innovations build upon the old design to make the industry's most reliable fruit sorter even better.
The solenoids have been completely overhauled with a new Food Trust soft tipping design for even more gentle delivery of fruit. The new waterproof, free draining design, means that it can be sprayed Press release and cleaned in place as well as out of place. To enhance reliability the housing has been designed so that fruit juice does not accumulate and stick on the trigger – a feature that is particularly valuable when processing produce varieties and batches with high occurrences of over-ripe or degraded fruit. The Food Trust solenoid loom has a higher durability than the original design. The Sizer Software has a new functionality for automatic fault detection of each individual solenoid to enable immediate fixes when required. The combination of new features delivers better hygiene, and improved fruit handling, efficiency and reliability.
Reliability goes hand in hand with regular maintenance. Well documented, simpler equipment design that allows for easy cleaning and maintenance procedures makes it much easier to ensure that the customer's investment is in peak performance condition throughout its lifespan.
Traceability from bin to pack
The TOMRA 5S Advanced has been designed to connect and integrate with the packhouse's systems and become the digital heart of the facility. It is digitally enabled to connect to Cloud data platforms such as TOMRA Insight, providing access to valuable operational data and statistics wherever the customer is at any time, for better data driven decision making. It also enables the flow of information up and down the supply chain, and helps the packhouse to open a pathway to deliver traceability from bin to pack.
The connectivity features of the TOMRA 5S Advanced are consistent with the approach to food safety that is being adopted in various countries, such as the New Era of Smarter Food Safety Blueprint of the Food and Drugs Administration in the USA. The aim is to leverage technology to enhance traceability, improve predictive analytics, develop smarter tools for prevention and outbreak response, reduce contamination of food and foster the development of stronger food safety cultures.
A safe environment for maximum productivity
TOMRA 5S Advanced incorporates the latest in machine safety to provide a safe environment for the packhouse staff to work productively. The guarding design at the front, drive and mid-sections has been redesigned to exceed international standards and facilitate access to the machine for easy inspection, cleaning and sanitization. A new cleaning mode ensures safe operation during cleaning.
Fruit handling gentler than ever
The new removable Food Trust chutes, sweeps and backstops of the TOMRA 5S Advanced take gentle handling to a new level with the optimized geometry designed to dampen and decelerate the fruit without the need for any unhygienic padding. The new soft tipping solenoid improves upon Compac's dual-side tipping. This functionality prevents fruit collision in the chute and helps to make the TOMRA 5S Advanced the industry's gentlest handling fruit sorter.
Traditional designs add padding to aid gentle handling but, padding is hard to clean and can degrade over time, producing a bacteria-harboring environment. The TOMRA 5S Advanced is different: it has been designed from the ground up using optimized engineering geometry, rather than padding, to Press release deliver both superior hygiene and gentle handling characteristics.
More value for the investment
A sorting platform is a significant investment for a packhouse; it is the heart of the operation driving profitability over its lifespan. Compac's philosophy is to 'never leave a customer behind'. It has the industry's largest R&D capability and has continuously innovated, bringing new technology and capability to the market. Wherever technically possible this has been made available to implement on older platforms, ensuring that customers are always benefiting from the latest grading technologies available throughout the products' entire life cycle. The TOMRA 5S Advanced is no exception and is a platform that will continue to grow and evolve with the customers' business. Customers also benefit from TOMRA's global service and partner network, which ensures that spare parts and support are always nearby for maximum uptime and efficiency.
The easy access and cleaning, which can be done without tools by cleaning staff, mean that mechanics can be redeployed to other tasks. It has also dramatically reduced cleaning time by 75% compared to the previous generation sorter, increasing the machine's availability. In addition, the greater frequency of cleaning and maintenance helps ensure the machine's optimum performance and up-time throughout the ever-extending packing seasons. It all adds up to lower total cost of ownership and higher productivity, making the TOMRA 5S Advanced extremely cost-effective investment for the packhouse.
Brand value for the packhouse
In response to demand from the customers, Compac has also looked at the design language of the TOMRA 5S Advanced to reflect the high food trust and hygiene value of the machine. This provides the packhouse with a tangible proof of its commitment to ensuring food safety and protecting the consumer. It enables them to leverage their investment to establish market leadership when approaching prospective growers and retailers, strengthening their negotiating position.
Field tested industry-leading performance
The TOMRA 5S Advanced is the outcome of a major product development program spanning several years. In its final phases, it has undergone a large-scale testing program to evaluate the new components against a wide variety of failure modes – including mechanical wear and tear, and resistance to common cleaning chemicals. Testing has also covered new functionalities such as the use of impact recording device data to improve fruit handling. All the innovations and developments have been validated on site for every commodity to ensure optimized produce handling and reliability.
"Since it was previewed at the Fruit Logistica Berlin show, the TOMRA 5S Advanced has attracted phenomenal interest," concludes Ken Moynihan. "The innovation and value that it represents sets it apart as the most advanced fruit sorter in the industry. There is a significant demand for such a machine: we have already quoted for more than 40 projects adding up to over 200 lanes across our global customer base. At Compac we are proud of our reputation for performance, gentle handling reliability Press release and longevity, and we are confident that the TOMRA 5S Advanced will continue to build on this legacy. Simply put, the TOMRA 5S Advanced will become the engine that drives the world's most profitable fruit packing operations."