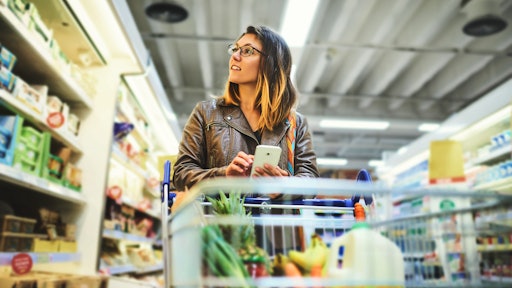 Getty Images
Datalogic announced a partnership with Re-vision, a Dutch provider of self-scanning software solutions. This strategic alliance is meant to combine the versatility of the Joya Touch A6 mobile computer with Re-vision's software capabilities for self-scanning applications.
The Joya Touch A6 is the ideal companion for self-shopping: among all the features, its ruggedness and wireless charging technology make it a natural choice over consumer devices. It allows frictionless checkout featuring ergonomic design, ease of use, and an advanced platform for software solutions. Re-vision leverages this platform with its modular My-Scan platform, offering a tailored and end-to-end shopping solution. The excellence of this market leader's software suite permits Re-Vision to further extend their footprint supporting the Datalogic device worldwide in offering a unique customer experience.
"Re-Vision is convinced that this strategic partnership will convert business and offer a completely new angle to the concept of self-scanning. This best-of-breed combination of software and hardware brings self-scanning to a broader market, providing a holistic solution to our retail customers on a global scale", says Michael Sabrkhany, VP Global Sales at Re-Vision. "We are delighted to work with Datalogic as one of the leaders in self-scanning hardware, to deliver this pivotal improvement."
"This relationship unites Datalogic's self-scanning device, the Joya Touch A6, which has revolutionized shoppers' experience worldwide, minimizing checkout times while allowing greater personalization, with Re-Vision's advanced self-scanning solutions. Datalogic's unmatched experience and technological prowess paired with Re-Vision software will equip retailers with ideal ways to tackle future challenges," says Andrea Lamotta, ISV Manager EMEA at Datalogic.