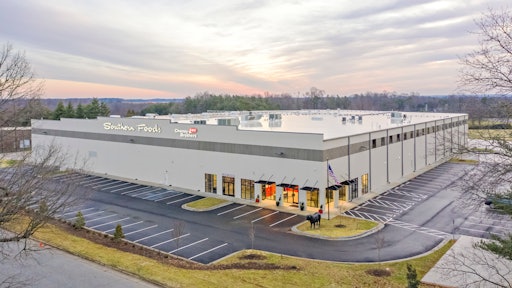 A M King has completed renovation of an 88,000 sf facility that houses Southern Foods' meat, seafood and cheese processing operations. The new building allows the 66-year old company to operate in a larger, more modern space, handle greater volumes, and save money in repairs and maintenance, thereby bringing even more competitive pricing to its marketplaces.
Southern Foods, a Cheney Brothers, Inc. (CBI) affiliate, started in 1954 as a home-delivery service for meat in the Greensboro area and became one of the first companies in the country licensed to sell Certified Angus Beef.  In 2016, CBI, a Southeast-based broadline food distributor, purchased the flourishing Greensboro company and began upgrading processing and procedures. Today Southern Foods is a full-service premium meats, seafood, artisanal cheese and global specialty goods supplier that performs custom processing and ships throughout North Carolina, South Carolina, Virginia, Tennessee and Georgia.
"It has been many years since anyone has built a full meat, seafood and specialty grocery center of this size and scope from the ground up in North Carolina," says Bill Mutton, president of Southern Foods. "My excitement is unmeasurable as we move forward into a new facility that will enable us to expand our offerings, to both our growing customer base, as well as the public, with our cash and carry outlet. The new building will also facilitate prolonged long-term growth and provide our employees with opportunities for advancement."
"The new facility in Greensboro was designed to handle the food processing in a very safe and clean environment," said Warren Newell, Cheney Brothers' Director of Development. "With today's highly regulated food industry, we are extremely pleased to be able to showcase this modern facility to our present and new customers. Every time a restaurant owner or chef comes by to take a tour, they cannot stop providing accolades."
The new processing facility began as a vacant shell building, and A M King decided to use everything possible—including the roof and the walls—recycle what couldn't be used and build what was necessary to meet the Owner's needs. A M King's design team finalized permitting and satisfied two different building code requirements; focused on how to minimally modify the structure while supporting complex processes; and developed a plan for efficiently incorporating sizeable operations into a smaller, but more streamlined, facility.
The complexity of this project is evident in the design and construction of the expansive food processing area. The distinctive beef aging room provides prime cuts of beef aged for each of Southern Foods' customers' specialized requirements. It is fitted with high-tech temperature and humidity controls and large viewing windows that emphasize the dynamic nature of the meat curing process. The facility also features a fish processing area; a cheese processing room; the largest culinary center CBI has developed to date, which is named after CBI's CEO Byron Russell; and express purchasing for the general public that stocks Certified Angus Beef, Ashe County Cheese and many varieties of fish, among many other items. In addition, the scope of work included dry storage, an office mezzanine and freezers, as well as coolers and loading docks.
 "We are thrilled to have now successfully completed two projects for Cheney Brothers and look forward to continuing to build a great partnership with the company," says A M King Vice President Dan Crist.
In April 2019 the Design-Builder completed a 169,090 sf cold storage expansion for CBI in Statesville, NC, bringing the total square footage at that facility to 265,000 sf. The project features a state-of-the-art penthouse refrigeration system zoned to support numerous temperature zones in the expansion area; conversion of a 37,388 sf existing cold storage space to ambient temperature storage and renovation of a 34,686 sf existing dry warehouse.
"This owner-builder relationship has been bonded by a dedicated and experienced staff at A M King who can handle the difficult projects like this Southern Foods' processing facility," concludes CBI's Newell. "We look forward to many more projects forthcoming as Cheney Brothers and Southern Foods continue their growth across the Southeast United States."