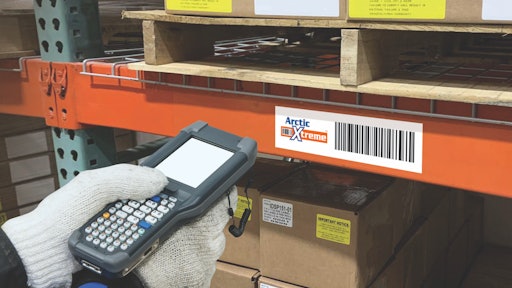 ID Label
Labeling is an important step in the food manufacturing and shipping process but does not get as much attention as some other aspects of the supply chain. Add in the factor of the extreme cold temperatures in a cold chain warehouse or a reefer truck and those that deal with the labeling parts of the process have quite a bit to keep in mind.
For starters, regulation and safety is top of mind when it comes to labeling in food, with regards to both the packaging label of the product as well as the back-end identification labels for storage and logistics purposes. Because consumers directly ingest these products, influencing consumers' health, the cold food sector is more regulated than most.
"New technology, government regulations and shifting consumer demands for more choice, convenience, healthy ingredients and transparency are making cold chains – and all food supply chains – increasingly complex," says Maggie Allen, senior account executive at Loftware. "This is especially true when it comes to labeling.
"Unfortunately, label design and creation are often relegated to a background operation, and many businesses are still using dated and disparate systems. This leads to a plethora of problems, many of which can be disastrous to a brand, and worse, life threatening to consumers," she adds.
Allen explains that modern technology is an important part in keeping up in this industry. Cloud-based labeling software that integrates directly with leading enterprise resource planning (ERP) and manufacturing execution systems (MES) applications allows for more agile pivots and changes to stay on top of fast changes regarding regulation. Disparate systems with siloed, on-premises-only solutions can cause lost time, money and productivity.
Even adhesives gain modern innovation
Beyond regulation, those working in cold storage need to consider the actual adhesive of the label to hold up in extreme cold environments. Extra steps and the right labels need to be used to ensure performance. Ensuring accurate storage labeling that holds up in the cold helps productivity and the safety of the product. There are also many other factors to consider in a cold warehouse other than just the temperature.
"There are several environmental factors that affect warehouse freezer label performance," says Malcolm Aitken, VP of sales at ID Label Inc. "This includes the installation conditions, facility temperature and the adhesives and materials used. Standard do-it-yourself barcode labels are not likely to perform reliably in a cold storage facility. Conventional adhesives will harden in the frigid environment and the labels are likely to peel and fall from their rack beams in short order.
"You also must understand the type of surface on which the location labels will be applied to find the best solution. Many adhesives bond well with painted metal, powder coatings, plastics and other surfaces. For upright racks with 'teardrop' holes, magnetic labels are highly recommended," Aitken says.
"For maximum adhesive bond strength, surfaces should be clean and dry, free of moisture and frost. If there is frost build-up on poor-quality labels, mobile devices won't be able to scan them accurately. With workers who are probably wearing bulky gloves, being forced to manually enter data due to failed scans is particularly inconvenient and time consuming. And there is greater opportunity for costly mistakes due to human error," he adds.
ID Label recommends a four-step process to install warehouse freezer location labels such as acclimate the labels in the cooler/freezer for 24 hours; apply labels to a clean, dry surface; press firmly to apply and then allow 48 hours for bonding.
For the facility labeling side, label materials and adhesives progressed dramatically in the last few years, moving from general all-purpose adhesives and paper face sheets for everything to customer solutions for specific applications and environments. The cold storage industry's growth in popularity throughout the past few years pushes managers to make more focused decisions, even when it comes to the right adhesive in labeling.
Additionally, newer warehouse management systems (WMS) and other technologies rely on new forms of barcode labeling and signage, as the entire business landscapes adopts a more mobile approach to hardware. The mobile imagers of today are more sophisticated than their predecessors, says Aitken, allowing the ability to scan from longer ranges with increased scan read rates. This means that labels can include greater capabilities like two-dimensional barcodes, which can store thousands of characters of information through vertical and horizontal data encoding.
Other new technologies enable direct printing on production and packaging lines through coding and marking devices that can print on any surface, according to Allen.
"But what's important to note is that there is significant momentum in this area due to the recent advancement of technologies and the availability of integrated solutions to support these devices," she adds. "Traditionally these devices have been driven as closed systems with manual entry or purpose-built software for single devices. This, of course, can lead to mislabeling and delays in switching lines over, along with a lack of consistency with multiple different approaches."
The growth of technology and consumer demand affects so much of the supply chain today, even the adhesive and labeling technologies see a modern makeover. The more efficient these processes and technologies allow in operation, the stronger the supply chain will become.