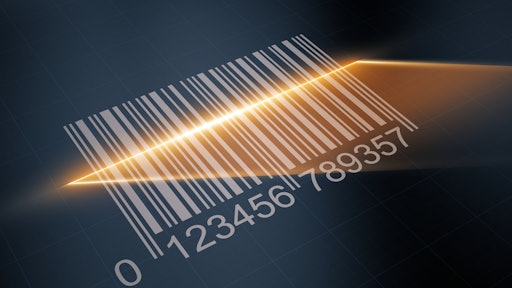 AdobeStock_122333079
Digital transformation is revolutionizing the way supply chains function. Modernization and streamlined technologies are enabling stronger business models and quicker delivery mechanisms.
In fact, 80% of warehouse executives plan to invest in new technology in order to stay competitive. By adopting mobile solutions like barcoding software, supply chains can not only enhance the customer experience, but also improve their bottom line.
Here are five benefits for putting mobile barcoding to work for your organization.
1. Mobile inventory solutions create efficiency
Inefficiencies are a key component when it comes to draining the bottom line. Utilizing manual processes to track things like inventory leads to lack of real-time visibility, inefficient labor utilization, inventory shrink, issues with shipping and more.
Digital inventory solutions like mobile barcoding, however, have a 99.9% accuracy rate or higher. These solutions allow you to automate processes and traceability, all while increasing operational agility.
Inventory heavy businesses should introduce mobile barcoding solutions into their operations as soon as possible, especially given the current supply chain crisis. The right technology will be crucial to helping alleviate some of the issues caused by supply chain shortages and trends.
Through automating your data and inventory needs, you can increase productivity, efficiency and visibility, all while lowering overhead costs. Specifically, mobile barcoding allows you to:
● Gain end-to-end inventory tracking throughout the supply chain lifecycle
● Solve inventory visibility challenges
● Adjust for fluctuating demand or vendor issues
● Shift production quickly
● Meet the need for faster, more transparent shipping
2. Mobile barcoding ties into mission-critical business systems, giving a holistic view of your operation
Critical to your digitally optimized warehouse is the integration of barcode scanners and mobile solutions with mobile barcode software. This critical link provides direct integration and interaction with enterprise resource planning (ERP) systems.
Mobile barcoding connects to the ERP through:
● A barcode system that automates data collection.
● Enterprise mobility that extends the reach of the ERP.
● Mobile inventory software for efficiency of tracking and documentation.
With mobile barcoding software, you'll have live, two-way communication with core business systems at any time. After all, system availability is a necessity for operations, even in a remote warehouse environment. A trusted mobile barcoding vendor can help address field mobility and offline and online connection issues, so you'll never suffer from a dropped network connection.
3. Digitally agile organizations attract and retain workforce
Labor issues have recently wreaked havoc on supply chain organizations. Companies are facing a lack of talent needed to keep their business operating at optimal capacity. In fact, 60% of warehouse executives state that labor recruitment and labor efficiency are top challenges. Yet many still plan to expand and add additional facilities in the face of workforce shortages.
Further, inefficient labor utilization costs 3,000 extra hours per year, the equivalent of 8 hours per day. Couple that with manual processes and many organizations end up wasting far more labor productivity than they realize.
By utilizing mobile barcoding solutions, warehouses can streamline productivity and enhance accuracy, doing more with less staff.
Not only does mobile barcoding enhance efficiency with current workforce, but it can also serve as a differentiator when it comes to new employees. Digitally savvy new hires expect technology that enhances the way they work (and provides safety should issues arise). After all, why work harder for the same wages when you can start at another company that utilizes intuitive mobile technology to supplement work?
Accomplishing more in less time leads to higher job satisfaction and potential longevity. And the longer workers stay, the less you have to invest in onboarding, training and recruitment costs.
4. Mobile data collection increases cash flow
Accurate, real-time information leads to increased quality, speed and cash flow. If you're collecting data via a manual or paper process, you're inevitably weeks or months behind, leading to lost revenue and inefficient processes.
Mobile barcoding and automation technology give organizations an efficiency boost. A sound supply chain strategy, coupled with mobile software solutions enables organizations and their warehouses to rapidly shift production, accommodate for changes and streamline the process from warehouse to delivery.
Mobile barcoding also solves the inflexibility of data collection through a paper process. It equips employees to use barcode scanners and mobile devices, moving inventory wherever they are and updating critical business systems like ERP in real time. Plus, mobile applications that link to mobile barcoding software allow for offline mobile data collection, so you'll never be without up-to-date information.
5. Mobile barcoding enhances the customer experience
The Amazon Effect has led to a cry for order accuracy, faster delivery and transparent processes. Coupled with the increase in online ordering, supply chain companies need a modernized approach in order to survive. This is needed more than ever due to the present supply chain crisis.
Digital warehouse operations and mobile barcoding removes bottlenecks in receiving, ensures inventory levels are accurate and does away with problematic picking. These high-efficiency processes can help protect and bolster your organization in times of unpredictability, like supply chain shortages.
From the time a product comes to the warehouse floor to when it's shipped out, the digitization of your operation allows for increased visibility. Mobile barcoding virtually eliminates the delay when a new product arrives and when it is input into your system. Further, employees in the warehouse can trust inventory levels are correct, leading to fewer double and triple checks prior to shipping. This accuracy also leads to fewer returns or chargebacks.
In addition, mobile barcoding software and applications can improve security throughout your supply chain and protect your most valuable assets. The right partner will make security a top priority and have a proactive plan for both your security and theirs. Increased efficiency is nothing without a robust security plan to protect the valuable information at your fingertips.