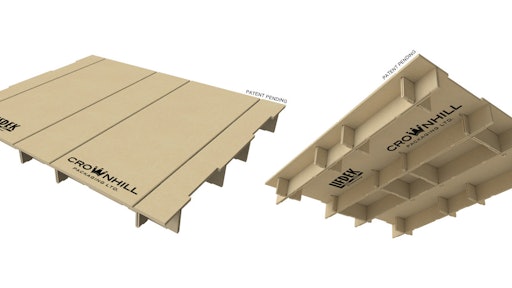 Crownhill
Crownhill Packaging is launching an innovative packaging solution that brings a safe, sustainable wood pallet alternative to the market.
In order to bring cost efficiency and sustainability, Crownhill has partnered and entered a patent license agreement with Lifdek to launch the most efficient corrugated pallet technology in the marketplace.
Lifdek's patented pallet designs offer a safe alternative to wood and plastic pallets and easily handle most pallet shipments in North America, consisting primarily of fast-moving consumables of less than 900 pounds per pallet. The company's pallets weigh less than eight pounds on average, compared to as much as 60 pounds for some block style pallets, equating to massive savings for air freight applications billed by the pound.
"It's time customers optimize their pallets to their pallet loads, rather than forcing their load configuration to accommodate today's standard pallet dimensions. Eliminating just two inches of empty space on a pallet dimension would add enough room for four additional pallets of product in a fully cubed 53' trailer; that's an 8% reduction in freight costs and emissions," says Joseph Danko, President of Lifdek Corporation.
The pallets can be designed specifically for optimum load configuration of a customer's products as they consist simply of two die-cut blanks that can be assembled on-site in less than 30 seconds without glue.
"Canada is the second-largest landmass in the world and is focusing on implementing strong environmental legislation through Canada's Federal Sustainable Development Act. Lifdek's corrugated pallet technology reduces the carbon footprint across the entire supply chain. We are pleased to be working with Lifdek to analyze, locate and quantify total cost advantages and sustainability metrics within the supply chain for customers searching for a safe, sustainable wood or plastic pallet alternative," said Ken Wong, Vice President of Crownhill Packaging.
Utilizing Crownhill's existing infrastructure of corrugators, Lifdek pallet blanks can be die-cut and shipped KDF (flat) in local proximity to customers, reducing inbound pallet freight costs and emissions by up to 75%. Lifdek pallets are received by customers and recycled with other used corrugated containers, eliminating reverse logistics costs and emissions for empty wood pallet loads.