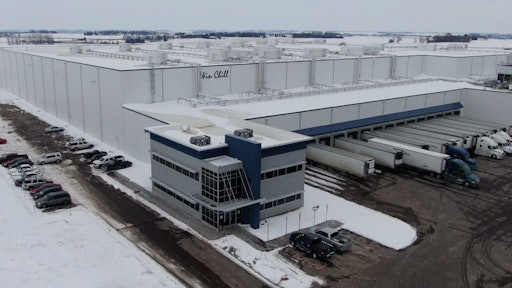 Win Chill Cold Storage
Win Chill Cold Storage has completed the second phase of its latest 330,000 square foot cold storage distribution center in Sioux Falls, South Dakota. The distribution center will have capacity to hold over 54,500 pallet positions and will store frozen protein products, servicing food manufacturers in a 200 mile radius.
"The first 205,000 square foot warehouse was only open for a year and our customers approached us needing more space. For phase two we added an additional 125,000 square feet of freezer storage," says Jeff Davis, president at Win Chill Cold Storage.
Over 100 jobs will be added to the area and will be part of national trade lanes as they can move high volumes of frozen products throughout the U.S. The facility acts as a geographical hub of logistics activities as it sits on the intersection of I-90 and I-29, servicing the BNSF Railway.
The warehouse contains 25 drive-through dock doors and 5 rail doors. It exemplifies a food distribution center characterized by low transportation costs and high transportation service level.