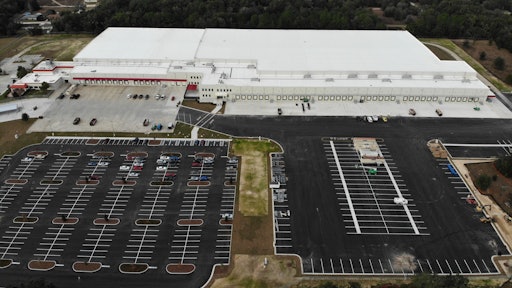 McLane
McLane Company has opened a new grocery distribution center in Ocala, Florida. The 400,000 square foot facility will house 165,000 square feet of dry grocery, nearly 200,000 square feet of perishables and 35,000 square feet of office and support space. The first shipment arrived on February 4, 2019 and deliveries will begin on March 17, 2019.
The center will create over 400 new jobs in the area, and by the end of the year McLane plans to onboard 316 warehouse and support teammaes and 120 drivers and transportation support teammates. Driver hiring began in October of 2018 in effort to allow drivers to become acclimated with McLane's customers and the delivery process in general. The recruiting team held a three-day job fair in January at the facility and nearly 600 candidates were interviewed, resulting in 233 job offers.
The Ocala location will be the sixth distribution center in Florida and will service the quickly-expanding customer base in the North Florida region. Construction Management Technology (CMT), the general contractor for the project, oversaw the renovations and devlopment.
"We are thrilled to open our new facility in Ocala where the business community is welcoming and open to growth," says Michelle Chesnutt, division president of McLane Ocala. "The values and work ethic of the prospective workforce is an ideal fit with McLane's culture. McLane Ocala continues our company's core initiative to drive customer results."