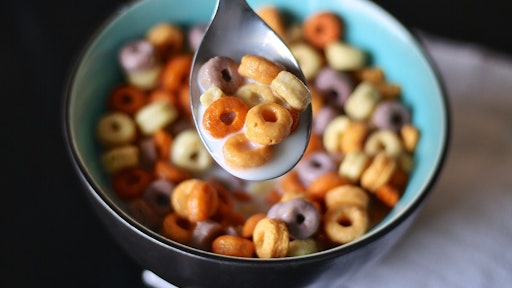 Sales of General Mills' cereal and snacks wavered in its most recent quarter as the company failed to off enough discounts and end-of-aisle promotions to hit targets, the Star Tribune reports.
The food manufacturer has continued to struggle in the North American retail segment , which accounts for more than 60 percent of its revenue. Still, the company continues to aim for growth and make its presence known among U.S. consumers.
As food trends change and gain attention among consumers, pricing and promotions for traditional products remains tricky. General Mills' most popular cereals, such as Trix and Lucky Charms, produced solid quarterly sales. However, the company's promotional display sales dropped 7 percent, the Star Tribune reports.
By increasing promotions mid-quarter, the company started to see sales improve in November. At the end of the quarter ending Nov. 25, sales were down just 3 percent, with cereal and snacks down 5 and 4 percent.
Its snack business is seeing two divergent trend lines, the Star Tribune reports. International snack bar sales are up 39 percent for the first half of the year, while U.S. snack bars were down 5 percent.
During the summer, executives told investors that it was looking to sell brands that weren't performing as well or outside of its focus areas.
To read the full original article, please click here.