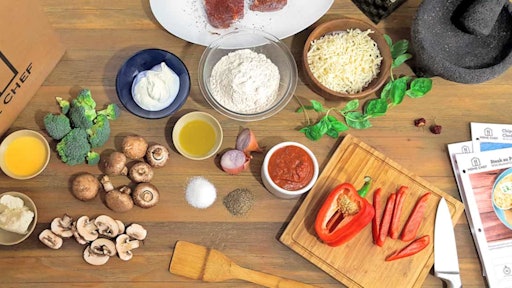 Kroger Co., the largest supermarket chain in the United States, has acquired meal kit company for $200 million. The pending merger, which the grocer says will enhance its ship-to-home and subscription capabilities, comes on the heels of Home Chef's reported 150 percent growth in 2017 and $250 million in revenue.
"Customers want convenience, simplicity and a personalized food experience. Bringing Home Chef's innovative and exciting products and services to Kroger's customers will help make meal planning even easier and mealtime more delicious," says Yael Cosset, Kroger's chief digital officer. 
The deal, which is expected to close in about a month, includes future "earn-out" payments of up to $500 million over five years, contingent on achieveing milestones such as meal kit sales growth.
Home Chef's offerings will be available to Kroger shoppers both in stores and online and complement the supermarket's own twist on the meal kit market, Prep+Pared, which is currently available in more than 525 stores.
Of the merger, Pat Vihtelic, Home Chef's founder and CEO, acknowledges, the meal kit company has "long believed that the future of our industry is omni-channel and bigger than just meal kits sold online.
"We want to be where our customers are and...Kroger's expansive retail footprint will allow us to serve millions of more customers across the country with simple, convenient and enjoyable meal solutions," he adds. 
Cosset adds that Home Chef's combination of culinary expertise and a customer data driven decision making process is in line with Kroger's visions "to serve America through food inspiration and uplift by providing meal solutions for every lifestyle. 
"As one of the fastest growing meal kit companies in the country, Home Chef is poised for even more explosive growth," says Cosset. "We admire their focus on the customer, culture of collaboration, dynamic experimentation, and demonstrated financial success."
After the deal closes, Home Chef will operate as a subsidiary of Kroger Co., maintain its e-commerce business on homechef.com, and assume responsibility for Kroger's meal solutions portfolio. The company will also continue to operate its offices and facilities.