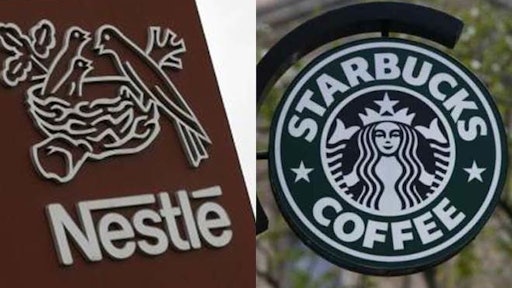 Nestle has invested $7.15 billion for the rights to market Starbucks products, ranging from beans to capsules. This is the third largest transactions in Nestle's 152-year history.
However, Nestle won't get any physical assets in the deal, according to Bloomberg. The company is banking on name recognition to drawn in crowds.
Nestle has struggled for the last few years. Sales rose at the slowest pace in more than 20 years in 2017. By partnering with Starbucks, the company is revealing the limits to growing with Nescafe and Nespresso.
Starbucks shares rose less than 1 percent in New York trading, Bloomberg reports. The company will use the deal with Nestle to accelerate stock buybacks.
Nestle has been struggling to gain market share in the coffee industry, given the dominance of Starbucks and Green Mountain. The new deal will give the company control of Starbucks capsules which has dented Nestle's shares in the past.
The swiss-company has lagged behind its competitors for some time now, with JAB Holdings Co. being one of its largest competitors.
Starbucks will remain in the K-cup pod business and other goods with JAB's Keurig is in talks with them. According to Bloomberg, Nestle will take over 500 Starbucks employees who will remain based in Seattle.
Starbucks will be in charge of North American sales while Nestle will be in charge for the rest of the world. Sales will be booked by the company and it will pay royalities to the coffee chain. The company expects to see profits from the deal by 2021.
To read the full original article, please click here.
Companies in this article