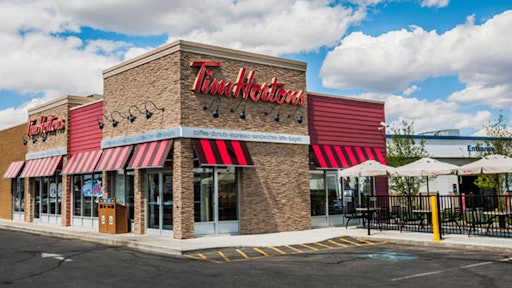 Canada-based Tim Hortons has suspended franchisee shipments on items from of Ontario-based warehouse and has suggested to try and source some of the products from Walmart until the problem is solved.
Currently 45 items are temporarily unavailable and ranging from packages of the company's branded coffee and single-serve pods, soda, bottled water, teas and garbage bags.
Tim Hortons owners are legally required to buy hundreds of such items directly from the head office, not through a third-party retailer or supply company.
Recently, the brand has dipped in consumer surveys and its head office is facing internal mutiny from a franchisee group suing management for alleged infractions, including improper using of national advertising and inflating the costs of goods that franchisees are required to buy from. Items used in monthly promotions, a brownie and a wrap used for sandwiches, were allegedly unavailable from a supplier in Western Canada. Franchisee are worried that they could run out of stock of menu items.
The federal government said it would investigate allegations that Tim Hortons had breached promises it made under the Investment Canada Act when 3G Capital bought Tim Hortons in 2014. Promises included maintaining franchisee relationships, rent and royalty structures and existing employment levels at franchisdes across Canada for five years.
Tim Hortons has apologized to restaurant owners for any inconvenience related to the distribution delays. A statement issued from the company said the unavailable items are "non-essential to restaurant operations" and has redistributed items that Western Canada did not have.
Ontario franchisees are still worried about losing sales, however. Items like gloves and trash bags can be bought at Walmart, but the coffee and teas can't.
At this time, Tim Hortons has not disclosed what has led to the delay in distribution.
To read the full original article, please click here.