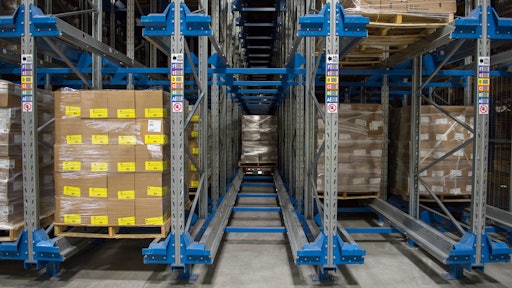 Merchandise Warehouse, a logistics provider of multi-temperature warehouse services, hasn't stopped growing since its beginning as a 50,000-square-foot dry warehouse. An industry-wide shortage of cold storage facilities led the company to invest in cooler and freezer rooms in 1959, and now today the third-generation, family-owned warehouse has increased its facility size by eight times, with more than 400,000-square-feet of cooler and freezer space.
Consumer Demand Fuels Continued Cold Storage Growth
Yet while the company continued to excel, for years they relied on common warehouse operations. Traditional pallet racking was working, and as the old saying goes, "if it isn't broke, don't fix it." However, continued growth was already pushing Merchandise Warehouse to its limit. The facility was busting at its seams with product, and the company's customers were demanding even more room.
That growth, along with Merchandise Warehouse's more aggressive pursuit of the latest technologies, presented the perfect opportunity to act on the company's motto: "Take it to the next level."
The Warehouse As A Competitive Advantage
"We're always trying to be bigger, faster and stronger, and are looking for the latest and greatest tools that will help us achieve that," says Seth Hamman, warehouse manager at Merchandise Warehouse. "When we were facing even more rapid growth, we saw it as an opportunity to find and implement those latest solutions that were revolutionary in the industry."
Next Level, Efficient Solutions
Merchandise Warehouse knew what it needed: practical and affordable solutions that would help them be more efficient for their customers. The company started their search with who they knew and trusted: Raymond and Associated, an authorized Raymond Sales and Service Center.
"Associated and Raymond have always been leaders in the industry, so we knew we could trust them with this project," explains Scott Whiting, vice president and general manager at Merchandising Warehouse. "Plus, we have a lot of loyal Raymond fans in our warehouse, so we already had a great foundation for getting our team on board with new technologies."
Merchandise Warehouse worked with Associated to assess the current operations and technologies and determine the best options for upgrading. They landed on high-density, deep lane racking and a pallet shuttle system from Raymond called Radioshuttle, which are both especially suited for cold storage.
Radioshuttle allows additional capacity and pallet positions, while also helping store and pick product faster with its pallet shuttle system. It's efficient, yet has fewer opportunities for product damage on account of fewer touches required to move product. While Radioshuttle moves pallets through racking, the operator—typically using a reach truck—is free to do other work.
The Rise of High-Tech Cold Storage

Most importantly, Radioshuttle allowed for maximum storage utilization. By using the full height of the warehouse and high-density, deep lane racking, Merchandise Warehouse could better fill the facility with product.
The reduction in product touches was furthered with the integration of three conveyor systems: one moves product from the blast freezer through a de-spacing operation on to staging for lift truck put-away in the RadioShuttle system, and two others take product from the RadioShuttle storage freezer and stage it for truck loading.
Efficient Solutions with Immediate Results
The collaboration between Merchandise Warehouse, Associated and Raymond didn't just work—it thrived.
"The companies worked together through the entire process, and in doing so, we were able to optimize our entire warehouse," says Whiting. "We started seeing results faster than we even expected. We were seeing results in the first two months after implementing Radioshuttle and the racking."
Merchandise Warehouse added more than 14,000 more pallet positions with the new solutions, and in doing so, was able to keep staffing levels the same. "Overall, the warehouse was more efficient—44 percent more efficient," says Whiting. "What used to take seven man-hours to move product through the warehouse now takes about four. And what used to take 12 touches from receiving to shipping now only takes six. Fewer required touches means less opportunity for product damage."
The Warehouse Manager's Handbook
Outside of the storage, Merchandise Warehouse was also able to update its spacer removal process, cutting the time in half. Removing spacers from pallets used to take four hours, but now only takes two.
"Four or five years ago, I was dreaming of this kind of process improvement and upgrade. I was scribbling this stuff on napkins," says Hamman. "It's remarkable to see it come to life with the help of Radioshuttle and the new racking. We couldn't have asked for a better experience or results."
Companies in this article