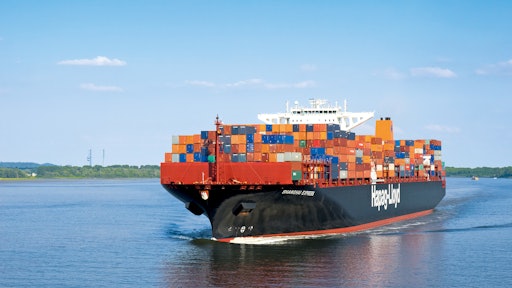 The eight container carriers left out of the two major alliances, the 2M and Ocean Alliance, could team up under a single arrangement that would represent a serious counterweight on the East-West corridors, according to Alphaliner.
The companies at stake are Hapag-Lloyd, Hanjin, Hyundai Merchant Marine (HMM), MOL, NYK, 'K' Line, Yang Ming, and UASC, along with Hamburg Sud which has a series of agreements with UASC.
Alphaliner said that the carriers are currently in talks on reorganization of their current alliances which could see the emergence of what it dubbed as a "third force" alliance.
The talks are a response to the formation of the Ocean Alliance made up of CMA CGM, COSCO Container Lines, Evergreen Line and OOCL, leaving CKYHE Alliance and G6 without some of its key members. Furthermore, CMA CGM's acquisition of NOL, member of G6 alliance is also conditioned upon NOL's exit from the G6 shipping alliance, which has been already committed by NOL and CMA CGM.
The announcement on potential third alliance is line with Drewry's predictions that by mid-2017, there will be only three main global alliances comprising at the most 13 carriers (following one or more mergers, one or more takeovers and a possible carrier failure) and replacing the current four alliances- CKYHE Alliance, Ocean Three, G6 and 2M.
The argument is supported by Hapag-Lloyd (G6) confirmation that it was in talks with UASC (Ocean Three for now) about a potential merger of container businesses.
As a result, were all eight of the orphan lines to join together into a third alliance, they would be a match for 2M and OCEAN in both Asia-North Europe and Transpacific. However, Drewry believes it unlikely that all eight will agree to a new integrated alliance, because they have very varied interests and HMM in particular has serious financial problems.
Conclusively, a more likely scenario could see formation of a looser, smaller alliance while others will switch to service-by-service VSAs with the two main alliances.
To read more, click here.