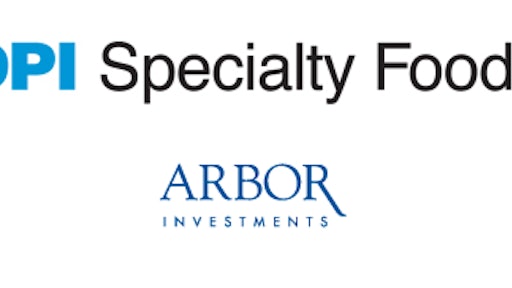 Arbor Investments has completed the acquisition of a majority equity stake in Ontario, California-based DPI Specialty Foods, Inc. from Dublin, Ireland-based Ornua Co-Operative Limited. With approximately 1,800 employees and annual revenues in excess of $1 billion, DPI is one of the largest specialty food distributors in the U.S. The company sells gourmet, ethnic, organic and better-for-you foods to national, regional and independent retailers, quick service restaurants and foodservice operators through eight distribution centers across the U.S. Ornua will retain a minority equity interest in the company and DPI's existing senior management will continue to lead the organization.
"DPI has an impressive thirty-year record of profitably driving customer sales growth through individualized programs that combine best-in-class product selection, logistics and merchandising with a highly-focused and flexible service model," said Alan Weed of Arbor Investments. "With a diverse network of national and international vendors, DPI has the pulse of specialty food trends, particularly in the dynamic gourmet, perishable, specialty, natural, organic, local and ethnic foods categories that retail customers and discriminating consumers demand."
Russ Blake, DPI's president and CEO, commented, "A unique specialty food product offering is the lifeblood of successful grocers. DPI's service-centric model, providing a full suite of individually-tailored solutions, sets us apart from our competitors. Arbor understands our value proposition and is a hand-in-glove fit with our Company. We are enthusiastic about unlocking DPI's potential."
"The specialty food distribution sector presents a great investment opportunity," added Arbor CEO Gregory Purcell. "Retail grocery America is crying out for an alternative distribution model to stop, drop and run. Increasingly, retailers and foodservice operators are realizing the value of partnering with a distribution service provider like DPI who can provide geographic scale, individualized customer service and deep merchandising services. Going forward, we expect to deploy Arbor's resources, capital and over 20 years of acquisition expertise to acquire family-owned specialty distributors to augment DPI's strong foundation and further enhance its already formidable standing in the specialty food distribution industry."
"The sale of DPI is consistent with Ornua's strategy of reallocating capital and assets to support our continuing investments in enhanced routes to market for Irish dairy products through our businesses across global markets," commented John Jordan, Ornua Foods CEO Europe and Latin America. "As we evaluated potential acquirers, Arbor and its exclusive focus and stellar reputation in the food and beverage industry stood out. We believe that Arbor is the optimal equity partner to drive continued growth at DPI."
About Arbor Investments, founded in 1999 and headquartered in Chicago, Ill., Arbor Investments is a specialized private equity firm that focuses exclusively on acquiring premier companies in the food, beverage and related industries. The firm has acquired or invested in over 44 food, beverage and related companies in North America.
Winston & Strawn LLP served as Arbor's legal counsel in connection with the transaction.