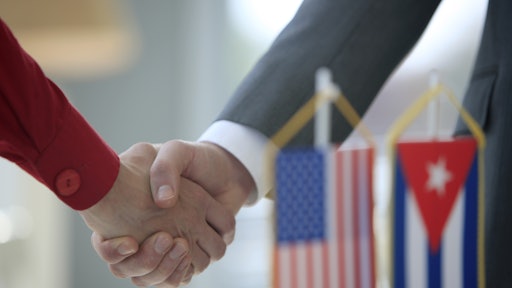 For the first time in over 60 years, an American company has been granted permission to establish a physical presence on Cuban soil, according to The Tampa Bay Business Journal. Tampa-based Florida Produce of Hillsborough County Inc. has been granted a license, which permits the firm to open a warehouse facility in Cuba. The facility is designed to enable trade between U.S.-based companies and Cuba.
Florida Produce President Mike Mauricio, his partner, Manuel Fernandez, and his legal counsel, Tim Hunt with Hill Ward Henderson, met in Washington, D.C. with members of the U.S. State Department. The same day, Florida Produce representatives met with Cuban government officials at the Cuban Embassy in Washington.
Florida Produce presented a proposal to establish its warehouse distribution facility in Cuba. The news comes on the heels of revisions announced by U.S. Department of Treasury and the Department of Commerce in September, which expanded upon initial regulations introduced in January 2015. Under the guidelines, firms that fall into one of 12 designated categories will be allowed to establish a physical presence in Cuba, employ Cuban nationals, open and maintain bank accounts in Cuba, and employ U.S. citizens to work in Cuba. The Florida Produce facility is expected to store food, drinking water, liquor, telecommunications equipment, building equipment, restaurant equipment and agricultural equipment. It will also serve as a physical location, which will enable the direct transfer of title and goods once paid, as permitted under the newly expanded guidelines.
To read more, click HERE.