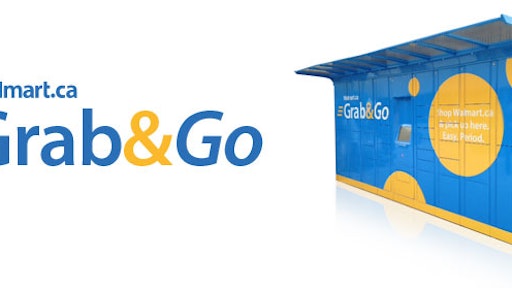 Walmart Canada and 7-Eleven Canada announced a strategic partnership whereby Walmart will place "Grab & Go" lockers in six 7-Eleven stores in the greater Toronto area, according to Supermarket News.
The service provides customers who shop online at Walmart.ca a free shipping option where they can pick up their order at 7-Eleven stores for no cost. The announcement marks the first time in Canada two retailers are teaming up to offer such a service, the companies said: Walmart currently operates 45 lockers at select Walmart stores and other locations in greater Toronto.
"Partnering with 7-Eleven to expand our Grab & Go Locker service was a natural fit. Our goal is simple — we want to provide our customers with an online shopping experience that is easy and convenient," Simon Rodrigue, senior vice president of e-commerce, Walmart Canada. "What better partner to help us achieve this than the world's largest convenience retailer. We know our customers already use 7-Eleven stores in their daily routine. Now they can fuel up their car at their local 7-Eleven and pick up their Walmart.ca order in one easy stop, any day, any time, without paying shipping fees."

To read more, click HERE.