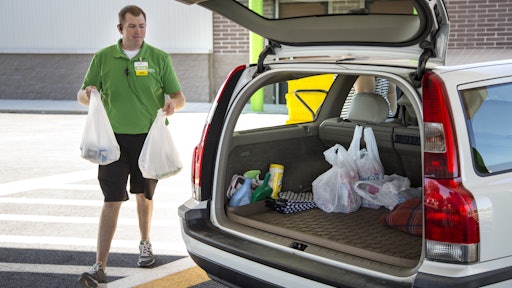 Walmart is expanding its grocery-pickup services to several dozen locations, as it tests shoppers' desire to get their groceries without leaving their cars, according to The Wall Street Journal.
The world's largest retailer by revenue will next week add five additional grocery pickup locations to the parking lots of existing smaller format grocery store-style Neighborhood Markets in Northwest Arkansas. The company already operates one stand-alone pickup location in the area, home to Walmart's headquarters.
The new locations are part of a bigger expansion of the service, said a spokesman for the company. In recent weeks, the retailer has added dozens of grocery-pickup locations to parking lots of Supercenter and Neighborhood Markets around Phoenix, Denver and Huntsville, Ala., the spokesman said.
The service lets a shopper order groceries and other products online then choose a pickup time. Upon reaching the Walmart parking lot, the shopper calls the store and employees bring the food or other merchandise to the car. There is a minimum order amount of $30.
Walmart's growing investment in grocery-pickup locations comes at a time when grocers and other retailers are scrambling to find a way to make grocery delivery or pickup popular and profitable. The logistics of handling fresh, frozen and room-temperature food and delivering to a wide swath of homes for a reasonable price is tricky.
To read more, click HERE.