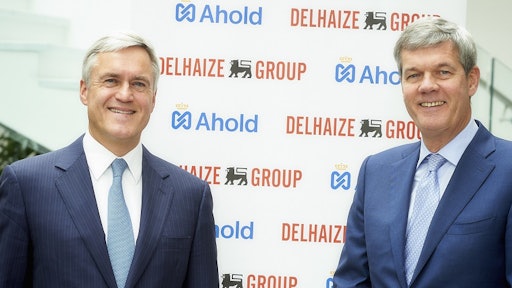 Dutch-owned Delhaize Group – which owns the Food Lion and Hannaford supermarkets in the U.S. – and Belgium-owned Royal Ahold N.V. – which owns Giant Carlisle, Giant Landover, Stop & Shop New England, and Stop & Shop New York Metro and Peapod – have entered into an agreement to merge. The combined company, which will be named Ahold Delhaize, will have a portfolio of brands with more than 375,000 associates serving more than 50 million customers every week in the U.S. and Europe.
The combined company will have enhanced scale across regions, market-leading retail offerings to serve customers' changing needs, and a strong financial profile from which to fund innovation and investments in future growth.
Jan Hommen, chairman of Ahold, and Mats Jansson, chairman of Delhaize, said in a combined statement: "This is a true merger of equals, combining two highly complementary businesses to create a world-leading food retailer. The transaction delivers a compelling value proposition for our shareholders, a superior offering for our customers and attractive opportunities for our associates."
Frans Muller, CEO of Delhaize, said: "We believe that the proposed merger of Ahold and Delhaize will create significant value for all our stakeholders. Supported by our talented and committed associates, Ahold Delhaize aims to increase relevance in its local communities by improving the value proposition for its customers through assortment innovation and merchandising, a better shopping experience both in stores and online, investments in value, and new store growth. We look forward to working closely with the Ahold team to implement a smooth integration process and realize the targeted synergies."
Dick Boer, CEO of Ahold, said: "The proposed merger with Delhaize is an exciting opportunity to create an even stronger and more innovative retail leader for our customers, associates and shareholders worldwide. With extraordinary reach, diverse products and formats, and great people, we are bringing together two world-class organizations to deliver even more for the communities we serve. Our companies share common values, proud histories rooted in family entrepreneurship, and businesses that complement each other well. We look forward to working together to reach new levels of service and success."