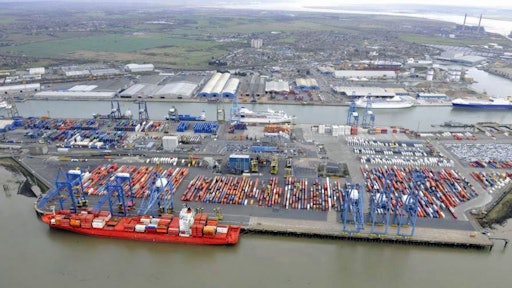 A specialized $29.6 million, state-of-the-art temperature controlled refrigerated distribution center is to be built at London's Port of Tilbury, according to freshfruitportal.com.
The development is between port owners Forth Ports Ltd and Britain's market leader in chilled food distribution, NFT Distribution, and is scheduled to open in late 2015.
The 230,000-square foot building will be located within the port estate adjacent to the London Container Terminal (LCT) which handles more than 500,000 containers every year and is expected to create 500 new jobs.
Forth Ports group chief executive Charles Hammond says this is a significant development to create one of the largest reefer quayside facilities in Europe.
"Being located in London's major port at Tilbury, this new distribution centre will be at the heart of the logistics process and support NTF's goal to ensure a seamless experience for their major customers in the U.K.," he says in a release.
"We are proud to build further on our already well established reputation for the receipt and handling of fresh produce.
"Ports are a key part of an efficient supply chain and with the additional land assets available it makes sense, both financially and from a customer service point of view, for businesses to use the port not only as an import/export service but as a logistics hub."
The distribution center will have capacity for 25,000 pallets and be able to handle 2.5 million cases per week.
NFT chief executive David Frankish says this will be a substantial expansion to the chilled warehousing capacity in the South East of England.
To read more, click HERE.