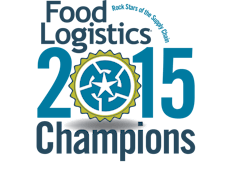 By Editorial Staff
Our inaugural "Food Logistics Champions: Rock Stars of the Supply Chain" award recognizes influential individuals in our industry whose achievements, hard work, vision and leadership have shaped and attained milestones in safety, efficiency, productivity and innovation throughout the global food supply chain. We asked readers to nominate those who exemplify these traits. The magazine's editorial staff reviewed the nominations and selected Champions based on their qualifications for this award.
Tony Anthony, Operations Manager, Jake's Finer Foods
The founder of Jake's Finer Foods, Kervin E. "Jake" Jacob, once said, "Dreams really can come true when your values include commitment, service, and a good day's work." Operations manager Tony Anthony embodies the foodservice company's values, says the co-worker who nominated him as a Food Logistics Champion. "He is a team player who is always looking for ways to innovate our warehouse management systems. Tony leads by example and is a man you can trust. And, he always goes the extra mile to exceed our customers' expectations," he wrote.
Jason Averill, Executive Vice President, Avercast LLC
Jason has been a proponent both in and out of the boardroom for pushing the technological boundaries of what supply chain software can do for the food industry, particularly through end-to-end supply chain collaboration. Many of his current projects involve working with customers to facilitate a common medium of Web-based communication that translates the entire supply chain planning process to all trading partners, i.e. from the retail POS sales data, to the distributor, the manufacturer, the raw materials vendors, and so on). The food industry is unique in that forecasting and planning lives and dies by expiration dates. Jason consistently helps his customers reduce their lead times in this time-sensitive industry, increasing inventory turns and improving overall customer service levels while allowing them to operate on less inventory (typical 25 percent or better reduction on inventory in first 6 months), and facilitate an overall lower supply chain cost that is shared by all trading partners.
Colby A. Beland, Vice President Sales & Marketing, CaseStack
As CaseStack's chief sales and marketing executive, Colby oversees sales and marketing efforts by managing staff and maintaining corporate sales goals and projections for all of logistics services. Over the past four years, he has developed strategies that have exceeded the organization's revenue target by 30 percent. Prior to joining CaseStack, Colby served as Director of Strategic Solutions for ABF Freight System, a national general commodities transportation provider. Previously, he worked as a corporate account executive for FedEx Services and as a sales and project manager for International Packaged Systems. Colby holds a bachelor's degree in transportation and logistics from the University of Arkansas. He was awarded the "NWA Business Journal" Forty Under 40 award in 2013 and currently serves as a board member on the University of Arkansas Supply Chain Management Research Center.
Joey Benadretti, President, SYSPRO USA
In his current role, Joey concentrates on developing ERP software solutions that meet the stringent needs of food and beverage manufacturers and distributors. These solutions include the traceability of all ingredients from supplier to consumer, the necessity of documentation to meet FDA requirements and rules, and the insight to real-time business statistics that enable management to make judicious and effective decision that speed inventory turns and avoid product perishability. Joey is highly regarded in ERP circles for his marketing capabilities, strategic initiatives and thought leadership.
Eric Blackburn, CPG Director, NeoGrid
Identifying and solving critical supply chain challenges is one of Eric's best attributes. During his tenure at the global information and research firm Nielsen, he developed one of the first Custom Trade Geographies for a $16 billion wholesaler. The project provided statistical sampling and modeling for projected retail sales. Eric's advice for companies that are evaluating solutions providers is to explore the smaller, up-and-coming providers as much as large- to mid-sized ones. "In most cases, the size of the marketing and sales team is no indicator of solution capabilities," he says.
Marko Cedilnik, Logistics Director, Mercator Group
Headquartered in Slovenia, Mercator Group is a major player in the fast moving consumer goods sector and one of the largest retailers in the Balkans with over 1,600 stores in seven countries throughout southeastern Europe. Marko is responsible for implementing Mercator's new click and collect service, which is particularly important for many of Slovenia's population living in rural areas. Marko has more than 20 years of experience in the industry and excels in the areas of business process re-engineering and change management.
Ann's 20-year leadership at DSC Logistics follows a business model based on collaborative partnerships, innovative thinking and high performance operations. Under her guidance, DSC has become one of the leading supply chain management firms in the U.S. and one of the top woman-owned businesses in the Chicago area. Ann's vision for future growth is centered around forging strong partnerships with new and existing customers, opening new logistics centers while continually improving operations, broadening the utilization of leading-edge technology and the application of that technology to customers' strategic objectives, and further expansion of DSC's professional services and consulting capabilities. According to Ann, "Now is an exciting, challenging time—the right time—for the supply chain industry. The world is discovering the supply chain—and the discovering the value of partnerships and collaboration."
Don Durm, Director of Strategic Customer Solutions, PLM Trailer Leasing
In order to translate knowledge into actionable advice for the company's customers, Don developed the Food Trailer Needs Analysis (FTNA). The FTNA covers all aspects of the refrigerated trailer operations from loading to final delivery, and Don spends days riding with drivers to observe various conditions in the field, from how the trailer is working to maintaining product integrity and regulatory compliance. He has completed over 1,000 studies, impacting the operations of over 500,000 refrigerated trailers and identifying over $135 million in cost savings. As a law enforcement investigator, Don learned that "you must live in someone's world if you want to understand their world. It is important for me to understand the world of the food distributor's role within the supply chain and learn the impact of the trailer on all aspects of the business. That was the purpose of creating the FTNA."
Elliot Grant, Founder & CTO, HarvestMark
Elliot's technology enabled HarvestMark to become the industry leader in fresh supply chain traceability and analytics. He also invented the Voice Pick Code technology, which was adopted by the Product Traceability Initiative, and now helps millions of cases of perishables flow smoothly through the supply chain. Elliot earned his PhD in Engineering from Cambridge University, and currently holds 23 U.S. patents. "The irony of 'big data' is that its power is in making lots of little decisions that add up. No one says, 'I wish I had tons more data'—what they want is help with the decisions they make every day," he notes.
Jeffrey R. Haushalter, Partner, Chicago Consulting
Jeff has pioneered the development of the firm's Optimal Packaging technology to optimize packaging decisions and minimize supply costs. This technology is applied in dozens of CPG and food supply chains and was a CSCMP Innovation Award finalist in 2008. "Packaging is an overlooked strategic investment in an organization, not a cost element," says Jeff. "Successful packaging decisions need to be made in the context of reducing total supply chain costs. Double-digit savings are a reality in today's inflationary environment."
Louise Hemstead, COO, CROPP Cooperative/Organic Valley
Louise is a native Wisconsinite and graduate of University of Wisconsin – Madison with a degree in agriculture. For the past 22 years, she has dedicated her efforts to developing and overseeing all of operational aspects of CROPP Cooperative's unique farm to table supply chain. Louise provided the mindset and know-how to grow the cooperative from a local $1 million organization based in two counties in western Wisconsin to a national cooperative boasting over $950 million in sales that supports farmers in over 30 states as well as Canada, New Zealand, Great Brittan and Australia.
Don Hsieh, Director of Commercial and Industrial Marketing, Tyco Integrated Security
Don is a commercial industrial business leader and sound advisor who anticipates the need for operational improvement and is a staunch advocate for proactive planning based on actionable business intelligence. Several years ago, Don created a methodology for ensuring successful food defense called the 4As—assess, access, alert and audit. Since then, it has been the cornerstone of Tyco Integrated Security's food defense practice and helps the company monitor more than 5,000 facilities of its food and beverage clients to ensure their food supply chains are secure.
Michael D. Johnson, President & CEO, Elite Transit Solutions (ETS)
After spending three years in a corporate position with a contracted logistics company, Michael quickly found out that he was in an industry beckoning for updates. Relying on his industry experience and supply chain management degree from Auburn University, he created one of the youngest, fastest-growing, solutions-based companies in North America—Elite Transit Solutions (ETS). Michael has a passion for helping others reach their ultimate potential, in and out of the office. He personally mentors all new hires during their beginning months at ETS and pushes them to be the best version of themselves.
Neil Johnson, President & Founder, Highridge Provender LLC
In mid-2014, Neil launched Highridge Provender ("HP"), which has since raised $400 million of capital to acquire food grade buildings, in California's infill industrial markets—a market Neil believes is underserved. He is truly contributing to the growth of California's food logistics network, targeting food warehouses, freezer/cooler buildings, food processing facilities, and/or conditioned warehouse buildings. HP's portfolio currently consists of three properties totaling 360,000-square-feet and over $40 million of gross asset value. HP has several other properties in contract and expects to close on an additional $45 million of property before mid-year 2015. Prior to HP, Neil was an active investor and manager of Industrial, Office, R&D and Retail assets in major U.S. West Coast markets. During his career, he has completed approximately $4 billion in acquisitions and dispositions in nearly 200 transactions.
Charles G. Kiolbasa, Chairman & CEO, Layer Saver
Layer Saver manufactures steel shipping frames that allow shippers to double- or triple-stack product in a truck trailer, rail car or ocean container without damaging the goods, thereby filling the trailer, car or container to capacity and reducing fuel costs and emissions. Charlie's invention addresses the "squish problem" so often encountered in the food transportation sector, which results in damaged product and lost sales for both buyers and sellers. The company sources the steel used to manufacture the Layer Saver from Cleveland, Ohio.
Under Dan's leadership, Westfalia is transforming supply chains through the power of warehouse automation, with many clients within the food and beverage industry. He understands that customer satisfaction and trust are the key ingredients for success in this industry. Dan also knows that in order to deliver high-quality, fresh products, companies in the food and beverage industry must ensure that goods are moving through their warehouse or distribution center with maximum efficiency and traceability. To that end, Dan views Westfalia as a partner, not a vendor, in every project the company undertakes.
Steven LaVoie, Founder and former CEO, ArrowStream
As the story goes, Steven scratched out his idea for an innovative model of logistics collaboration on the back of a napkin in the late nineties. The vision eventually became ArrowStream, the company he founded in 2000. With a team of creative thinkers and real-world pragmatists who were willing to question the status quo, ArrowStream perfected a SaaS solution that helps companies in the food supply chain respond to their network more effectively and drive down costs. Its customer list includes companies such as Ben E. Keith, Jamba Juice, Firehouse Subs, US Foods, Church's Chicken and many more. Steven cared a lot about the people he worked with at ArrowStream. Last June, the company was selected as one of "Chicago's Best and Brightest Companies to Work For" by the National Association for Business Resources (NABR). The award recognizes companies who score high on such things as employee enrichment, compensation and benefits, employee education and development, recruitment, employee achievement and recognition, work-life balance, and community initiatives. It was the third year running that ArrowStream received the NABR's award.
Tim Luberski, President, Hidden Villa Ranch
Tim has grown Hidden Villa Ranch from a small egg-laying chicken ranch in California to one of the most innovative food companies in the U.S. In 1983 and 1984, Tim and Hidden Villa Ranch were recognized by Inc. Magazine as one of the 500 fastest-growing, privately owned companies in the country. Today, the company is a dominant supplier and producer of commodity and cage-free eggs as well as one of the largest egg distributors in the U.S.
Michael Lyle, President & CEO, InfinityQS International, Inc.
More than twenty-five years ago, Michael Lyle sat at a crude desk—a plank of plywood laid atop two file cabinets—in a mobile home writing code with the goal of creating software that would use industrial statistics and Statistical Process Control (SPC) methodology to automate quality data analysis. Today, the code that Michael once wrote fervently on a floppy disk is now ProFicient, InfinityQS' enterprise quality hub, which is powered by a centralized SPC engine. The software is used by over 2,500 global organizations, including many in the food and beverage industry.
Andy Marsh, President & CEO, Plug Power
When Andy joined Plug Power in 2008, the company was a leader in fuel cell technology development, but its target market had not yet been defined. Under his leadership, he guided the company to commercial readiness and success. Today, Plug Power provides over 90 percent of the hydrogen fuel cell power to fleet vehicles in distribution centers and manufacturing facilities—for food logistics organizations, beverage distributors, grocers, big box stores, auto manufacturers and many other companies. As Plug Power's chief advocate, Andy promotes the company and its can-do attitude to customers, employees, suppliers, investors and government partners. He is also working hard to transform the fuel cell landscape on a macro- and micro-scale and participates in a number of industry, technology, clean air, fuel cell and hydrogen supporting organizations in an effort to stimulate a hydrogen economy and positively impact the world.
Paulo Mendes Jr., Dir. of Planning and Supply Chain Strategy, Coca-Cola
With a strong educational background coupled with global operational experience in the supply chain areas of Planning, Procurement, Logistics, Manufacturing, Commercial and Customer Service, Paulo is an expert at global supply chains for one of the largest beverage companies in the world. He authored the book Demand Driven Supply Chain: A Structured and Practical Roadmap to Increase Profitability and co-author of Outsourcing Management for Supply Chain Operations and Logistics. He says, "Demand Driven Supply Chain is the critical capabilities for companies to succeed in the new VUCA (Volatile, Uncertain, Complex and Ambiguous) world."
Prior to co-founding ALAN in 2005, Jock served as chairman of the Terminal Corporation, where he worked for more than 40 years. After witnessing the breakdown of relief efforts in the wake of Hurricane Katrina, Jock organized an effort and engaged supply chain professionals and trade associations to come together to found ALAN. They knew that they could help victims of disaster if they worked together and Jock was a natural fit to lead ALAN.
Following Jock's death in 2013, his brother remarked: "Hundreds of thousands of people have benefited by a much-improved supply chain network that supported FEMA, the American Red Cross and other nongovernment relief organizations and other agencies because of Jock Menzies. His colleagues at ALAN characterized Jock as "a generous giver of his time, always willing to explore an idea or lend an ear to friends and family. He was a gentle spirit, a visionary and inspirational leader. Jock had a passion for bringing people together and was gifted at helping people understand their shared goals."
Drew Merrill, VP and General Manager, CHEP Pallecon Solutions
In a market where manufacturers are often forced to purchase and manage their own containers, Drew saw an opportunity to remove these responsibilities and financial burdens from manufacturers and allow them to focus on their core business. This vision for an asset management business model was a game-changer in the industry. Serving liquid and dry food customers for over 16 years, Drew's business helped countless companies cut costs, eliminate waste and mitigate risk from their supply chains.
Therese E. Myers, CEO, Infratab
The achievements in Terry's career touch a variety of industries. She was one of the inventors of the auto teller for Citibank and led the way in developing the first multitasking desktop office PCs simultaneously with Wang office automation. Terry's contribution to the food chain are smart sensors and software, collectively known as Infratab Freshtime, that track and trace perishable goods using PCs or mobile devices—simply and securely—throughout the supply chain.
Dr. Kakha Nadiradze, Food Safety Expert, TAIEX
Dr. Nadiradze is a food safety expert at TAIEX—the Technical Assistance and Information Exchange instrument managed by the Directorate-General Neighbourhood and Enlargement negotiations of the European Commission. TAIEX supports public administrations with regard to the approximation, application and enforcement of EU legislation as well as facilitating the sharing of EU best practices. He is an author of many analytical publications on the topics of organic farming, sustainable development and climate change. From 1996 to 2000, Dr. Nadiradze served as a leading specialist on the Agrarian Issues Committee at the Parliament of Georgia.
Lee Neal, Director of Transportation Services, M&W Distribution
Lee joined M&W Distribution Services in 2014 and is responsible for all of M&W/Fastway Terminals' transportation operations. His experience in the logistics industry spans more than 30 years, ranging from OTR trucking operations to managing 3PLs in the food industry. Lee's talent is his ability to analyze an operation and determine a way to make it better. He believes that, "If you treat your employees like family, and make sure they enjoy coming to work everyday, the returns on your investment in them are never ending." In addition to his commitment to the industry and his co-workers, Lee serves on the Board of the local youth association, helping kids learn and experience the great game of baseball.
Tom O'Boyle, Director of RFID, Barcoding, Inc.
With the growing emphasis on food safety, RFID (radio frequency identification) technology is proving to be a valuable tool for tracking and tracing food throughout the supply chain. Tom has been at the forefront of RFID technology for more than 15 years, and today is leading the way in Hybrid RFID solutions, which combine the best features of both passive and active RFID to create a unified visibility solution. This technology holds promise for food manufacturers and distributors, as it allows them to track both large, high-value assets (like machinery, equipment, and even sense temperatures), and smaller, high-volume assets (pallets, crates, etc.) within one single system.
Robert Phillips, Vice President, AM-C Warehouses
Robert has led the company toward continuous success since he started as an operations manager in 1996. He developed and institutionalized SSOP and HACCP-compliant organizational processes from the ground up, which he then implemented into the company's policies and procedures manual. Robert's dedication to excellence earned the company the highest score of approval for quality assurance by AIB and FSNS—nationally recognized third-party auditors. Furthermore, his leadership in the industry allowed him to increase the customer base near 50 percent while reducing client turnover to 4 percent since becoming a co-owner in 2009.
Heather Powell, Customer Focus Team Director, SafeSourcing, Inc.
Heather's procurement philosophy and practices reflect her company's values, beginning with proactively supporting customers' safety and environmental standards in the global supply chain. "We hold ourselves and our supply partners to the highest level of honesty and ethical business practices. We take this commitment beyond contractual terms—we expect personal integrity where our words and actions are always in step," she says. Heather is graduating in May 2015 from Wittenberg University with a Bachelors of Arts in Organizational Leadership and plans to start on her Masters in the fall.
Derek Rickard, Distribution Systems Sales Manager, Cimcorp (formerly RMT Robotics)
With more than 15 years of experience in the supply chain industry, Derek works closely with Cimcorp's customers, including those in the food/beverage sector, to develop robotic order fulfillment systems that increase efficiency, accuracy and throughput for warehouses and distribution centers around the world. Derek has worked on some of the warehouse industry's first fully automated robotic picking systems in North America, with some of the largest ones exceeding 1 million cases per week picked by robots.
DeAnne Rodgers, Corporate Logistics Manager, Rudolph Foods Company
Rudolph Foods is an integral supply chain partners for numerous large grocery chains and other well-known brands. DeAnne and the logistics team are always looking for ways to trim logistics costs without compromising the 'customer-first' attitude that makes Rudolph Foods a market leader. Under DeAnne's watch, Rudolph Foods has increased its least-cost carrier compliance to 98 percent—above the benchmark 97 percent compliance rate considered best-in-class in the food industry. She also implemented strategic LTL carrier sourcing programs that kept the company's LTL cost-per-pound ratios at the same levels for four years, despite upward trending LTL costs over this same time period, according to the Producer Price Index.
Steve Sager, President & CEO, ExtenData
In 2005, Steve and his team realized that the current market place lacked a proof of delivery (POD) and direct store delivery (DSD) application that met the needs of the foodservice and distribution companies. After a failed implementation of a third-party software, he decided it was time for ExtenData to evolve. In one year, ExtenData launched MobileConductor. Steve's vision for MobileConductor launched ExtenData into the most exciting chapter of the organization's history. On a more personal note, Steve is a leader and friend to those who work with him. His interpersonal style creates a casual, yet focused environment around the office. Combined with Steve's vision for the food supply chain, it's a winning combination that generates collaboration and innovation throughout the organization.
Paul Sarrapy, Owner, President & CEO, Porteo Group
For over 30 years, Paul's vision and leadership helped position Porteo Group (Grupo Porteo) as one of the top 10 3PLs in Mexico, with global food/beverage companies such as Ferrero Rocher, Nestle and Pepsico among the company's diversified customer base. His innovative supply chain approach and best practices support a streamlined logistics strategy that improves lead-time delivery, inventory control and reverse logistics for the global supply chain. Porteo Group was formed 20 years ago as a result of a merger of three companies located in Monterrey, Guadalajara and Merida. It is the only logistics company in Mexico offering nationwide operational coverage and nationwide consolidated IT solutions. Porteo Group maintains 23 DCs in Mexico and one in Houston, Texas.
Sean Smith, Supply Chain Director, Agropur
Sean's experience with the U.S. military supply chain system enabled him to drive meaningful change to Agropur's ingredients operations. The Agropur Cooperative is a leading player in the North American dairy industry, encompassing 3,473 dairy producer members and 8,000 employees. Sean formed the Supply Chain department within Agropur Ingredients, bringing together the siloed operations to form a single cohesive end-to-end supply chain. His ability to put supply chain language in everyday terms and teach those concepts to people outside that function were paramount to Agropur Ingredients getting a handle on the implications of supply chain decisions that are made outside the department.
Tom Stretar, Senior Director, enVista
His commitment to the Labor Management profession and the food industry is what makes Tom a champion. During his 20+ years in the industry, he has delivered labor management programs to over 250 clients worldwide, including many in the food/beverage industry. Prior to joining enVista, Tom worked with several other food-related companies, such as SYSCO Corporation, US Foods, Supervalu and the Kroger Company. He is viewed as a top professional and respected expert in the labor management field and is sought out by clients and industry professionals alike for his labor management expertise.
Terry Walsh, COO, Maines Paper & Food Service, Inc.
Terry's career is focused on working collaboratively and transparently with clients to achieve and maintain win/win business partnerships that are mutually profitable and increase shareholder value. From his start with the company in 1996, he was a member of the four-person senior executive team that created unprecedented revenue growth from $300 million to approximately $4 billion, and helped drive expansion from two locations with 500 employees to 11 locations with 2,000 employees serving 8,500 customer sites. According to Terry, "True excellence and enduring success are achieved by creating and inspiring top teams. My management philosophy includes encouraging questions to increase insights and spark innovation companywide. I am fortunate that at Maines, we have recruited, coached and collaborated with a cohesive group of industry leaders."
Paul Welna, COO, Murphy Warehouse Company
The way that Paul manages people is really inspiring, says a co-worker. He allows workers to make operational decisions, enabling them to grow within their roles and take pride in their work. Paul and the management team create phenomenal employee retention. Many of the company's employees represent the second or third generation of their families who work for Murphy. The company is consistently ranked as a top 3PL provider, and was even ranked in the "Top Work Places in Minnesota" by the Star Tribune.
Peter Zaballos, VP of Marketing and Product, SPS Commerce
Peter is helping reshape business processes and technology to enable retailers to compete more effectively in today's omnichannel environment, thanks to his clear vision for the platform and products that will enable the retail industry to thrive over the next 10 years. He is a driving force in transforming the retail supply chain through collaboration among suppliers, retailers and trading partners to meet the needs of the incredibly demanding consumer of today. Under his leadership, SPS Commerce is revolutionizing the retail ecosystem with second-generation cloud architecture to provide meaningful data that enables agile decision-making throughout the entire supply chain.