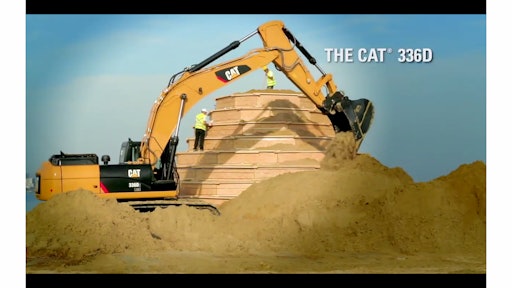 Caterpillar dispatched a crew of its top demonstration operators to the beach in Rio de Janeiro to work with a team of talented sculptors to attempt a Guinness-World-Record sandcastle.
"Sand Castle" is the latest in Caterpillar's Built For It Trials, a series of short films. The video captures the action as two Cat hydraulic excavators, a wheel loader and two mini excavators transform 960 cu. yd. (734 cu. m.) of sand into the world's tallest sandcastle.
Construction of the castle, which was made exclusively of quarry sand and water, began on October 28 in the Caminho Niemeyer square in Niterói, Rio de Janeiro, Brazil. Over the course of 15 days, trucks delivered 49 loads of sand to the site, where seven machine operators and seven sculptors carefully shifted and shaped it into a towering work of art.
By November 11, construction was complete. A representative from Guinness World Records was at the site to take final measurements and confirmed that at 41 ft. 3.67 in. (12.59 m.), the Caterpillar sandcastle was the new world record holder, topping the previous record of 37 ft., 10 in. (11.53 meters).
Watch the video to see the world's tallest sandcastle take shape "and imagine what dreams you could make a reality with Caterpillar, Cat dealers and Cat products at your side," Caterpillar's prepared statement on the event suggests.