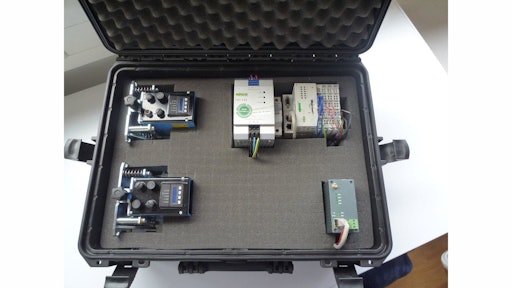 PSI Technics' new Motion Analysis Kit addresses hidden performance issues that cause mechanical failures and low throughput in stacker cranes, common problems for these systems. PSI Technics' MA6000MC Motion Analysis Kit is designed as the industry's first tool that offers the ability to analyze the behavior of any crane system used in automated storage and retrieval facilities (ASRS) in real time.
The Motion Analysis Kit records a crane's actual motion path to determine how the system behaves with and without load. The analysis highlights motion-related conditions and weak spots, such as mast oscillations, overshooting or undershooting at the target position, unnecessary creeping speed or skewing and offers insights into system positioning performance. The MA6000MC Motion Analysis Kit is also a valuable tool for maintenance planning. It provides insight into the mechanical stresses that are affecting the system and helps customers determine how crane wear and maintenance can be optimized long-term to result in a longer life-span of these critical ASRS systems used in the food logistics industry.
An initial motion study can be conducted by PSI Technics aided by a customer's own control engineer or technician. Customers can then purchase the MA6000MC Motion Analysis Kit outright to analyze other systems or set up an annual motion study to compare with the initial baseline to ensure the cranes continue to operate at peak performance. To guarantee a long-term, reliable stacker crane operation, customers can leverage PSI Technics' intelligent ARATEC Positioning Solution System.
The ARATEC Positioning Solution System automatically identifies a stacker crane's machine model and, based on this model, consistently optimizes the crane's motion sequences, compensates for mast oscillations and continuously reduces system wear to ensure a 99.99998 percent repeatable and error-free positioning.
To schedule a performing a motion study or to learn more about the benefits of the closed-loop ARATAC Positioning Solution System, visit the company website at http://www.psi-technics.com/E or contact Tom Anderson, general manager North America, at tom.anderson@psi-technics.com, 925-287-0904.