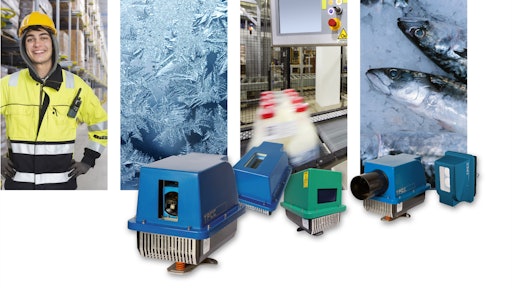 Warehouse managers can keep the processes in cold-storage environments flowing smoothly and prevent sensor malfunctions and sensor-related downtimes with PSI Technics' range of sensor protection cases.
PSI Technics' TPCC is a sensor protection case designed for industrial and distribution center environments. It extends the life-span of temperature-sensitive sensors, such as laser distance meters, optical scanners or optical data transfer systems, and enables the use of these sensitive sensors in environments where low temperatures previously either prevented their use or significantly reduced the life-span of the sensor diodes, such as the cold and frozen food storage industry. The TPCC eliminates the need for maintenance personnel to develop their own sensor heating environments, which saves considerable cost.
Compatible with sensor systems of most major brands, the TPCC is designed to be easy to install and operate – the installation of additional components is not required.
PSI Technics' TPCC is available in different configurations for low-temperature environments: The heated version of the TPCC (TPCC-H) is designed for cold-storage environments and enables the reliable use of sensors in environments down to –40°F (–40°C). The combined heating and cooling version (TPCC-CH) provides optimum protection for sensitive sensors at temperatures from -4°F to 167°F (–20°C to +75°C).
Both versions provide efficient thermal protection and dramatically reduce downtimes and repair costs.
For more information about PSI Technics' Sensor Protection Cases, visit the company's website at http://www.psi-technics.com/E or contact Tom Anderson, general manager, North America, at tom.anderson@psi-technics.com, +1 (925) 287 0904.