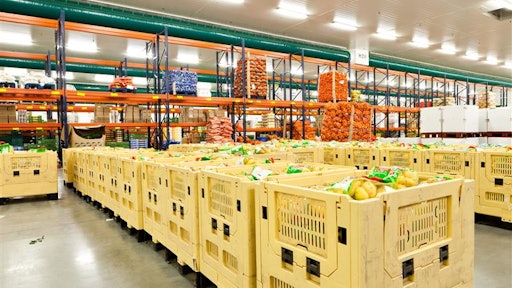 Chlorophylle - stock.adobe.com
It's clear that the Coronavirus disease (COVID-19) has forever shifted consumer habits toward a more digital experience. With the pandemic encouraging people to stay at home, options like curbside pickup and same-day delivery have become widely adopted and will remain popular post-pandemic, according to research from Capgemini.
In the grocery industry, leaders are particularly aware of the rising e-commerce activity. Now more than ever, grocers are progressively introducing micro-fulfillment centers to support their e-commerce models and enhance customers' omnichannel shopping experience. These facilities allow customers to shop in-store, while grocers keep a small, highly automated area available for filling online orders. This enables faster and more efficient processing and fulfillment, while also providing consumers with nearly contactless shopping experiences and access to local products and produce. And, with the ongoing labor crisis, mounting supply shortages and potential COVID-19 outbreaks in the winter months, micro-fulfillment centers can also help grocers overcome disruptions and protect their profit margins.
Although many leading, national grocery chains have already opened micro-fulfillment centers, few regional players have significantly scaled their micro-fulfillment operations to the degree of their larger competitors. Without a robust strategy that can support micro-fulfillment operations, companies will struggle to keep up with the e-commerce craze and stay ahead of potential disruptions.
To kick-start micro-fulfillment strategies and help outpace competitors, here are three areas where grocers can increase investments.
Research and development
Over the past few years, grocery leaders have slowly introduced micro-fulfillment strategies, but with many looking to significantly scale operations in the new normal, grocers will need to go back to the drawing board. By investing in thorough research and development practices, grocers can holistically shape their micro-fulfillment strategies, noting the many COVID-19-related disruptions that have impacted the market. Current and future real estate structure, consumer base, partnerships with third-party delivery companies and competitive differentiators will also need to be addressed for many grocers during this critical R&D stage.
However, to see improved return from micro-fulfillment centers, grocery leaders should focus on identifying use cases, emphasizing consumer sentiment and examining operational efficiency. By fully understanding their customers' digital shopping experience and simultaneously noting the many ways they can improve the speed and quality of their micro-fulfillment operations, grocers can better meet consumer demands across channels and at scale with their improved facilities.
Dark stores
With 42% of customers highlighting delivery and fulfillment services as key attributes when grocery shopping, many grocers are embracing the contactless, e-commerce demand and introducing "dark stores." These stores were once traditional storefronts, but due to the sharp increase in e-commerce shopping, they've been turned into regional micro-fulfillment centers.
In the early months of the pandemic, large, national grocery chains and retailers were wise to introduce these make-shift fulfillment centers, taking advantage of their real estate investments to extend their brand and gain more hours of sales without incurring additional costs. But, grocery leaders throughout the industry haven't taken full advantage of these dark stores just yet. Regional grocery stores have particularly struggled to keep pace with their larger competitors already expanding their micro-centers to be more "mid-sized" with highly automated facilities well over 10,000 square feet. To ensure they don't lose consumer loyalty, these chains will need to rethink their investments in dark stores and quickly scale their micro-fulfillment operations within their regions.
Technology optimizations
The most significant investment grocers can make to scale micro-fulfillment strategies will be in technology optimizations. Introducing solutions across traditional, hybrid and dark grocery stores will be key to restructure and improve warehouse and fulfillment center operations and enhance consumer experience.
Capabilities such as artificial intelligence (AI), voice assistants and Internet of Things (IoT) will all play increasingly larger roles in the grocery industry for years to come, both within micro-fulfillment facilities and traditional stores. These technologies significantly enhance grocery operations and the in-store shopping experience, enabling services such as self-scanning and touchless checkout kiosks. And with digital native companies looking to join the grocery segment, traditional grocers can expect a wave of digital advancements in grocery stores across the country in the next few years as companies vie for consumer loyalty with enhanced in-store experiences.
That said, the majority of grocers still need to focus on their current challenge -- micro-fulfillment. By adopting digital solutions, particularly automated capabilities like pick-and-pack robotics, grocers can enhance processing and fulfillment operations to serve more customers in less time. Although it will certainly take both time and money to launch such optimizations, these technologies can significantly improve micro-fulfillment strategies and entirely change the grocery service model, enhancing customer experience and promoting cost-efficient, streamlined operations.
As customers increasingly turn to omnichannel shopping experiences, grocers need to adapt to maintain market relevancy. By forming dynamic micro-fulfillment strategies and heavily investing in R&D, dark stores and technology optimizations, companies can quickly grow their operations at scale. This agility will be essential moving forward as disruptions continue to impact the grocery industry. If grocers do not properly invest in their micro-fulfillment strategies now, they might fail to reach their digitally driven consumers and fall behind their more advanced competitors.