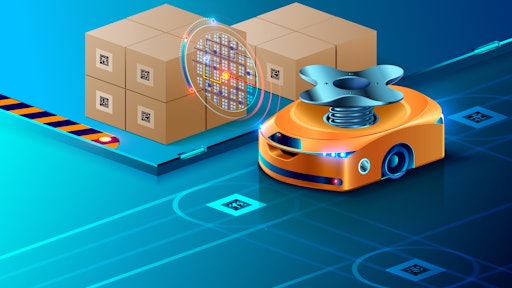 AndSus - stock.adobe.com
Nearly two years into the Coronavirus disease (COVID-19) pandemic, e-commerce continues to gain traction, and increasing consumer demand creates enduring supply chain challenges. Consumers have grown accustomed to the ease, convenience and safety of shopping online, with food and beverage retail e-commerce revenue in the United States hitting $34.2 billion in 2021, up nearly 97% from $17.4 billion in 2019.
The pandemic restructured the way customers buy, and its influence is expected to remain for the long-term with the uptick in e-commerce projected to persist. As order volumes skyrocket and carrier capacity fluctuates, food and beverage retailers face growing costs and shifting consumer expectations that can make keeping up with the e-commerce boom difficult. The short time to market and quick flow of perishable goods and related products creates a further, unique set of challenges for food and beverage delivery.
Beyond grocers, many food and beverage retailers are encountering e-commerce growth, including pharmacies, convenience stores, local and specialty stores, big box stores, restaurants, bakeries and e-commerce pure plays. To better meet rising customer expectations and operate with more agility, innovative retailers are adjusting their e-commerce fulfillment strategies. Adopting a more modernized approach to order fulfillment can help food retailers more cost effectively keep up with the current complexities of e-commerce and improve customer experiences.
Employ an omnichannel approach
As consumer demands for affordable shipping and quick delivery continue to grow, today's leading retailers increasingly adopt and build omnichannel strategies to remain competitive. A successful omnichannel approach requires an optimal balance of e-commerce, brick-and-mortar retail and fulfillment and distribution capabilities. For the brands equipped to embrace omnichannel distribution, it offers the adaptability to execute­ an array of fulfillment scenarios and allows retailers to enhance the flow of products both within and outside of their facilities, helping them overcome current challenges and adapt to future changes.
Leveraging an omnichannel approach, food and beverage retailers can fulfill orders from store locations or micro-fulfillment centers, either via delivery or by allowing customers to buy-online-pick-up-in-store (BOPIS). BOPIS offers food and beverage retailers a particular advantage by letting local customers pick up online orders directly either at a designated in-store location or curbside, eliminating concerns about temperature control or delivery windows and lessening the need for carrier services.
Specialty food and beverage retailers feeling the pinch of carrier capacity limitations can stick with major players for national orders. For local customers, however, BOPIS offers customers another option and helps the business.
For those customers who prefer delivery, food retailers have a host of carrier options available to contract with – and they should contract with more than one – to meet consumer demand for fast, flexible delivery while controlling costs and increasing consumer satisfaction.
Expand transportation networks
Volume constraints and increased fees from traditional carriers continue to impede retailers' abilities to meet their customers' on-time delivery expectations. Diversifying transportation networks to gain greater access to more carriers can serve as a valuable tactic to create better fulfillment flexibility and mitigate surcharges by introducing more options and capacity while keeping costs in check.
For food and beverage retailers specifically offering ship-from-store capabilities, an adaptable transportation network requires a local carrier network catering to their retail footprint. This network should increasingly include gig economy fulfillment carriers to meet fulfillment commitments for same-day or 2-hour delivery.
Including last-mile, local and non-traditional carriers and gig economy couriers in the transportation mix provides retailers more flexibility to compete and can keep customers happy while obtaining the best value for every destination, delivery time and order shipped.
Tap into shipping data
For food and beverage retailers in particular, accurate time and information management are essential to a strong customer experience and seamless purchase journey, as well as to reduce waste and improve the quality of delivered perishable goods. Regardless of the products being shipped, ensuring on-time arrival requires having complete control over and visibility into deliveries.
Real-time insights into end-to-end logistics and supply chain management processes can inform strategic decision-making to optimize operations. Access to shipping data allows retailers to identify opportunities for ongoing improvements to continuously optimize their e-commerce fulfillment and shipping strategies and remove some of the complexity of shipping challenges to fulfill deliveries and meet customers' expectations more seamlessly. Carriers who consistently perform get rewarded with more business, for example, while those who struggle to meet customer delivery commitments get phased out.
Leverage automated shipping technology
Cloud-based shipping technology helps retailers build agility into operations to create efficient e-commerce fulfillment processes without having to worry about things like whether or not carrier labels on parcels are compliant. Using a cloud-based shipping system with a tracking platform can help retailers effectively sustain order fulfillment workflows in line with market changes by providing the flexibility needed to swiftly initiate:
New carrier services
Ship-from-store deliveries
Ship-to-store deliveries from distribution centers or other stores
Online order pickup at curbside or in-store
Automated delivery event alerts
Cloud shipping software helps retailers meet consumer expectations and keep them satisfied by keeping shipping costs palatable while improving delivery speeds. Advanced shipping technology can yield numerous benefits for retailers hoping to keep pace and compete by enabling them to automatically compare carrier rates, print carrier compliant shipping labels and documentation and track deliveries.
As e-commerce continues to grow, food and beverage retailers need to consider ways to ensure customers who prefer online shopping continue to get the reliable and convenient service they expect, while keeping fulfillment costs down. Automated shipping technology can offer retailers a much-needed pressure release valve that also improves the customer experience with more fulfillment options than ever.
With the right strategies and tools in place, retailers can modernize their workflows to more effectively navigate the intricacies of e-commerce fulfillment and provide consumers a seamless experience from order placement to delivery.