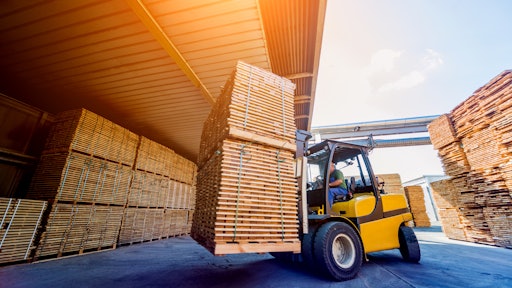 romaset - stock.adobe.com (2)
Powered industrial trucks, the workhorse in the supply chain industry, remain essential to keeping warehouse distribution moving and products on the shelf.
Industrial Truck Association (ITA) estimates that its regular members manufacture and sell more than 80% of all powered industrial trucks sold annually in North America.
The products manufactured and sold by ITA regular members include sit-down counterbalanced forklifts, both electric and engine-powered; order pickers; stand-up and walk-behind platform trucks; powered and non-powered pallet trucks; automated guided vehicles; and rough terrain trucks, among other items. Through its years of maintaining robust statistics reporting and engineering programs, ITA has established joint programs with sister organizations in Europe and Asia to address statistics reporting and engineering issues to help support U.S.-based industrial truck manufacturers globally.
During the previous two years, the North American market witnessed unprecedented growth in the industry with all truck classes (1-5) experiencing growth in 2021 and maintaining that strong position throughout 2022. The forklift market in 2022 recorded retail orders of 344,330 units, nearly mirroring historic market activity from 2021. Total market in 2021 for classes 1-5 set a new record with 347,677 units sold in North America.
In 2021, truck classes 1-3 showed the largest gains primarily driven by the continued demands of e-commerce and warehouse products. It's important to remember COVID-19 remained very prevalent, and the economy was still "reopening" throughout much of 2021. By the end of 2021, electric products (classes 1-3) accounted for approximately 72% of the market compared to 28% for the internal combustion (classes 4-5). Approximately eight of the Top 20 Standard Industrial Classification (SIC) industry categories for electric products (classes 1-3) in 2022 were food and beverage related.
The industry in 2022 continued to be a strong market amongst the backdrop of inflationary pressure and continued supply chain constraints. Internal combustion market segments (classes 4-5) rebounded well. Retail orders in 2022 compared to 2021 were up more than 30% for class 4 and more than 10% for Class 5. Overall industry split between electric (classes 1-3) was 65% compared to 35% for internal combustion (classes 4-5).
ITA also recorded an all-time high number of retail equipment orders in 2021, exceeding 347,000 units in North America. At the same time, the United States is experiencing a very tight labor market, a situation that could result in many new employees, potentially forklift operators, working in warehouses. This growth and changing labor environment make it more important than ever to raise awareness of overall safety and the continued need for forklift operator training. Given the historic numbers of new units entering the market and the potential for many new forklift operators, it is important for the industry to remain focused on safety and continue to promote operator safety.