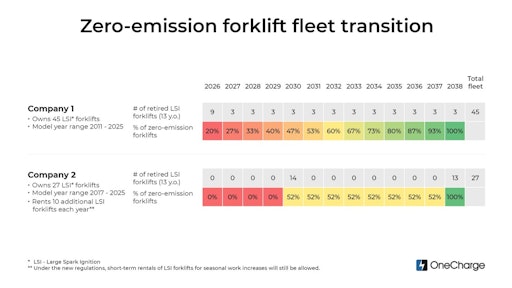 OneCharge
The California Air Resources Board (CARB) is planning to ban sales of all new forklifts that aren't zero-emission by 2026. Its recent proposal to phase out non-zero-emission forklifts is still in development, and the legislation is not yet in effect. However, users of the material handling equipment industries are questioning what it will mean for their operations, and not just in California, but nationwide.
At its core, the planned proposal would force users to phase out internal combustion forklifts, including propane and diesel forklifts, and instead lease or buy zero-emission material handling equipment.
Starting in 2026, fleets may not purchase large spark-ignition (LSI) forklifts (another name that CARB uses for lift trucks powered by internal combustion [IC] engines) and will need to retire existing LSI forklifts that are 13 years old or older. Understandably, fleets will need to plan ahead to guarantee they're able to meet these regulations.
Here's what these new regulations mean, and how they'll affect different fleet types.
What it all means
The new regulation will naturally mean an increase in reporting requirements for fleets and fleet owners, including an initial report with basic company and forklift information, and a final report to be completed when the fleet has fully transitioned to zero-emission lift trucks.
Beginning in 2026, applicable forklifts that are bought or leased will need to be zero-emission, and the phaseout of older, non-compliant models will also begin that year. Starting in 2026, IC engine-powered forklifts that are 13 years old or older or have an engine that is 13 years old or older will no longer be allowed to operate.
Not all forklifts will be affected by the regulation. The main segment targeted by the regulation will be large spark-ignition forklifts with a lift capacity of 12,000 pounds or less. Forklifts that won't be affected include rough-terrain forklifts, pallet jacks, military tactical vehicles, forklifts with telescoping booms and forklifts owned or operated by facilities subject to the regulation for mobile cargo handling equipment at ports and intermodal rail yards.
In 2022, the production of material handling equipment struggles to catch up with the demand, owing in many ways to pandemic-related supply chain issues. How these production issues will affect the adoption of the new regulations remains to be seen, though leading lithium battery manufacturers are already preparing to ramp up production and satisfy the demand for zero-emission forklift batteries.
To make the transition less difficult, there are several exemptions and allowances built into the regulation, including a rental allowance for fleet operators. As long as their intention is reported in advance, fleets will be allowed to rent LSI forklifts for unexpected occurrences or seasonal workload increases for up to 30 days each calendar year.
Similarly, a low-use exemption will allow fleets to keep a number of LSI forklifts as long as they're used fewer than 200 hours per calendar year. The number of low-use LSI forklifts a fleet can keep will be limited to 10% of its total units. Notably, microbusinesses, which have fewer than 25 employees and less than $5 million in annual gross receipts, will be allowed to keep one low-use LSI forklift indefinitely.
What will these regulations look like in reality, and how could they potentially affect real-world fleets? To make the regulation's implications clearer for our readers, we've put together a few scenarios that highlight how the regulation will play out for different types of fleets.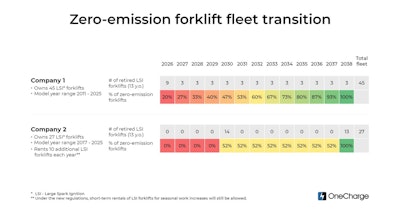 Company
1
In Scenario 1, the fleet has 45 LSI forklifts. In 2026, the model years of their forklifts range from 2011 to 2025, meaning their forklifts are all between 1-15 years old.
Starting in 2026, additions and voluntary replacements would be required by the new zero-emission regulations. In that first year, the fleet would have nine forklifts from the model year 2013 or earlier, which means, essentially, they would have to replace nine forklifts.
For every following year, three of their remaining forklifts would become older than 13 years and would need to be replaced. That doesn't sound too difficult, and keep in mind that the fleet would be allowed to keep five low-use LSI forklifts of any model year until 2031.
Company 2
This hypothetical fleet has 27 LSI forklifts, from model years 2017-2025. However, the model years aren't evenly spaced for this fleet. For instance, 14 of the forklifts are from model year 2017, and 13 are from model year 2025. Additionally, this fleet experiences extra business in December, and typically rents 10 extra forklifts for the month.
Because this fleet's forklifts are concentrated in specific model years, there will be long stretches of time when they don't need to retire any units. Between 2026-2029, no turnover will be required, and the same is true of the period between 2031-2037. However, in 2030, 14 of their model year 2017 units will need to be replaced, while in 2038, 13 of their model year 2025 units will need to be replaced.
Smart planning will be required in a situation like this. The good news is that under the new regulations, short-term rentals of LSI forklifts for seasonal work increases will still be allowed. In addition, this fleet would be able to keep three low-use LSI forklifts of any age until 2031.
Company 3
A microbusiness, meaning it has fewer than 25 employees and less than $5 million in annual gross receipts, has a fleet of only one LSI forklift model year 2020.
The general regulation still applies to this microbusiness, meaning that its forklift would be required to retire in 2033, once it has reached 13 years of age. However, microbusinesses will be allowed to keep one low-use forklift of any age indefinitely. This means that if the business uses its LSI forklift for fewer than 200 hours per year, it can keep it as long as necessary.
Final thoughts
California has demonstrated more than once that it can lead the way when it comes to environmental policies. From California's landmark 1964 emissions standards for motor vehicles to its groundbreaking 2002 Clean Cars standards, the state has been a trailblazer in environmental policies that have gone on to be adopted nationwide. Industries that utilize forklifts need to be aware that it's a matter of time until the electrification of forklifts will be mandated in California and across the country.
In view of this upcoming legislative initiative, it's important for fleet managers, OEMs and dealers to keep an eye on these developing regulations, as they plan ahead to guarantee they can meet the requirements. This is especially important as lead times for new forklift orders get longer in 2022.
Fortunately, certain flexibility has been built into the regulations to make this transition easier, while lithium forklift battery technologies continue to advance and meet the needs of more and more industries. Advanced high-capacity lithium batteries enable the smooth transition from diesel and propane-powered forklifts to electric with a remarkable boost in efficiency and safety of operations. This new battery technology has made electrification possible even for operations with high power demands, which have traditionally operated IC-powered forklifts.