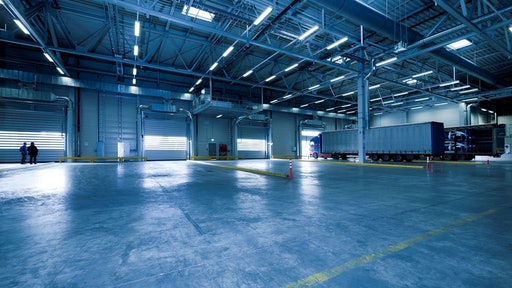 Getty Images
As the need for cold storage facilities steadily increases, so too does the importance of efficiency and durability — no matter the conditions in the warehouse. Additional challenges such as SKU proliferation, accelerated fulfillment expectations and shortages in warehouse space require adaptability and scalability.
Success lies in facility and process optimizations, connected technologies to visualize changes and automated solutions to free up existing labor. All are the direct result of intralogistics — the art of optimizing, integrating, automating and managing the logistical flow of information, processes and material goods within the walls of a warehouse or distribution center. Intralogistics solutions help create greater visibility of facility and material handling functions, increase efficiency and continuously improve operations.
It's been reported that three in four cold storage buildings in the United States were built before 2000, which means they often lack the updated space, equipment and layouts that are standard for many modern cold storage operations. As the demands of e-commerce continue to push operations to move product more quickly and efficiently, it is imperative that both early and modern cold storage operations can optimize their current operations to keep up with demand.
Optimize current operations to realize inefficiencies
Optimization is a crucial first step before investing in the latest material handling products and technologies. An optimized warehouse creates more space for product, increases workforce productivity and leverages lift trucks for the best suitable task, ultimately driving cost savings.
For example, managers of a cold storage distribution center with over 100,000 square feet knew that they needed an upgraded facility layout to improve efficiencies. Implementing an optimized layout in two inventory rooms allowed multiple lift trucks to maneuver in the same aisles at once, eliminating aisle bottlenecks and reducing operator downtime. The improved design also reduced the average number of handling touches. As a result, efficiency for product putaways increased by 50% at the distribution center and order picking productivity rose by 30%.
Whether it's a small, medium or large facility, space, time and labor are at a premium. Taking the time to gather and analyze data can help further identify inefficiencies and waste. Implementing lean management — a long-term discipline that helps eliminate inefficiencies and identify challenges — helps visualize improvements and continuously improve operations. Once managers have pinpointed the inefficiencies, they can decide which technologies, including automation, are the right next step.
Invest in equipment right for the job
According to a 2022 industry report, 51% of survey respondents rated customer demands for faster response times as extremely or very challenging. In today's e-commerce environment, the need to move more products faster has impacted nearly every warehouse and distribution center.
Today's high-velocity cold storage, refrigerated warehouses and blast freezers require robust control systems and intelligently designed lift trucks to stand up to these demanding conditions. Staying competitive requires taller racking options and moving heavier loads, and material handling providers are innovating to supply the muscle needed for these new ways of working.
Engineered with innovative design features and options to reach higher, lift heavier and run faster, high-capacity reach trucks and reach trucks with a deeper reach provide greater storage and slotting flexibility for lower costs within existing facility space. In a world that wants things now, these reach trucks will continue to be instrumental in shaping how facilities operate and stay competitive.
Choosing the right third-party energy provider ensures operators achieve more runs and a higher capacity for sustained performance during each shift and reduces maintenance downtime. Be on the lookout for products designed to provide enough power for the duration of a shift while withstanding harsh temperatures. Energy solutions such as lithium-ion batteries are designed to keep businesses moving in the most demanding industrial and warehousing environments — like cold storage facilities.
Switch to automated solutions to help supply and labor challenges
The cost of labor, land, energy and raw materials continues to increase sharply throughout the entire supply chain. In response, cold storage warehouse operators are looking for automated solutions that will help reduce labor costs and standardize processes, ultimately increasing productivity and efficiency.
Solutions such as automated storage and retrieval systems (AS/RS) offer a fast, efficient way to move goods through facilities by using horizontal and vertical storage carousels. By eliminating wasted travel time between widely placed racking, AS/RS solutions allow operators to run more efficiently, save valuable space and increase capacity.
As the demand for temperature-controlled warehousing and distribution continues to rise, good cold storage management practices are needed to help optimize improvements in procedure and equipment, leading to substantial savings and greater profits. Now is the time to create greater visibility of facility and material handling functions, as well as increase efficiency, visualize changes and continuously improve operations. Consider working with an end-to-end intralogistics solutions provider that can provide real-world results that meet your operation's unique challenges every step of the way.