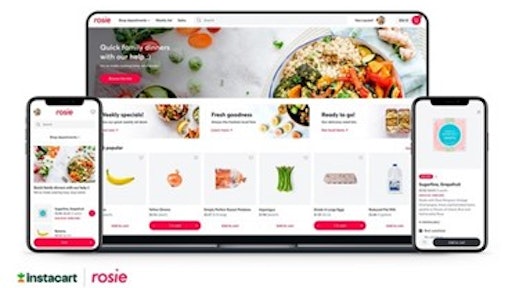 Instacart
Instacart acquired Rosie, deepening its commitment to serving local and independent grocers and expanding its Instacart Platform e-commerce offerings.
"Our focus is on creating technology solutions that are tailor-made to meet the online and in-store needs of all grocers, whether they're national chains or independently-owned and operated," says Chris Rogers, chief business officer at Instacart. "Local and independent grocers are so important to the grocery ecosystem. They have loyal customers, create meaningful job opportunities and serve as cornerstones of their communities. The Rosie team understands these grocers better than anyone, and that's why we're proud to welcome them to Instacart. Together, we'll build more technologies that help independent grocers accelerate their pace of innovation so they can continue to compete, grow and serve their customers however they choose to shop."
"For nearly a decade, our team has lived, breathed and devoted ourselves to the success of local independent grocers, and I couldn't be more proud of what we've accomplished together," says Nick Nickitas, founder and CEO of Rosie. "Instacart's mission of powering the future of grocery is closely aligned with our own, and I'm confident that combining our teams and technologies is the way to best continue serving these important retailers. Together, we will continue to innovate and build easy to use and affordable digital solutions that help our retailer, wholesaler and brand partners thrive and better meet the needs of their customers."
From PR Newswire:
The acquisition brings

Rosie's

e-commerce platform and team of experts to

Instacart,

giving local independent grocers access to a broader range of technology and fulfillment capabilities.
Through the

Instacart

Platform,

Instacart

is further enabling grocers to chart their own digital transformation through a suite of enterprise-grade technologies.
Adding

Rosie's

offerings to the

Instacart

Platform gives more retailers access to tools and technologies that can lead to growth in their businesses and deeper engagement with their customers – all while retaining their unique store experience and brand identity.
Moving forward, the Rosie team will lead Instacart's business strategy and technology development for local independent grocers, as Instacart continues to build best-in-class e-commerce and fulfillment solutions for this segment of the grocery industry.