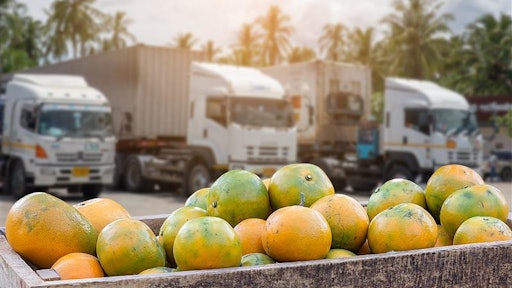 kamonrat - stock.adobe.com
Like so many other industries, the food distribution space has grappled with supply chain disruptions, logistics hurdles, price volatility and decreased predictability over the last few years. But food distributors grapple with the added complexities that come with balancing new and recurring orders and frequent last-minute changes – all while managing operational costs and prioritizing customers.
Navigating this complex landscape requires food distributors to leverage the right technology and tools to optimize their delivery operations, including the ability to quickly plan efficient routes and re-routes, gain visibility into their delivery operations across functions, and keep customers happy by ensuring deliveries at the right time.
Here are some of the top challenges facing the food distribution industry and how distributors can tackle them.
Measuring and minimizing delivery costs.

Your prices must be kept competitive to attract and retain customers regardless of the item being sold. And in a market where the profit margins are already razor-thin, inflation hasn't made this any easier. Following three months of a decline in wholesale food prices, March 2023 saw the average wholesale food price

5.4% above

where it was in March 2022, according to the Bureau of Labor Statistics. Success depends on high volumes of repeat business, which means keeping customers happy with on-time deliveries and good prices. So to keep rising costs from eating into razor-thin margins, you need a way to both accurately measure delivery costs and find new ways to optimize them.
Delivering on time without sacrificing efficiency.

On-time delivery in the food and beverage industry is critical. To ensure all deliveries arrive on time, some wholesale distributors wind up adding unnecessary buffer time and completing fewer deliveries in a day. This, however, means that trucks are likely not filled to full capacity and companies are completing fewer deliveries per day than they actually have the ability to. There's also the possibility that drivers are wasting fuel (and money) idling or otherwise killing time waiting for the delivery window. Food distributors need a way to ensure they're utilizing as much capacity as possible without sacrificing on-time deliveries.
Balancing recurring customers and smaller customers.

Every business has recurring customers that have roughly the same weekly orders with very small volume adjustments. In an industry where customer retention is key, prioritizing recurring customers is essential, especially when these customers typically drive the majority of revenue. At the same time, distributors need to accommodate new customers which may also turn into repeat business down the line. This delicate balancing act means that carefully prioritizing stops and ensuring that delivery capacity is maximized, but not at the risk of late or missed deliveries for recurring customers. This challenge is also compounded by the fact that poor visibility into delivery operations often makes it difficult for businesses to tell which stops are profitable and which aren't.
Route complexity with new and repeat business.

Finding the right balance between new and recurring customers can be particularly difficult when it comes to routing. Even with the ability to identify the most efficient path between multiple stops, optimizing routes becomes more complex when factoring in preferred time windows, open hours, service time, and delivery ETAs. Slotting new customers in around recurring clients, who may depend on the same driver to arrive at the same time every Tuesday and Thursday, adds another layer of complexity. This makes it almost impossible to make changes to existing routes in some conditions, resulting in limited flexibility when conditions change. As a result, maximizing delivery capacity becomes difficult. Moreover, without clear documentation and processes, distributors can wind up in a situation where knowledge about client preferences only exists in the heads of one or two planners.
Picking the right technology
Tackling these challenges head-on is no easy task, but by implementing the right technology solution wholesale food distributors can minimize disruptions while maximizing profits. Distributors should ensure the technology has the following key features:
Route optimization and predictive ETAs.

Route optimization is key to ensuring routes are optimized for the maximum number of stops with minimized fuel consumption, but it must also be paired with accurate delivery ETAs for each and every stop. This can be achieved by utilizing AI and machine learning to learn from previous routes, taking into account factors such as historical traffic patterns, driver and vehicle speeds, and load types. Without this, you risk deliveries not showing up within the customer's requested delivery window.
Hybrid routing.

Implementing hybrid routing, which combines static route optimization (generating efficient routes between stops that do not change) with dynamic route optimization (developing the most efficient sequence of stops from scratch for a given batch of orders), ensures that businesses can meet the needs of recurring customers while also accommodating new customers. When you can find the right balance between these two routing styles, you can get the best of both worlds: the stability and predictability that comes from static routes and the adaptability and efficiency that comes with dynamic route optimization.
Real-time visibility.

The ability to track vehicles, drivers, and orders in real-time enables fleet managers and dispatchers to quickly detect potential delays, promptly identify delivery exceptions, and take proactive measures to ensure a seamless delivery experience. Moreover, real-time tracking minimizes the need for frequent phone calls and messages to keep track of driver activities. This is an area where it's not enough to just track truck locations via telematics—instead, it's important to combine location data with delivery status information.
Customer communication.

By offering real-time order tracking, delivery updates, and effective communication channels between customers and delivery teams, an advanced software solution can significantly enhance the customer experience. This isn't retail delivery, so customers won't necessarily want frequent push notifications, but it's important to make sure that they have the right information at their fingertips when they need it.
Timing is crucial
Everything in the food industry relies on timing, and the delivery process is no exception. By implementing a technology solution that simplifies complex delivery processes like planning, routing, maximizing capacity, and ensuring on-time deliveries, food distributors can ensure deliveries are made on time, every time, without sacrificing efficiency.