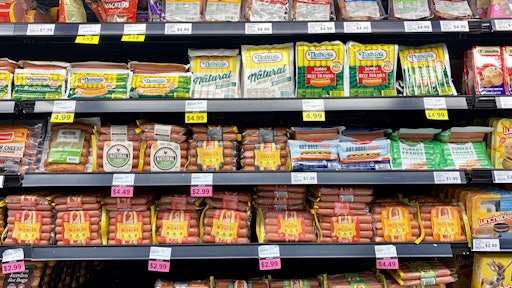 Dave Willman AdobeStock_365233005_Editorial_Use_Only
The global supply chain continues to buckle under compounding problems. From shipping container shortages to geopolitical tension to high inflation, the list goes on and on. And climate change could create even greater challenges in the not-so-distant future.
Yet today's consumers expect interconnected, omnichannel shopping experiences from easy-to-use mobile apps to buy online, pick up in-store options. In fact, McKinsey reports that more than one-third of consumers have made omnichannel features a part of their regular shopping routines. But retailers can't deliver on consumer expectations without better strategies to resolve supply chain woes.
In particular, retailers must invest in their order fulfillment capabilities by using local store inventories to meet online order demand. And to make this process more efficient and profitable, retailers need to adopt technology that provides real-time insights like out-of-stock detection and locationing to improve information-sharing and inventory management.
Retail technology as a catalyst for improved order fulfillment capabilities
Sophisticated order fulfillment capabilities can help organizations keep pace with evolving consumer purchasing habits that create ripple effects across the supply chain. But how? Building proprietary distribution centers like Amazon isn't feasible for most organizations — it's simply too expensive, time-consuming and inefficient.
A viable alternative is to use your network of stores to better manage inventory and streamline fulfillment operations. Brick-and-mortar stores are often in close proximity to shoppers and remain the primary buying method for nearly three-quarters of consumers.
The caveat is that when you convert your stores to digital assets, you also increase the number of transactions local stores process each day. But your customers will still expect fast and efficient service.
So, to meet customers' fulfillment expectations, you need the right staff and tools. For example, you'll need additional associates to pick products and restock shelves. And you'll need to equip employees with the information and technology tools to do their jobs faster and more efficiently.
Retail technologies can serve various purposes around the store. For example, robot assistants help associates and customers collect product inventory data and answer simple customer questions, while electronic shelf labels (ESLs) display product details like pricing, SKU labels and sourcing. You can use a combination of these retail solutions to empower associates with the insights they need to level up the order fulfillment process.
Here's what else retail technology can do to improve fulfillment capabilities:
Inventory management. Traditional inventory management is slow and labor-intensive. For example, having associates manually scan each product with handheld devices is an ineffective way to monitor availability, especially when your operation is struggling with supply chain volatility.
But if you install cameras on store shelves, you can track perpetual inventory and detect when customers take the last item, enabling you to make informed product decisions. Real-time inventory updates also allow fulfillment associates to focus on locating items they know are available rather than searching for products that are out of stock. And with out-of-stock detection, fulfillment teams can find possible substitutions for unavailable products earlier in the picking process.
Locationing. Shifting store floor arrangements can cause in-store fulfillment associates to struggle with locating customer orders. LED-powered shelf labels with GPS tracking software allow fulfillment teams to view precise product geolocation and optimize pick up routes via an app on portable devices. This information reduces picking times and accelerates the delivery of orders to customers. In addition, locationing capabilities assist delivery services, so they can fulfill customer orders faster and more efficiently.
Supply chain challenges show no sign of slowing down. Adopting retail technology now can help transform your network of stores into an interconnected fulfillment system. By equipping your stores with targeted retail technologies, you can address the supply chain challenges your organization faces today — and prepare for the ones you will undoubtedly face tomorrow.