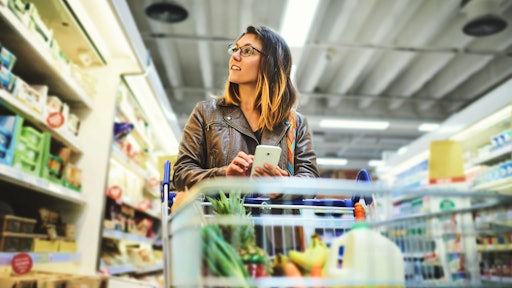 Getty Images
Food retailers are experiencing a seismic shift. Like it did with bookstores. People used to browse in the shop to purchase their hardcopies, then moved to online sellers, and now it's online downloads. While people can't eat digital code, food deliveries from the stores around the corner are increasingly popular. With the desire for minimized queuing, reduced journey time, online discounts and seamless web3 experience, consumers' reliance on digital services has risen—and not just with one brand.
Customers are actively looking for deals and aren't worried about where they get them, as long as the promotions are trusted, convenient and save them money. Cashback apps and credit card discounts are supporting customers to overcome the largest consumer goods price increase since 1981. Companies turn to hyper-personalization to keep customers loyal, reporting a $20 return for every $1 spent. Stores need to know what offers their customers want, make sure they are available, and let customers know directly.
Today, retailers in many sectors are hiring data scientists or extending third-party solutions to decipher online and in-store customer behavior. Services that benefit from these data developments encompass replenishment, assortment planning, complex fulfillment options such as order online, pick up in-store and dynamic pricing strategies, helping to improve inventory planning and streamline the customer journey. It's the retailers that best understand their customers and can communicate their needs to the suppliers that will win. Here are three major changes in shopper behavior and what retailers are doing to tackle them.
1. Demanding options to purchase and receive
The digital grocery shopper intends to continue, with 68% stating their plans for online purchasing. The question is, which delivery method are they opting for once they buy? A study by Brick Meets Click identified customers' gravitation toward click-and-collect as their preferred fulfillment method—three-quarters of respondents said they favor collection in-store (44%) vs. curbside pickup (31%) and home delivery (24%). Yet, there is a growing desire for each type.
Individual needs can change depending on their circumstances on a particular day. Perhaps an item isn't in stock. They may choose to collect so the store can ready it for arrival. Alternatively, someone under the weather may choose to buy online for home delivery, shopping based on their needs and preferences. It's less about which purchasing options customers prefer than which option they favor at that moment. Retailer giants set customers' expectations to have a minimum of three methods to receive or collect goods within the hour. Those that wish to compete, or even hold some of the growing online market share, must look for ways to optimize their data strategy.
2. Digitally savvy and detail-oriented
The digital portal of pricing sites has expanded rapidly, and today customers can use these online price lists to their advantage. While online shoppers spend more per basket, they're found to spread their dollars across a more significant number of retailers monthly. Why? It's most likely that they can compare item prices between stores and choose the retailer offering the best total cost.
Brand loyalty is dropping as a result, and the struggle to get awareness continues. As of 2023, advertisers will no longer be able to implement audience targeting on around 99% of Chrome users—that's almost two-thirds of the world's internet users. Relying previously on third-party data, retailers and product brands must now move to first-party data and closer collaboration to gather customer information.
With omnichannel services, retailers can pull their data from each offering—online, offline, device, delivery type, promotion—giving brands a direct route to communicate with shoppers at crucial moments on their buying journey. Retailers can then use this data to build emotional connections with their consumers that inspire customer loyalty and reinforce the message consumer need. It's an image they must protect when 73% of shoppers believe grocery websites represent the consumers' best interest.
To cater to the customers' expectations, stores must make product information easily accessible online. The information must be user-centric, such as clickable suggestions for cheaper alternatives, similar products or complementary ingredients for particular items. By focusing on the customer experience and making more product information available digitally, including health benefits and recommended recipes, retailers gain a unique opportunity to upsell.
What's more is, they create ease in the customer purchase journey while feeding their thirst for knowledge and convenience.
3. Dishing out data across the supply chain
Inflation has pushed businesses and end-consumers to reassess their pricing and what they can afford. While swapping out items for cheaper alternatives is a start, customers continue to look for money-saving discounts from delivery to product promotions. The good part for businesses is that customers know the best way to access rewards is to have them sent to them—via an app.
Almost one in five shoppers interact with a store's mobile app to browse the weekly emails or notifications, check their rewards, points and coupons and plan their shopping list. Mobile apps are becoming defacto portals to customers, and retailers need a robust platform to provide guests with personal recommendations seamlessly. Then it's a case of working with the suppliers to ensure the products are always available. Sharing data across supply chains is a hot topic when it comes to customer security. Non-personally identifiable information (non-PII) allows retailers to enhance customization without compromising shoppers' trust and privacy. Rather than sharing information across the supply chain that identifies a person, it discovers user information for anonymous shoppers.
A store may have generic promotions such as buy one get one free, percentage and dollar discounts, seasonal offers and cross-selling coupons such as "buy this lasagna and receive a discount for your wine." However, if they understand which anonymous shoppers are likely to benefit from specific promotions, they can communicate accurate forecasts across the supply chain. Similarly, if a retailer has an abundant supply and wants to move products, they might choose to share a promotional offer with their most engaged shoppers. This way, they increase the likelihood of discount use, improve stock control, reduce waste and encourage the return of loyalty.
Expanding the shopper experience to omnichannel helps grocery stores meet the latest customer trends. Digging deeper into mobile app's data alongside in-store, monitoring purchase behavior and enhancing predictions will keep them afloat in 2023. Tailored grocery e-commerce software-as-a-service (SaaS) is helping businesses and suppliers to share data more securely and transparently, improving the efficiency of the supply chain and benefiting everyone. While continuously communicating with customers and learning how they shop allows retailers to optimize their delivery and promotions strategy while protecting data privacy.