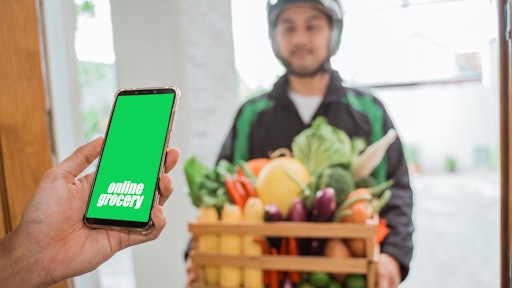 AdobeStock_346469883
The arrival of the Coronavirus disease (COVID-19) in early 2020 drove an unprecedented rate of change in the grocery industry. Shopper behavior and sentiment shifted from one week to the next and continues to evolve as we edge closer to a post-pandemic "new normal." Behavioral analytics and consumer research by 84.51° between March 2020 and July 2021 revealed emerging shopper trends around safety, health, finances and sustainability and exposes key insights about the industry's future—in particular, the rise of the hybrid shopper and the importance of responding with an omnichannel strategy.
The acceleration of e-commerce
Even before spring 2020's shutdowns made it a practical necessity, the number of households shopping for groceries online was rising—more than doubling between late 2019 to early 2020. Then, within a month of the pandemic's arrival, the percentage of people who reported changing their grocery shopping habits rose from 35% in mid-March to 86% by mid-April. Those who said they were using curbside pickup more than they did pre-pandemic increased from 11% to 24% in that same time period. And, throughout 2020, as pandemic-related safety concerns and mandates continued to shape the shopper landscape, digital sales grew 116%.
Meet the hybrid shopper
As customers have grown more familiar with e-commerce and all the shopping methods at their disposal -- in-store, pickup, delivery and ship -- the convergence of safety concerns, desire to stock up and supply constraints during the pandemic's height resulted in a massive increase in consumer usage of multiple modalities. Custom analytics by 84.51° in the second quarter of 2020, in fact, revealed a 97% increase in households using two shopping methods, a 62% increase in those using three and a nearly 500% increase in those using all four.
As vaccinations increase and concern over COVID-19 wanes in 2021, customers began to step back into physical stores. April represented a turning point in customer behavior, and in-store trips have steadily increased since then. Comparing the first 16 weeks of 2021 to the second, 84.51° analysis shows that in-store visits represent a greater share of total trips. However, as evidenced by the fact that overall trips are still on the rise, the hybrid shopper is here to stay.
Convenience has emerged in recent weeks as a growing priority for customers who are experiencing stress caused by busier schedules. While many flocked to e-commerce at the onset of COVID-19 for safety concerns, shoppers will continue to rely on it for its convenience.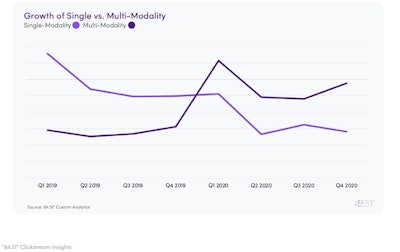 The new shopper's priorities
The significant hardship COVID-19 brought to many families in 2020 continues to impact shoppers' priorities, including a renewed focus on health and community, and influence how they shop today:
· Budgets are still tight. Pandemic-related financial hardship impacted nearly half of shoppers by summer 2020, with price sensitivity peaking from late April to late June 2020. Among the tactics shoppers employed to save money -- coupon redemption, fewer non-essential purchases and stricter budgets. Price sensitivity is continuing well into 2021, with nearly three in four shoppers reporting groceries seemed more expensive in July 2021 compared to June. As a result, nearly half are taking a harder look at their grocery budget. When they do splurge, they are spending more on meat and seafood, fresh fruits and vegetables and snacks.
· Sustainability matters. Packaging and food waste are concerns for a significant segment of shoppers. One in four is more conscious of packaging waste and more than one in three is more conscious of food waste. And, their sentiment is backed by action: two-thirds are combating food waste by saving leftovers. Sales for products with sustainable packaging grew 14% in 2020 over 2019 and household spend on sustainably packaged products increased from $52.72 in 2016 to $67.40 in 2020.
· So does health. The majority of shoppers aspire to healthier habits—60% want to exercise more, 57% plan to eat healthy food more, 43% want to snack less and 55% want to eat less junk. That said, only one in four reports that they currently eat healthy food more often than they did before COVID-19.
· Shoppers support local producers. The pandemic's impact on communities across the country has led one in three shoppers to prioritize buying locally made products. Of those shoppers, almost all (97%) plan to continue supporting local producers in the future.
2021 trends to watch Disruption, anxiety and uncertainty marked the early days of the pandemic, leading shoppers to adopt new routines and habits. While they are down from their early pandemic heights, several food trends remain elevated in 2021 over pre-pandemic levels:
· They're drinking more. Shoppers were buying alcohol at record rates during the spring 2020 lockdowns and by late 2020, more of them were pairing their alcohol purchases with fine cheeses. This momentum continues to grow in 2021.
· They're prioritizing health, value and safety. Shoppers may be buying fewer expensive and impulse products than they did before the pandemic, but they are prioritizing high-quality products and more fresh foods. What's more, nearly all respondents to 84.51° research in January 2021 plan to continue to buy healthier foods and private-label brands and use self-checkouts post-COVID-19.
· They want inspiration for healthier home meals. Even as restrictions on dining out ease, two-thirds of food is still being prepared at home, according to May research by 84.51°. And, of those May respondents, one in five were enjoying cooking more than they did a month before, while only 8% were enjoying it less. Asked how retailers can help consumers eat healthier, respondents' top requests were healthy recipes (53%) and healthy ready-to-eat options (50%).
· That focus on health is paying off. By May, the percentage of respondents more satisfied with their health now compared to before the pandemic was nearly four times that of those who are extremely dissatisfied.
· Some new home bakers are holding on to their whisks. Purchases of baking essentials like flour, oil and sugar have subsided a bit from spring 2020's surge of home baking, but there are still opportunities for retailers to encourage new bakers with helpful tips.
· They're eating a hot breakfast. Sales of pancakes, bacon, sausage and oatmeal surged during the spring lockdown, and all but oatmeal are continuing to perform in 2021.
· They're snacking. Meat snacks and rice cakes are gaining momentum into 2021 while sales of popcorn, a favorite early in the pandemic as families turned to home entertainment during lockdown, have waned. However, viewed as a discretionary occasion, brands should beware. In research 84.51° conducted in July, customers claimed they would be willing to cut back on snacking if budgets become constrained.
Key takeaways for retailers
As customers settle into "new normal" habits, brands who want to earn their loyalty must break down silos around commerce methods and respond to data-driven insights quickly with innovative approaches. Here are a few places to start:
· Provide a shopping experience that prioritizes customer safety and health.
· Deliver a customer-centric and seamless experience for omnichannel shoppers.
· Help price-sensitive shoppers by delivering value across promotions, packaging and education.
· Help households come together with healthy, home-cooked meals, without the stress.
· Provide opportunities for customers to help their local communities, the environment and each other.