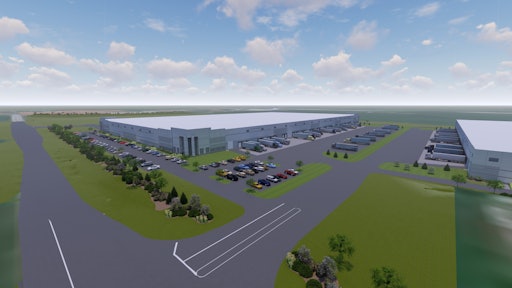 HSA Commercial Real Estate
2020 was a tale of two cities for commercial real estate as retail, hospitality and office properties became ghost towns overnight, while industrial, healthcare and life sciences assets proved more resilient to the COVID-19 crisis, thanks in part to a tenant base consisting primarily of essential businesses. Commercial real estate experts predict the growth and contraction patterns experienced this year will continue in 2021, with some sectors expected to rebound faster than others as vaccines become more widely available.
"The most obvious change of the year has been robust development of warehouse and distribution facilities to meet the sudden rise in e-commerce," said Robert Smietana, vice chairman and CEO of HSA Commercial Real Estate. "At the same time, office, retail and hospitality development hit a near standstill as office workers, shoppers and travelers stayed mostly at home because of the pandemic. Developers in these sectors will need to get creative to reinvent these spaces to match how we work, shop and travel going forward."
As firms tailor developments to meet the opportunities and challenges of a post-COVID-19 world, here are some trends that will impact commercial real estate in 2021, according to some of the industry's leading Midwest experts.
Warehouses are where it's at
One of many trends accelerated by the COVID-19 pandemic was the widespread adoption of e-commerce. U.S. consumers spent an estimated $209.5 billion online in the third quarter, accounting for 14.3% of total sales, according to seasonally adjusted data from the U.S. Department of Commerce. That total is up 36.7% from third-quarter 2019, when e-commerce sales made up 11.2% of total sales. Not only are retailers and third-party logistics companies increasing their distribution center footprints, but many are also shifting from a just-in-time inventory model to a just-in-case strategy as they seek to avoid the product shortages experienced throughout 2020.
"We estimate the pandemic accelerated e-commerce adoption and direct-to-consumer sales by five years," said Adam Roth, executive vice president of NAI Hiffman. "And once people have experienced the convenience and value of it, many won't go back. In a post-pandemic world, you will see a higher percentage of online shoppers than in the past, which bodes well for industrial real estate long term."
This has proven true in the Chicago area, the country's largest industrial market and a key distribution hub, where third-quarter industrial vacancy was 5.46%, tightening from 5.63% a year earlier, according to NAI Hiffman. The company's research director, Michael Morrone, agrees industrial will continue to perform better than most sectors, but notes the overall vacancy rate could increase in 2021.
"Industrial construction ticked up in 2020, with 8.3 million more square feet under construction at the end of the third quarter as compared to 2019," said Morrone. "While only about 40% of that space was speculative, any sustained dip in leasing activity would affect the market in the short run. Long term, though, e-commerce demand is poised to increase, and once key players figure out the logistics for cold storage, that will spur even more industrial demand."
To facilitate same-day deliveries and fulfill increasing online grocery demand – e-commerce grocery sales are expected to jump 53% in 2020 to $89.22 billion, and further grow to $129.72 billion by 2023, according to eMarketer – industrial users are also looking to multiple smaller warehouses and temperature-controlled facilities closer to urban cores. Bloomberg reported in September that Amazon alone is planning to open 1,000 smaller warehouses in urban and suburban neighborhoods, some of which may backfill vacant retail.
HSA Commercial Real Estate says e-commerce is accounting for a significantly greater share of industrial leasing activity.
"Consumers aren't the only ones fueling the e-commerce trend; corporate decisionmakers who have grown accustomed to short delivery times in their personal lives are also making more of their business purchases online, and we expect B2B traffic to be a growing demand driver in 2021 and beyond," said Robert Smietana, vice chairman and CEO of HSA Commercial Real Estate. "Warehousing needs will also increase next year as companies look to increase their reserve stock as a hedge against future supply chain disruption."
Building buildings like never before
2020 saw an increase in the use of non-traditional building materials, including timber, modular steel and precast concrete systems, as commercial developers placed a greater emphasis on sustainability and cost savings. Architects and contractors have been increasingly customizing these materials for higher-end developments, which is expected to continue in 2021. Also look for technologies that streamline tasks, from creating estimates to reducing construction material waste, to be adopted at a faster rate.
While concrete and steel have traditionally been used to construct commercial buildings, cross-laminated timber (CLT) and heavy timber are gaining traction as alternative framing materials in urban environments for cost savings and sustainability, respectively.
"Despite rising timber prices this year, traditional wood framing can still be a more affordable building product than concrete and steel, especially as structural components are prefabricated for erection at site," said John Sheridan, executive vice president of McHugh Construction. "Further, the code adjustments to allow expanded use of cross-laminated and heavy timber technology will allow buildings to achieve a new level of sustainability. As a highly renewable resource, wood supports the AEC industry's goal of reaching net-zero carbon emissions by 2050."
The 2021 International Building Code (IBC), which will be widely available in March 2021, serves as the foundation for local building codes and will contain even more provisions to allow for mass timber construction of taller buildings in the future.
For architects, the use of alternative building materials and construction methods presents unique aesthetic considerations as well.
Returning to the office
With the pandemic upending where and how we work, developers are preparing for the eventual return to the office with designs that cater to the new demands and expectations of tenants and their employees. Look for boutique buildings, hospital-grade air- and surface-sanitization systems, touchless tech and biophilic elements to be in high demand as companies large and small consider how their space will be used, and perceived, by current and prospective employees.
Technologies and amenities that were nice-to-haves before the pandemic have quickly become must-haves in the eyes of today's office users.
Shopping for retail opportunities
With mall vacancies soaring – a trend that was well underway before COVID-19 – reinvention and renovation are the key to putting a new twist on the old shopping mall concept.
"To navigate the continuously evolving retail landscape, centers must curate a mix of uses, such as residential, medical, corporate office or coworking, to remain viable and keep pace with changing consumer behavior," said Tim Blum, managing director of the retail development group at HSA Commercial Real Estate. "There will always be a place for brick-and-mortar retail, especially as more e-commerce brands recognize the importance of physical storefronts and use them to fulfill orders and create meaningful interactions with customers. This increasingly popular approach enhances property values for owners while improving the experience for the end user."
The rate at which deteriorating malls are being converted into new mixed-use centers, many of which include a residential component, is increasing, according to David Senden, principal at KTGY Architecture + Planning.
Of course, malls aren't the only retail properties struggling with high vacancy. Investors are also reimagining empty big-box storefronts that offer similar redevelopment potential.
"While there are challenges to this type of conversion, including working with municipalities to address concerns about how the new use impacts sales tax revenue, it's a good match in terms of the physical space and available square footage – plus, the parking lot allows for exterior storage garages with direct access," says Mike Mallon, CCIM, CREX, senior vice president with Draper and Kramer, Incorporated. "In some instances, we've also re-engaged the parking by creating outlot parcels that can accommodate smaller retailers or restaurants, which in turn creates a new source of sales tax revenue for the municipality."
Other creative adaptations of big-box retail include leasing the space to an auto dealership or fulfillment center, or building out an interior mini mall that might include a grocery store, banquet facility, self-storage component or convenience-oriented retail.
"The challenge with a vacant big-box or department store isn't so much the square footage but the depth," noted Mallon. "To reactivate them, you have to be creative and make them functional."