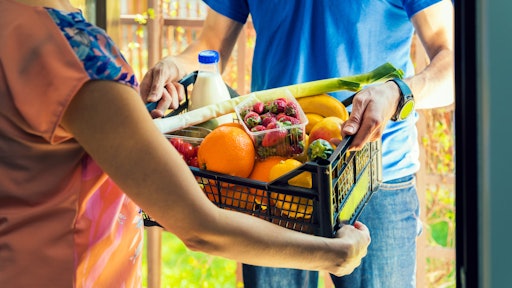 Getty Images
Food inflation has been increasing at its fastest rate since 1979. Supply chain challenges like delays, transportation disruption, worker unrest and more amid a looming recession have led to higher prices and shortages of household favorites. As a result, the cost of groceries in the United States has soared 13% from 2021, with little signs of slowing down. In the UK, inflation has recently hit 10.1%. Working-class families are feeling the heat, and businesses are at a loss.
Food and beverage manufacturers have been forced to hike prices due to higher ingredients, manufacturing, packaging and transportation expenses. However, the most innovative brands are making costs obtainable for the end customer by leveraging automation in the dynamic market sourcing process.
Supply chain: The origin of food inflation
The food supply chain has always been complex, but true disruption is rooted in the pandemic's beginning. Between lockdowns, warehouse closures, labor shortages and transportation holds, food manufacturers struggled to keep operations afloat while utilizing spreadsheets and antiquated processes. When demand suddenly skyrocketed again, significant backlogs and shortages persisted, resulting in record inflation and continued disruption.
Today the food inflation rate is at an all-time high. Emerging crises such as the Russia/Ukraine war, China's zero-COVID-19 policy and deglobalization continue to impact manufacturers' ability to create, transport and sell products. Plus, with the transportation of perishable goods becoming more expensive due to rising fuel costs, time-sensitive orders are a pain point. Some of the world's largest ports continue to face clogged docks, meaning perishable products are becoming stuck for weeks, only to outrun their expiration.
Businesses are chipping away at their bottom lines while consumers stress over grocery budgets. However, by leveraging dynamic market sourcing as a differentiator, companies can quickly pivot in the face of disruption and ensure the lowest costs possible without sacrificing quality, speed and other essential attributes. It's made possible by the latest advances in autonomous sourcing.
Combating rising prices with autonomous sourcing
It is no secret that procurement teams are facing significant sourcing challenges due to disruption, but many current-day processes and technologies are holding them back even more. Some businesses use Excel to manage hundreds or thousands of suppliers, making it almost impossible to steer clear of human error or to share critical information in real time for quick decisions. Some utilize outdated technology that cannot reduce employees' workload or even manage mundane tasks (such as collecting bid information). As a result, teams lack the agility needed to operate in our fast-paced, disruption-filled market.
Forward-looking businesses understand there is a better way to manage dynamic market sourcing. With the right tech, teams can automate 90% of tactical and tail spend event workload. Bots can be launched and run on autopilot to reduce cost and workload, allowing businesses to go to market faster in times of high market volatility. With the ability to run smaller and more frequent sourcing events without additional headaches – coupled with the ability to compare important criteria (like speed and reliability) alongside cost – sourcing teams can make intelligent decisions at record speed.
But decision-making is not the only major improvement gained. With automation on your side, sourcing teams have more time to work on more strategic initiatives that drive real impact. Better real-time visibility is captured because all bids and negotiations are centralized in one solution -- spanning strategic sourcing, tactical and tail spend events, with no human error during times of rapid change. Governance and control across multiple spend categories are enhanced. And most importantly, businesses can adapt to market volatility (price fluctuations, capacity shortages, carrier availability, port bottlenecks, etc.) and get the best prices possible -- for themselves and their end buyers.
Modern problems require autonomous solutions
Market volatility is now the New Normal for the food supply chain. Without obtaining the agility needed to pivot and adjust, businesses will continue to be disrupted and hit with higher costs. In turn, customer loyalty is threatened and the bottom-line impact is felt.
Thankfully, there is a secret weapon that procurement teams can use to their advantage. With autonomous sourcing, businesses can reduce costs, drive operational efficiencies, decrease time to market and more – no matter the sudden situation at hand. The end result: guaranteed continuity and supply chain resiliency, without robbing the working-class family at the grocery store.