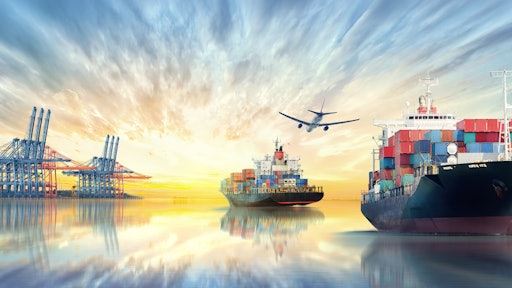 enanuchit - stock.adobe.com
As we enter Week 3 of the Russian invasion of Ukraine, many things have changed – and escalated – since I last wrote about it.
For starters, the outlook for the ocean freight market has become cloudier as ocean vessel operators announced temporary stops to Russian and Ukrainian ports, according to project44 analysis.
"The Russia-Ukraine conflict is redrawing trade lanes as shippers look to alternative locations," says Brazil, director of supply chain data insights at project44. "We could foresee a renewed focus on emerging markets in Africa and South America as well as for the U.S. to step up its wheat exports."
The conflict is also wreaking havoc on bunker and fuel prices worldwide, creating price surges at the gas pumps with some states seeing diesel prices north of $5 a gallon, according to AAA.
Transport companies, maritime insurance executives and industry analysts detail that sanctions around certain commodities and regulations are causing backups of ships at some ports and could lead to longer delays in shipments, especially around Europe. Keep in mind that these ports are still overcoming longer-than-normal lead times as a result of the Coronavirus disease (COVID-19).
On the other hand though, the war's immediate impact on global container shipping capacity is rather limited, given the small volumes and limited intercontinental routes in the region, according to Rabobank.
"However, re-routing Russian-bound cargos and extra customs inspections for dual-use goods will worsen port congestions in Europe, while indirectly impacting rest of the world. In addition to ocean freight insurance soaring, container shipping lines will also attempt to pass along the skyrocketing fuel cost. All of these factors will reverse the gradual decline of container rates that we have seen in the past three months, albeit not on a large scale," the Rabobank report says.
What's more is, the International Maritime Organization encourages "the establishment, as a provisional and urgent measure, of a blue safe maritime corridor to allow the safe evacuation of seafarers and ships from the high-risk and affected areas in the Black Sea and the Sea of Azov to a safe place in order to protect the life of seafarers, ensure the mobilization and commercial navigation of vessels intending to use this corridor by avoiding military attacks and protecting and securing the maritime domain."
While this may slow down the movement of goods in these areas, the goal is to allow ships "to sail form the ports of Ukraine at the earliest opportunity without threat of attack.
"While all eyes are on Russia's invasion of Ukraine, the lockdown announced in Shenzhen will send shockwaves through global supply chains. Shenzhen is the world's fourth largest port, and a critical hub for electronic exports. A one-week delay means that roughly half a million containers are not starting their journey. We know that lead times are already long, and rates are historically high, but what are the other options? Alternate routes like air and rail are also at an all-time peak, and battling with their own availability issues, particularly into Europe," says Simon Geale, EVP and chief procurement officer at Proxima. "In the short term, all eyes will be on March 20, when restrictions will be reviewed. But this isn't just about Shenzhen; it's about China's zero-COVID strategy and how they embed resilience into industry at a critical time for the rebalancing of global trade. Whilst there was a lot of talk about the restructuring of global supply chains over the last two years, the war in Ukraine has hammered home how important it is to think about geopolitical risks when constructing a supply network. Global trade is shaping up for rebalancing and China will want to look like a stable trading partner."
On the other hand, U.S. ports showed improvement both inside and outside the port as inland supply chains began to flow a bit more easily, project44 data reveals.
Meanwhile, the air cargo market remains hard hit by the current events. Air cargo capacity is down 10%, with rates jumping 2.5-3 times higher due to higher demand and reduction in passenger plane belly cargo capacity, the Rabobank study details. Air cargo rates are expected to stay elevated, and express shipping of time-sensitive and high-ticket-price food items could be affected.
As the war rages on, global supply chains run the risk of once again being disrupted.