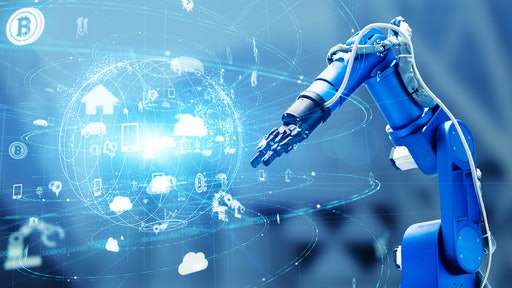 Getty Images
Digitalizing the supply chain is the future. But, getting there takes automation and emerging technology. It requires investing in solutions designed to track and trace, produce data analytics and deliver real-time alerts when parts of the supply chain fall off track. It requires buy-in from all decision-makers to help build the supply chain of tomorrow.
And, it's this automation and emerging technology that helps the cold food chain build the supply chain of tomorrow.
In Food Logistics' March/April 2022 issue, editor-in-chief Marina Mayer talks with several industry experts about warehouse automation and how automation and emerging technology future-proof supply chains.
Here's an interview with T.J. Fanning, VP of growth at SVT Robotics, who details why automation doesn't have to be complex, with excerpts publishing in Food Logistics' March/April 2022 issue. [CLICK HERE to read the article in full].
Food Logistics: From your perspective, what are some of the top challenges today's cold food chains face?
T.J. Fanning: The cold food supply chain specifically is having to forecast further into the future than other supply chain organizations due to shifting demands and a limited number of facilities. The increasing demand levels are in direct competition with a limited labor force, as well as space constraints of existing facilities; available locations are below 3% of total space. The entire cold supply chain is being challenged to solve those issues.
Food Logistics: How can warehouse automation help overcome these challenges?
Fanning: Cold chain automation is required to provide a competitive supply chain solution that minimizes labor, improves safety and improves density. The challenge is that many of the solutions required are complex to integrate due to cold chain-specific challenges, such as lot tracking, temperature monitoring, sell-by dates, etc. SVT Robotics has strategically worked with our technology partners to simplify integration of systems, including voice picking, vision picking, AGV or AMR solutions and IoT monitoring. With our agnostic SOFTBOT Platform, companies can finally deploy automation and optimize their solution without six figure development requirements and lengthy custom integrations.
Food Logistics: The warehouse automation market is expected to grow to $27 billion by 2025; twice the size it was roughly five years ago, according to Research and Markets. To what do you attribute this growth?
Fanning: There are a few reasons for this. First, the cost of automation continues to decrease as sensors and hardware are reaching many industries, including autonomous driving vehicles. This cost reduction, combined with the requirements to achieve a higher throughput or density in existing facilities, mean automation must be deployed. That reality is bringing late adopters to the table.
Second, automation doesn't always have to be complex. It can, for example, simply monitor a pallet return for level of fullness to then only send a manual operator into a freezer when required, or to trigger a transport by an AGV/AMR. Companies are learning how to incrementally optimize their operations with smaller investments to achieve quicker ROI, leaving their workforce to focus on higher value tasks that are more beneficial to the bottom line. It goes beyond robotics too -- process automation, inventory management software, automated workflows, and time-keeping systems — are all automation tools companies can utilize one-by-one to improve operations.
Lastly, it's possible to use solutions that don't require purchasing the automation technology. With RaaS (robots as a service) and SaaS (software as a service) options, companies can lease technology as needed, with little to no lead time, so they can test and deploy solutions in a timelier manner at a fraction of the cost, further reducing barrier to entry.
Food Logistics: There are many different types of automated warehousing solutions. What kinds of emerging warehouse automation technologies do you see continuing to make an impact on the industry?
Fanning: Many of our partners have developed amazing hardware that supports optimization within temperature-controlled supply chain facilities. This includes:
i. Tele-operation of fork trucks to enable operators stationed in more comfortable work locations to still add value in temperature-controlled warehouses.
ii. Voice and vision picking are improving safety, accuracy and performance, especially for positions that have frequent turnover.
iii. IoT device monitoring is becoming more standard in facilities to monitor performance and create custom alerts or tasking using the SOFTBOT Platform for everything from door open/close, vibration, temperature, etc.
iv. AGV or AMR solutions to minimize how many operators are required. The fastest growing area over the next three years for this includes trailer loading and unloading, but also loading of deep lane, semi-automated moles.
v. Finally, it's clear that newer facilities and those that can leverage height will migrate to roaming shuttles to provide density and flexibility.
Food Logistics: What advice do you have for those companies still struggling to adopt warehouse automation? Where do you envision the hang-ups being and why?
Fanning: Existing facilities always require a complex, custom integration that in many cases can be more expensive than the actual automation for deployment. That long pole in the tent to automation adoption is specifically why our customers are so excited about SOFTBOTS that enable integration without custom code development. Using the SOFTBOT Platform provides our users and integrators the ability to begin even with only a couple of devices fully integrated and achieve a shorter payback period as the development costs and long-term support fees are eliminated.
Food Logistics: What are some things not addressed above that may be pertinent to our readers regarding warehouse automation in food logistics?
Fanning: When considering your automation plans, you need to start with a five-year vision and assume that the hardware will reduce in price by 40%. With this in mind, you may start small with what you deploy today, but the goal is to continuously optimize and transition your labor force from non-value-added tasks to supervising and optimizing automation.
[CLICK HERE to read the article in full].