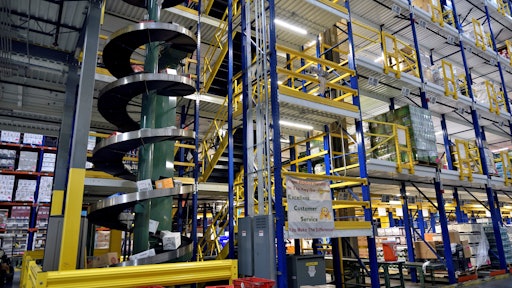 Southern Glazer's Wine & Spirits
"The supply chain crunch." It's making headlines everywhere you look. And, with the holiday season upon us, the issue is more apparent than ever. Businesses are facing this challenge regardless of industry, and since its pandemic-related onset in 2020, the issue has only continued to evolve. The world has witnessed an unprecedented boom in e-commerce, labor shortages, inflation, material scarcity and transportation issues. And, according to experts, a reprieve isn't likely to arrive until 2023.
It's never been more important for businesses operating warehouses to re-evaluate their approach to recruiting and retaining talent. Identifying ways to nurture warehouse employees is critical to keeping existing talent, bringing back talent who may have left amid the height of the pandemic and attracting new talent. Ensuring employees feel safe, rewarded and motivated on the job is a major key to addressing the labor shortage.
So, what can you do differently?
Provide opportunities for advancement
Across every industry and line of work, it's important that opportunities for advancement not only exist, but also be encouraged. One way of doing this within the warehouse is by offering CDL training to warehouse employees. Post the opportunity early in the year, and ensure that any employees who express interest meet certain requirements (i.e. have a clean standing within the last six months, have seniority within the company and pass a Motor Vehicle Record check). Those who meet the requirements can then be signed up for online training classes and move on to obtain a medical certificate and a permit from the state Department of Labor. The candidate then transitions into on-the-job training and shadowing with a driver.
Providing employees the opportunity to be more well-rounded and learn another aspect of the job that supports logistics is a win not only for the employee, but also for your business and customers.
Bring back team building activities
Undoubtedly, coming together in-person as a team looks a bit different these days. Reintroducing social activities almost feels a bit foreign as we navigate the new normal. However, there are ways to bring back team building activities that boost morale, foster unity and make employees feel part of something bigger than themselves—all while being safe.
For example, host an annual forklift rodeo competition outdoors in the warehouse parking lot. Invite warehouse employees and their immediate families to participate on a weekend so that everyone can attend. Set up a series of forklift challenges, coordinate games for the families, serve catered meals, and at the end, offer a cash prize to the top winner(s) of the rodeo. By asking attendees to wear masks, serving individualized meals (vs. shared items) and being outdoors, employees can enjoy a day of fun and healthy competition in a safe manner.
Additionally, just as drivers have a national week of appreciation, it's important that warehouse employees have a week of appreciation dedicated to them. After all, products would never make it onto
trucks without the hard work of warehouse personnel. Provide staff with fun thank you swag, host raffles for prizes such as TVs, iPads and gift cards and cater meals throughout the week.
Warehouse employees have worked incredibly hard over the past two years, and it's important that employers take the time to acknowledge that.
Recognize standout employees
In line with building comradery and boosting employee morale is the practice of honoring staff members through formalized employee recognition programs. Recognizing employees who have gone above and beyond their daily responsibilities and who are driving your company's mission is paramount.
Employee recognition programs come in many different forms, which means get creative with yours. Ultimately, first establish the purpose of your program and then build a process and framework that includes several key elements, such as eligibility requirements, a nomination process (if you choose to go the nomination route) and prizes. Determining how many employees will be recognized and how often (monthly, quarterly and/or annually) is also something you'll want to consider.
Re-evaluate compensation and benefits program
A great way to attract and retain talent is by offering competitive pay and benefits. One of the ways to kick your compensation program up a notch is by offering sign-on bonuses and employee referral bonuses. Sign-on bonuses can be offered to any new hire employees and for referral bonuses; if an existing employee refers someone who ends up getting hired, both the current employee and new employee receive a bonus.
While this tip can seem like a bit of a no-brainer, this might be easier to implement for some businesses than for others. However, even if you're only able to make modest improvements, there is value in doing so. Supply chain talent is looking for extra incentive at this time, and increasing pay and benefits is one of the top ways to demonstrate you're taking care of your people. If employees and potential talent see that you're invested in them, they'll be more inclined to stick around.
A little bit can go a long way with extra incentives and perks
Never underestimate the value add that perks can bring. Whether it's offering free access to a local venue (i.e. water park), incentivizing perfect attendance with an attractive prize or providing free pairs of shoes and orthotics annually, all the perks and extra incentives add up.
Adopting a people-first mentality
The supply chain crunch is presenting a myriad of challenges. And, while there are some market forces out of everyone's control, there are many things within the power of each business to change and/or improve. By keeping people at the heart of your decision-making, you will find it simpler to navigate these short-term challenges.