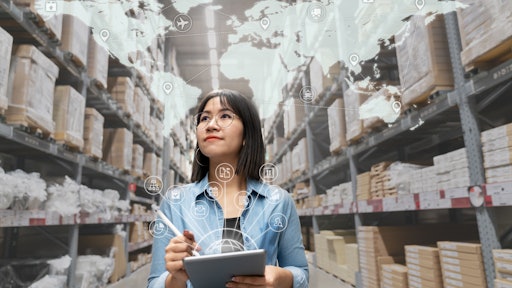 Chaay_tee - stock.adobe.com
One of the most talked about topics last year was the influx of grocery delivery demand across the United States, with daily online grocery sales jumping 110% in April 2020, just after the pandemic hit.
In order to keep up with this demand, food logistics and supply chain professionals had to solve a few problems. First, they needed a way to store a sudden oversupply of food items that restaurants no longer needed, but there was no way to know how long the pandemic would last. Second, an influx of grocery delivery services required more dynamic, flexible and widespread warehouse options to ensure fresh delivery and keep up with orders. And finally, grocery retailers were constantly experiencing shortages of food essentials, struggling to keep up with shopper demand.
Competition for warehousing space
Warehouse demand is high, and not just in the food industry. Large e-commerce companies are making long-term investments in industrial property. This includes building new warehouses and bidding on the limited supply of industrial space listed nationwide.
The influx of food and grocery delivery is quite possibly a bubble. Federal, state and local mask mandates are being lifted, over 40% of the U.S. population is fully vaccinated and consumer spending in restaurants is spiking, up 13.4% in March over February. Grocery retailers have implemented stricter cleaning procedures over the past year, making the in-store shopping experience more comfortable and the summer months are making local produce more accessible and affordable.
Based on these consumer behavior trends, it's hard to imagine that demand for food delivery services will be able to keep up or outpace the demand generated in 2020. Companies that bought or leased long-term space in response to the effects of the pandemic took on a huge potential risk; other companies that didn't have the means to lease long-term space just had to work with what they had. There are a lot of variables that food logistics professionals need to consider when buying, leasing or building warehouse space.
Too much space or not enough
Before the advent of Airbnb, it was extremely cumbersome for residential property owners to rent out their space when it was not being used, especially for just a few days.
Today, warehousing space can be listed and monetized the same way as a home or apartment on Airbnb. For example, tenants locked into long-term leases can list extra warehouse space for free and connect directly with buyers whose search criteria falls within the parameters of the listed space.
Prior to this model, leasing temporary warehouse space involved lengthy subletting contracts and negotiations that sometimes took longer than the lease term itself. Also, owners and brokers are not inclined to offer these types of leases because there is plenty of interest in long-term warehouse space.
Knowing how hard it is to find short-term space on a strict timeline, companies will sometimes opt to lease, build or purchase more warehouse space than they need. The on-demand warehousing model eliminates many bottlenecks of subletting unused space in these circumstances, incentivizing anyone with extra space to monetize quickly. This is revealing all kinds of unrealized and unused industrial potential across the United States that food logistics professionals can tap into to create a more resilient supply chain.
Catastrophic events and the impact on food logistics
The pandemic will hopefully be a once-in-a-lifetime event, but there are other catastrophes, such as natural disasters, that impact the food supply chain every year – sometimes in new, unexpected ways.
As we saw with the pandemic and the broad range of natural disasters that made landfall in the United States last year, the specific circumstances of any event can affect all food industry segments differently. For logistics and supply chain professionals, it's critical to understand what flexible options are available at each step in the process to minimize delays and extraneous costs.
Leading up to a big storm, for example, grocery retailers stock up on food essentials – milk, bread, eggs, non-perishables, etc. If there isn't enough staging space on-site, short-term warehousing allows stores to lease nearby space on an as-needed basis, for days, weeks or even months. This prevents retailers and their shoppers from running out of stock due to a shortage of accessible warehouse space.
Finding specific warehouse features
One other important factor to consider when choosing warehousing options in the food industry is the specific conditions required for the space.
Temperature-controlled spaces and cold storage options are usually top of mind, but it's also important to know what else the warehouse space is used for. For example, if it's shared, food items cannot share a space with other materials, such as tires or chemicals. It's important to have full transparency into the space being leased, as well as what other purposes the warehouse serves.
Bridging the supply and demand gap for warehouse space
There's no shortage of demand for short-term warehousing space, but the traditional commercial real estate process makes it nearly impossible to execute efficiently. On the supply side, there is, in fact, vacant warehouse space in the United States, but a lot of it is tied up in long-term lease agreements – even if the tenants aren't using it. Vacant warehouse space needs to be more accessible to logistics and supply chain professionals when and where they need it.