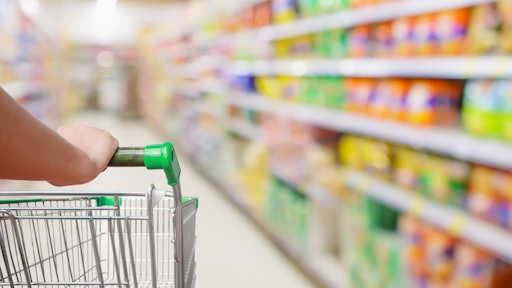 Piman Khrutmuang - stock.adobe.com
Since March, the food supply chain has seen a complete upheaval in its scientifically efficient and secure process. Food demand simultaneously soared and plummeted, manufacturing capabilities were placed into question, and the definition of "safe delivery" was completely redefined. In other words, the global pandemic served as a reminder of the multitude of factors that cannot be controlled, as well as a challenge for manufacturers and distributors to invest in what can be controlled.
When it comes to securing brand preference amidst the vast competition in the food supply chain, strong marketing and communication strategy suggests focusing efforts on the following three points:
1. The message a business wants to relay to their customer;
2. The process in which brand messaging is delivered; and
3. The collection of data proving the effectiveness of the brand messaging.
For companies looking to maintain growth and secure customer loyalty, capturing the attention of their customer base and collecting invaluable buyer-data are major benefits of investing in a customer loyalty program. Functioning as a complete marketing and sales tech stack, these programs provide the latest in essential tools for manufacturers and distributors to stand out in the supply chain and secure valuable market share.
Communicating an enticing value proposition
Before launching into the technological capabilities of a customer loyalty program, it is important for businesses to define their value proposition. What do top performing brands have in common? They market a message that explains not only how their product enhances the lives of their customers, but one that also showcases and reinforces the unique value of the brand itself.
While there are many approaches that can be considered when crafting a message that will resonate with a target audience, it is important to remember that a manufacturer or distributor in the food supply chain can provide immediate value by turning the focus back on the customer and rewarding them for their purchases.
A company may be unmatched in product quality or might provide hands-on customer-support, but if there isn't an extra hook to give customers a reason to try the product, they might never know. A customer loyalty program provides the bonus of enticing reward options that both bring new customers through the door and convince them to stick around.
Maintaining engagement and streamlining management
While technology has remained a priority for businesses in terms of financial investments for quite some time, the pandemic only further accelerated its trajectory and rate of adoption in the food industry. Adhering to social distancing guidelines has secured technology's place as the primary mode of communication and connection both in business and society. This means that in order to frequently connect with customers, brands must meet them where they are: online.
Today's loyalty program software is the perfect transition for manufacturers and distributors in the food supply chain that have yet to establish an online presence. Even better, if a business already utilizes a website or an e-commerce platform, a loyalty program can integrate seamlessly. Either way, customers will be more inclined to engage with a brand when the possibility of earning rewards is thrown into the mix.
These online, personalized customer portals, combined with the use of a loyalty program mobile app, enable customers to learn more about the brand, get up-to-speed on the latest promotions, create wish-lists to inspire future sales activity, and redeem points for rewards from any internet-connected device. Incorporate elements of gamification, such as daily trivia questions about a particular product or brand for added chances to earn rewards and the target audience will associate generosity and enjoyable daily experiences with the brand.
Connecting with partners frequently is another important factor in remaining top of mind. Loyalty software provides a spread of omnichannel communication tools, such as email, SMS and push notification messaging to make sure customers know when the brand is offering deals and how to participate.
Collecting valuable customer data
Arguably the greatest benefit of a customer loyalty program for manufacturers and distributors in the food-supply chain is the ability to organize, collect and act on customer data. Understanding who customers are, what they buy, and what motivates them to make a purchase can be used to sharpen marketing strategy, such as targeting specific verticals, or opening up opportunities for cross-selling and up-selling.
Custom enrollment forms allow businesses to collect an array of customer information, from contact information to firmographic data. Storing and organizing purchasing data from online or mobile app sales claim submissions is easy as loyalty program software:
· Allows customers to scan product codes or instantly upload invoices;
· Streamlines the claims verification process for a faster reward turnaround; and
· Minimizes error by weeding out duplicate product submissions.
By automating the claim submission process, businesses save time and energy on manual data collection and participants remain motivated by how quickly they receive rewards.
Many loyalty program software providers can also offer insight into the program's performance metrics and adjust accordingly, maximizing promotions and enhancing the participant's experience to make sure your program generates the highest possible ROI.
Incorporating loyalty software into brand strategy
When it comes to managing a business, customers are the lifeblood, and measuring their engagement with a brand will reveal the success of a company's marketing efforts. For manufacturers and distributors in the food-supply chain, a customer loyalty program provides the software to accurately identify and measure customer interactions while simultaneously driving sales and encouraging high levels of engagement. At a time when growth is essential, an investment in customer loyalty program software provides insight to help businesses lead the competition and secure brand awareness.