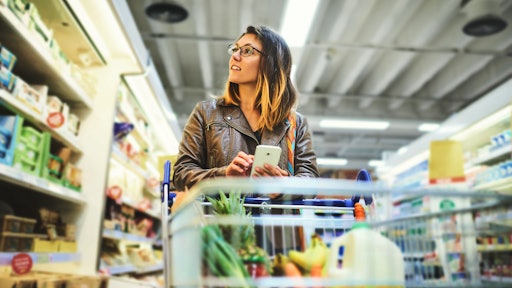 Getty Images
"Necessity is the mother of invention," Plato theorized centuries ago, and the adage still holds true today. With the world reeling from the change in daily life due to the Coronavirus disease (COVID-19), many supply chain leaders are choosing to view this as a time of opportunity, based on the rapid evolution of consumer needs and focus on innovative consumer engagement strategies.
Looking for relevance and loyalty beyond the immediate impact of COVID-19, key supply chain stakeholders are more focused on the consumer's experience than ever before. Forever changed by a sweeping economic and public health crisis, consumers have become more conscious, safety-focused and value-oriented. They research products before they buy, expect greater levels of transparency about where products come from, and may explore healthier diets to strengthen their immune systems in the next new normal. The past several months are indicative of a larger trend toward consciousness that must be addressed, or companies risk losing trust and slipping quickly into obsolescence.
Simply take a look at the increase in demand for contactless grocery shopping. Online grocery sales is expected to grow 40% this year, according to the Coresight Research's U.S. Online Grocery Survey 2020. The continued growth indicates the grocery industry is at an inflection point where increased agility and capacity is further fueling online growth, compared to previous months that were characterized by a scramble just to get products into the right places for consumption.
As 2020 has thrust the country into a more contactless and technology-reliant state of commerce, it is important for trading partners to work together to accelerate the supply chain so it is more responsive to the speed of the consumer in three ways—digitization, breaking down data silos and creating a culture focused on data quality.
Digitization
The key to making the supply chain more transparent and responsive to change is the ability to leverage product data as a strategic asset. In the new normal, organizations need to focus on preparing product data for a longer life span beyond the supply chain. Item setup, data creation and maintenance as well as prioritizing how data is shared is critical to a company's ability to create meaningful connections with consumers in the digital age. Companies that excel in this area collaborate with their partners in a standards-based, digital framework to maximize efficiencies and ensure the right information is presented to the consumer at the right time.
It's no longer good enough for consumers to rely solely on information printed on product packaging, especially when fewer consumers are physically present in the grocery store. With the rise in robotics and automated picking to fulfill online grocery orders, the need for consistently structured, complete and accurate digital product information is critical. Assets, products and locations need to be universally identified first before emerging technology can deliver the contactless experience that consumers now crave.
Digitization was also a key component of the recently unveiled New Era of Smarter Food Safety blueprint, which set forth guidelines for the U.S. Food and Drug Administration (FDA)'s vision for a more modern and technology-enabled food supply chain. It is intended to help the food industry phase out the inefficient paper-based processes that were designed for the 20th Century shopper. Watch this initiative from the FDA, as well as the effects of the pandemic, continue to shape a more digital food supply chain through the end of the year and beyond.
Breaking down data silos
To secure future relevance in the "New Normal," it's not enough to simply choose digital systems over paper-based systems--there must be a collaborative component to these modern systems.
For example, the food brands that feature SmartLabel on their packaging enable consumer access to details about products with the scan of a tiny QR code. This access is designed to consistently help conscious consumers find brand-authorized product information.
On the back end of this type of consumer-facing capability, GS1 Standards ensure product information is represented consistently and help brands capture key product details like origins and third-party certifications from trading partners. Standards help companies uniquely identify products and share information about them in a uniform way, so that data transmission is streamlined and recognized by all trading partner systems.
Many trading partners leverage the GS1 Global Data Synchronization Network (GDSN) to share product data in a continuously updated network. It underpins SmartLabel and has helped hundreds of companies become data-driven organizations even outside of a formal transparency initiative. They are finding that it makes good business sense to have a single source of trustworthy information, rather than fragmented silos, to populate product listings, website content and other beneficial tools and apps.
Creating a culture focused on data quality
The COVID-19 crisis has cast a bright spotlight on the way the supply chain is set up to handle changes and spikes in demand. Because of this exposure, the supply chain industry can no longer ignore the existence of poor product data. As the lifeblood of the supply chain, product data needs to be prioritized from the top down, as consumers have prioritized it for years as a key part of their purchase decisions.
Moreover, data quality should be integrated into the organizational culture with a focus on data governance and long-term data quality maintenance to prevent erosion of consumer trust. According to the Edelman Trust Barometer, 76% of consumers said they worry about false information in general, so they seek out their own sources. There could be a tremendous benefit to aiding consumers in their quest for accurate information--Label Insight estimated manufacturers who adopt complete transparency are rewarded with consumer loyalty rates of about 94%.
By integrating global data standards into business processes, the persistent challenges related to the accuracy and completeness of product data can help ensure better consumer experiences. There must be consistency in how product information makes its way from brand owners to retailers to end consumers, and the people stewarding the data are as important as the data itself.
Ultimately, the pandemic has been a test for many brands, retailers and foodservice operators focused on consumer engagement. Those that take this time to set up their systems, to digitize, break down data silos and create a culture of data quality will also be ready to meet the needs of conscious consumers not only in this time of crisis, but also in the future.