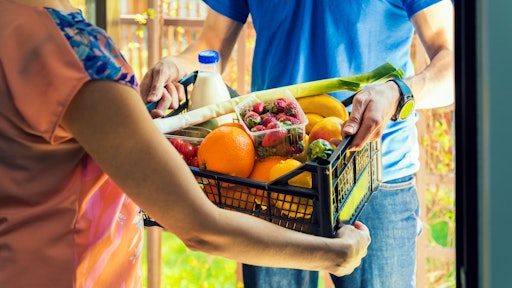 Getty Images
To say that COVID-19 has shaken up the logistics and e-commerce industries would be an understatement. With direct-to-consumer sales at an all-time high, both brands and customers are facing unprecedented challenges, including limited supplies and exceedingly long delays in shipping and delivery. The sudden upheaval has confirmed that the major logistics players are indeed not equipped to handle the volume and intensity of today's consumer demands. According to a recent study, 70% of consumers say that the expected or promised delivery date has impacted their purchase intent for essential items.
In today's landscape, the thought of waiting 3-5 days for a delivery is long gone. The pandemic accelerated the growth of e-commerce, and it has become clear that brands that want to survive must stay ahead of the curve, and missing packages are no longer acceptable.
As brands and retailers look to navigate what the New Normal will look like, it's important for them to consider how delivery will play a role, especially as it has been directly influenced by COVID-19. The time has come to establish a new bond between brands and their end-customers — one that ensures visibility and trust throughout the entire post-purchase journey.
Delivering with smart, data-driven technology
Leaders across all industries have put technology and data at the forefront of their businesses' priorities. Logistics and last-mile companies should be no different. To truly provide brands and their customers with seamless last-mile experiences and infrastructures, decisions must be based on data. Data is the key to truly understanding your customers and making decisions that support growth and customer loyalty. When it comes to the last mile, there are many innovative ways technology can be leveraged to improve operations and customer experience. These include:
Route optimization. Tech-driven urban storage networks provide brands the fastest and most accurate delivery routes. By storing goods in small warehouses within cities (closer to the customer), brands can shorten delivery time, increasing delivery volume and efficiency.
Visibility. Dashboards that provide a 360-degree view of the entire operating system give brands the full picture of what they need to fully manage and control their last-mile operations.
Predictive operations. By leveraging AI-driven technology and deep learning algorithms, brands can optimize and augment delivery routes in real time. Collecting data helps brands to make smarter decisions for their business and customers.
For consumers, technology can be used to provide a seamless, one-of-a kind last-mile experience. Recently, food delivery companies have led the way with on-demand, fully transparent delivery. Direct-to-consumer brands must follow in their footsteps; on-demand, same-day deliveries are no longer an added bonus, but the new market standard. Whether ordering cosmetics, clothing or a refrigerator, consumers should have the ability to track their orders in real-time and communicate with carriers throughout the entire delivery process. The more transparent brands are with their customers, the more loyal they will become.
Strengthening customer bonds with reverse logistics
The increase in online sales has naturally brought an increase in returns and exchange requests. While reverse logistics are a necessary part of any online business, they can be painfully expensive and a hassle for both brands and customers. And yet, recent data suggests that providing an outstanding return experience can determine a brand's customer retention. 92% of consumers said that they would buy from a retailer again if the return process is easy, and 79% of consumers say they want free return shipping.
Forward-thinking brands can use returns as an opportunity to strengthen customer satisfaction and loyalty. One way to do so is by offering easy-to-schedule returns and no-box drop-off exchanges. For instance, instead of simply picking up a package that is being sent back, a delivery person can try to encourage an exchange on the spot, showing up to a customer's home at the expected time with alternative choices (sizes, colors, etc.) while also picking up the unwanted goods. For customers who are just receiving their order for the first time, delivery drivers can also bring a size smaller and larger in case what they ordered doesn't fit. This will provide a better experience and limit returns and exchanges which are lost revenue and expensive to manage. We've gotten to the point where returns should be just as easy and enjoyable as buying.

COVID-19 will undoubtedly have lasting effects on consumer habits and transform the way brands and customers connect moving forward. The brand-customer bond is at the heart of every business, and should remain so. Brands that understand the value of cultivating long-lasting relationships will easily realize that investing in the technology and infrastructure to keep them connected to their customers throughout the entire delivery process will become essential. While it's true that technology can, at times, seem overwhelming and impersonal, when used effectively, it can help brands to better understand their customers and provide more efficient, accurate and personalized experiences.