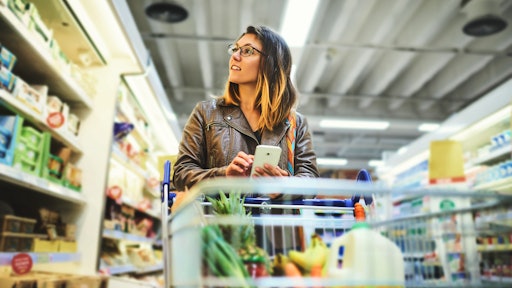 Getty Images
With restaurants and bars shuttering doors across the country, and communities from coast to coast forced into quarantine, Americans have been stripping grocery store aisles of every item possible, stockpiling for the indefinite future. From household cleaning products to produce and everything in between, consumers continue to collect items in the wake of the Coronavirus disease (COVID-19) pandemic. But, with crowded stores, empty shelves, limited inventory and a feverish demand for food, shoppers are now embracing new shopping channels to fill their pantries—online grocery deliveries, curbside pickup and in-store pick-up options.
The COVID-19 crisis has fractured traditional grocery retail, which has consequently pushed grocery stores and mass-market food retailers to adjust fulfillment strategies that cater to consumer demand. And, as online grocery shopping sustains momentum among customers, establishments have realized they need to have adequate infrastructure and technology in place to fulfill and facilitate orders.
Online grocery pre-COVID-19
The grocery sector has traditionally been slower to embrace e-commerce, but it's finally picking up steam. According to eMarketer, digital grocery sales reached $23.9 billion in 2019 alone, and many U.S. retailers and supermarkets have already begun rolling out home delivery and in-store pick-up options for shoppers. Remember Walmart's Super Bowl commercial this year? Curbside pickup was the retailer's main focus, which just goes to show these initiatives were not core strategic initiatives prior to COVID-19.
Pre-pandemic, grocers had already started to leverage these digital services, improving logistics in order to facilitate increased online sales. Amazon bought Whole Foods and also invested in warehouses and last-mile logistics for next-day and same-day Prime deliveries. And, the retailer even removed its $14.99 monthly fee for Amazon Fresh, eliminating the barriers to online grocery delivery. Walmart and various national grocery chains also experimented with click-and-collect operations that helped push e-commerce shopping behavior forward.
But, there's not a grocer around who could have anticipated the need to accelerate their online grocery capabilities in such short amount of time.
In March, with the rapid surge of shoppers hitting stores for emergency goods, grocers realized they didn't have the logistical capacity to keep pace. Strained systems resulted in grocers' inability to fulfill customer orders, whether they were for home delivery or in-store pick-up. According to data from Rakuten Intelligence, order volume for online grocery retailers surged 210% between March 12-15, compared to that of 2019.
Grocer and retailer response
On paper, a stay-at-home order could be the perfect opportunity to build on digital grocery services. But, in practice, grocers struggled to keep pace with increased orders, limited product availability and an unprecedented onslaught of customer demand.
According to Acosta, 26% of consumers who bought groceries online in March were doing so for the first time. So, in an attempt to mediate the barrage of demand, grocery retailers began quickly implementing delivery slots. However, the tactic was short-lived, as many shoppers realized that securing a delivery slot was almost impossible. In early April, ShopRite even had to queue customers in a virtual waiting room before they could make any online orders. The Amazon Fresh portal also saw a sharp increase in traffic, forcing the retailer to put new customers on a waiting list before existing member orders could be filled.
An increase in consumer demand for critical products created an immediate need for more workers, which forced some grocery and retail companies to alter normal hiring practices. Walmart said it was looking to hire 150,000 additional employees for its stores and warehouses through the end of May, while Kroger hired 10,000 people across its stores and distribution centers. These hiring spurts speak to the relative immaturity of these new channels for retailers – what they couldn't finesse with technology they had to accomplish in the near term with brute force.
What's ahead
The Coronavirus pandemic has shifted consumers' needs and preferences, putting a new focus on online grocery and contact-less delivery practices, which will ultimately lead grocers to upgrade the necessary technology for online ordering and pick-up services coming out of the crisis.po
There is no doubt that grocery e-commerce is having its moment, and grocers' ability to adapt and improvise successfully will influence consumers' adoption post-pandemic. But, as more first-time consumers click their way through digital aisles and contribute to the trillion-dollar food and beverage industry, it's clear grocers have to prioritize online fulfillment capabilities because this behavior will likely be the norm post-COVID.