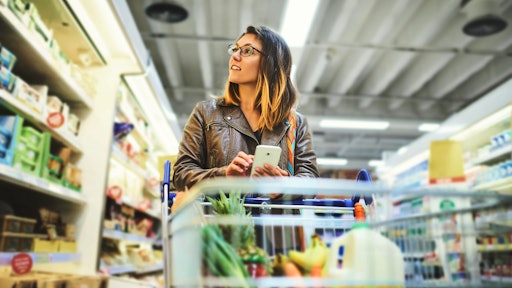 Getty Images
Why are there no frozen peas in the supermarket? What happened to all the chicken and beef? And, what about fresh fruit and vegetables? Why can't I find any rice, canned beans or peanut butter? And, why are the lines so long?
All over the country, frustrated consumers are asking such questions as they try to navigate a system that's struggling to keep up with unprecedented demand. It's hard to go grocery shopping during the novel Coronavirus disease (COVID-19) pandemic without feeling that something is amiss. Consumers feel insecure about having sufficient food at home. Some even have to wait two weeks to have groceries delivered from the store to their home.
Shoppers, who are uncertain as to when social distancing and shelter-in-place orders will be lifted in their communities, are responding as you'd expect in a crisis–ordering massive amounts of groceries online or anxiously venturing out to the supermarket and clearing off the shelves in a state of panic.
In both cases, consumers who normally eat about 50% of their meals away from home are straining the retail supply chains that depend on long-haul trucking of goods across the country.
That crushing and unexpected demand from homebound obscures a basic fact—the nation is still awash in food and, in fact, wastes some 40% of it. Hens are still laying eggs, cows are still producing milk and farmers are still harvesting their crops and raising livestock. Oddly, avocados are abundant.
"The food is there. It's just going into different spots," David McInerney, chief executive of New York-based FreshDirect, told the New York Times. "Cruise ships are not using up all of the avocados. We have a giant surge of avocados."
It's a classic case of mismatch between supply and demand. With most restaurants shuttered or limited to offering takeout, the supply chains that served the industry have more food than they can sell. Meanwhile, the separate set of supply chains that keep supermarket shelves well stocked in normal times can't adjust to the unexpected surge in demand from consumers.
The current crisis is challenging to everyone, as the nation's food system struggles to adjust to an unprecedented situation. Across the United States, there are heartening examples of local businesses banding together to support their local farmers, and of farmers finding new ways to connect with customers in their communities, and in some cases, nationwide.
According to Politico, "Sales are surging for farmers who sell boxes of meat, dairy and produce direct to consumers. The trend is a rare bright spot in agriculture."
There is a new demand for connected regional and local food logistics because the supply chains are shorter and less complicated while still able to leverage critical mass. Consumers being closer to production means interstate travel restrictions or state variations in travel restrictions are less likely to impede the movement of food from farm to fork. More than ever before, this has highlighted the fact that local food logistics simply does not exist in scale. Farmers who have excess product now are finding it challenging to get their product to the consumers who desperately want and need fresh food.
The industry finds itself in a moment where change is demanded to successfully navigate these shocks and keep the U.S. food system resilient. Anytime there is a dramatic change in the way an industry operates, there is always opportunity for entrepreneurs and the possibility of disrupting the status quo.
Mark Cuban made this point in an interview with Fox News while discussing the disruption COVID-19 will have on the economy.
"We really don't know what to expect, what's on the other side. I know whatever we find out there, companies are going to be invented. Entrepreneurs are going to adapt. United States of America, our people are going to adapt," he says.
There is no real upside to a pandemic. But, it is my hope that these critical supply chain disruptions—which are likely to get worse before they get better—may highlight systemic inefficiencies and lead us as a nation, and as an industry, to rethink how we get food to where it is needed most--with an eye toward flexible solutions.
Connecting producers to their local markets is a start. It won't entirely replace the need for regional and national distribution, but it can help ease disruptions in times of supply chain inefficiencies and result in a better, more sustainable food system.