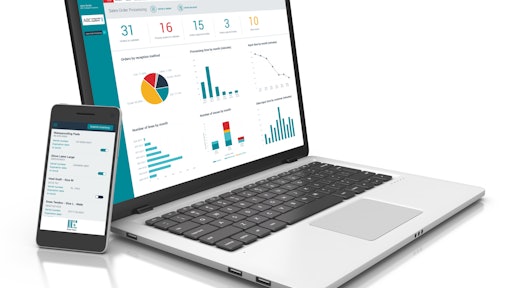 Esker Inc.
The rise of mobile technology, and its nearly universal adoption, have been instrumental to the development of the hyper-connected Internet of Things (IoT). As such, it has also changed consumer behaviors. Not only do shoppers demand greater convenience, but they also want to make better-informed buying decisions. They thus expect brands to be increasingly transparent about how they source, manufacture and otherwise bring their products to market.
For example, consumers are increasingly sensitive to how food production and distribution affect the environment. Cross-country shipping, the use of plastics in packaging, the waste inherent in the desire for cosmetically "perfect" produce, and the widespread use of chemicals to increase production has brought calls for a more humane and sustainable food supply chain.
Yet, the demand for locally sourced or organic ingredients can present challenges for suppliers that rely heavily on manual processes. In order to efficiently meet these expectations and handle the growing complexity of the food supply chain, it's often necessary to have multiple, sophisticated systems in place.
To prevent bottlenecks at the store and distribution center levels, efficiencies must be built upstream. Order management automation can streamline the entire supply chain to avoid costly mistakes and reduce expenses for suppliers as well as the retailers they service. Moreover, well-designed automated systems break open data silos for increased transparency that enables flexibility and the ability to quickly identify and correct errors.
Using automation to avoid errors
The perishable nature of its products makes the food and beverage industry particularly sensitive to order processing errors. Leveraging technology to ensure accuracy, offering real-time order verification, and responding quickly to external factors — such as recalls and weather-related surges in demand — will reduce or eliminate the number of incorrect or lost shipments, delays and returns.
Manual order entry is labor-intensive. Customer service representatives (CSRs) must manually enter orders that are received in multiple forms (e.g., phone calls, faxes, emails, etc.). This tedious, repetitive work is prone to human error. Worse, mistakes may not become apparent until an order is filled, shipped or received.
Manual processes also perpetuate the less-than-optimal utilization of your human resources. Personnel can offer much more than typing and filing skills to an organization. Automating order management relieves employees of menial clerical tasks and allows them to be reassigned to more valuable and fulfilling work.
Using automation to encourage self-service
Self-service is another value-added feature of most automated sales order processing systems. Buyers may submit orders via EDI, fax, email, online portal or mobile device, and save everyone valuable time. They can then track their own orders, reducing the need to interact with a CSR. Utilizing types of artificial intelligence (AI) such as machine learning, these systems can also standardize order forms and formats to accommodate customer preferences. Perhaps ironically, automation can be the key to offering a more personalized user experience.
Whether you are a supplier or a grocery chain operator, no system is worth the investment unless it can scale. The most effective automated order management systems allow stores with multiple locations to view data for their entire enterprise from one central hub. Once orders are placed, they are routed to the appropriate workflow path. Incoming EDI orders that have incorrect or incomplete information are converted to a readable form and tagged for CSR verification. Once verified, orders may be uploaded to the organization's enterprise resource planning (ERP) system.
The benefits of automation — or human augmentation — are hard to ignore. Eliminating manual data entry reduces both errors and the waste of both time and consumables associated with paper-based, manual ordering systems. Transparency allows for quicker identification and resolution of errors. Relieved of the need to perform time-consuming, low-value tasks, CSRs are able to provide improved service and build stronger relationships with customers. It is a win-win, as employees enjoy greater job satisfaction while creating a better experience for customers.
Automation in practice
The proof is in the numbers. Delicato Family Vineyards, for example, implemented automated order processing in order to provide more value-added services to its customers. Within a year of implementing an automated order management solution, 95% of Delicato's orders were processed electronically. Automation also resulted in increased accuracy and orders being processed 60% faster.
But, order management is just one part of the order-to-cash (O2C) cycle. Companies that automate processes throughout the entire O2C cycle – credit management, order management, fulfillment, billing, collections, deductions and dispute management, and all the way to cash application – usually see the biggest benefit from this technology. The goals of implementing automation tools across the cycle should be increased operational efficiency, improved customer experience, greater agility as a business and – ultimately – higher profits.
The advanced functionality of these systems, coupled with exceptional UI/UX, play a significant role in surfacing the most relevant data for suppliers and their buyers. Dashboards may be customized to meet the unique information needs of each department and can provide the data necessary for creating actionable reports to inform decision-making. Particularly robust systems offer real-time updates, thus empowering managers, executives and directors to track operations as internally implemented changes or external market forces exert influence over processes and procedures.
Automation: The new table stakes
Nevertheless, anxiety continues to surround the topic of automation. In the mainstream press, it is frequently cast as the next big economic disruptor, akin to the Industrial Revolution. Yet a McKinsey Global Institute report concludes that increases in productivity driven by the new technology will boost economic growth. Automation will eliminate many repetitive data entry jobs, but it is unlikely to render human employees obsolete. In fact, these systems can open opportunities for employees seeking more creative work that requires critical thinking and other soft skills.
Consumers expect convenience, but they also want fresh, wholesome food that is locally and sustainably produced. In such a business climate, small and midsize regional suppliers are essential. However, they need to operate efficiently to stay competitive. Technology that automates order management exists today and can provide an immediate lift in this regard. With its ability to streamline operations, ensure data accuracy (and security), expand profit margins and meet the demands of today's hyper-connected, socially conscious shoppers, automation represents the new table stakes in the food and beverage industry.