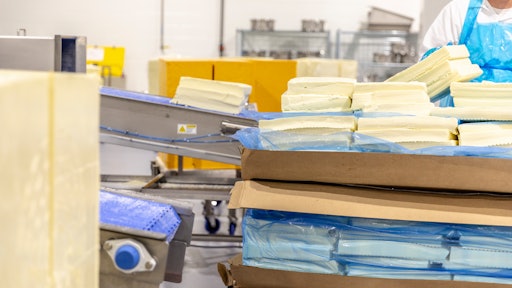 Masters Gallery Foods might be the largest national cheese supplier you've never heard of. It produces millions of pounds of cheese—from aged cheddars and fresh jacks to soft and hard Italians—for nationally recognized brands, as well as food service and industrial partners. 
The cheese manufacturer, headquartered in Plymouth, Wisconsin, has one of the largest privately held inventories in the nation, processing, aging and handling a wide mix of products. For example, major regional and national brand retailers and restaurants can get 8-ounce and 2-pound shredded cheese packages, while industrial companies can order 640-pound blocks of aged Monterey Jack and foodservice industry customers can specify 5- to 10-pound units in shredded, diced and cubed variations.
Founded in 1974 by Leonard "Butch" Gentine, Jr., Masters Gallery Foods doubled in size in 2000 and then doubled again by 2009. Today, the company employs more than 700 people and is expecting even more growth as demand for its cheese continues upward. To keep pace, the company first added 240,000 square feet to its flagship Plymouth facility in 2012, then built another warehouse as part of its new production facility in nearby Oostburg, Wisconsin. Opened in June 2018, the facility currently has 175,000 square feet of floor space and 80 of the 360 lockers for employees are currently being utilized. The facility can be expanded up to 400,000 square feet and is ready for the workforce to grow.
Any way you slice it, Masters Gallery Foods is a company on the rise.
Building a Facility for the Future 
As a private-label manufacturer, Masters Gallery's facilities are regularly inspected by current and potential partners as well as numerous third-party auditors. As such, the company wanted a state-of-the-art facility that didn't just fulfill its current needs (and satisfy FSMA compliance), but could sustainably support the company's anticipated growth for decades to come. One of the ways the cheese processor/distributor accomplished this was by incorporating green design principles.
The green design started with the layout of the building's physical footprint. In recognition of Wisconsin's chilly climate, no dock doors were put on the building's north side, but rather on the east and west, where sunlight and ambient temperature could best help melt snow and ice.
Masters Gallery also chose to eschew the ammonia-based refrigeration systems used in most food facilities for a water-cooled system, using ice that the company makes during off-peak electrical use hours (nighttime) and stores in a special silo. This method is not only more sustainable and environmentally friendly than using ammonia, it lowers the plant's utility bills and the danger of food spoilage—as any ammonia leak can potentially ruin inventory.
Additionally, the Oostburg plant captures and recycles the heat produced by machinery during shredding and slicing processes to use later for temperature control. It even pumps heat from the plant into heating coils underneath the plant's outdoor sidewalks to melt snow and ice.
"We're doing things that not many other facilities are even thinking about," said Mark Wirtz, engineering manager for Masters Gallery Foods.
Safety First
Despite its impressive facilities, Masters Gallery views its employees as its greatest asset. That's why the company has taken a serious approach to ensuring workplace safety.
"If I can keep our employees happy, that's a big deal," said Wirtz. "Safety is a crucial part of that, and an important ingredient to our success."
The new plant's doors are an example of that. When plans for Oostburg were being developed, the company had to determine what types of high-speed doors it would use to separate manufacturing areas from production and finishing areas. Wirtz said they had a few different types of doors in their Plymouth facility, but felt like the high-speed doors offered by Rite-Hite gave them the best combination of safety and efficiency.
"In the original plant, when a door malfunctioned, a specially trained technician would have to work on the junction box to avoid producing an arc flash. It was dangerous and caused production delays," noted Wirtz.
Fortunately, Rite-Hite was able to alleviate the arc flash problem in the new facility, installing touchscreen control panels for the doors that employees can operate and program. Wirtz said now workers don't have to wear gloves or other personal protective equipment when using the 7-inch LCD graphic user interface (GUI) control screen. In addition to improving productivity at the plant, the new controls also provide real-time data on door use.
The new plant's doors also incorporate a light-emitting diode (LED) timer screen to let employees know when the door is about to close. Working in conjunction with the door's internal timers, the LED Countdown display uses white numbers when the count is 3 or larger and the numbers turn to yellow for 2 and 1. A red arrow appears when the door is about to close.
Additionally, the two FasTrax doors that connect the packaging area to a storage area use LED Virtual Vision devices. Although the doors don't have vision panels (because condensation caused by temperature differences between the two areas would render the panels useless) the new technology allows workers to effectively "see" through the door. When traffic is approaching the door from one side, the other side alerts workers with flashing red LEDs, minimizing the opportunity for dangerous collisions in the doorway area.
"Forklifts in the packaging area can get moving pretty fast," Wirtz said. "The LED Virtual Vision was a conscious decision we made to create a safer work environment for our employees. It's worked extremely well so far."
High-Cycle, High-Efficiency Doors 
When it came to the actual function of the high-speed doors, Wirtz said he wanted something that moved quickly and had the ability to stand up to everyday wash downs, which are required by Food and Drug Administration (FDA) and United States Department of Agriculture (USDA) regulations.
"There's consistent traffic between the cooler storage areas and the warmer packaging areas, so we were more concerned with fast-acting doors with tight seals than slower-moving ones with high R-values," Wirtz said. "The Rite-Hite doors were the fastest option available. The extra speed reduces the opportunity for air to move from one room to another and minimizes the chance someone hits them."
The Oostburg plant has 11 high-speed Rite-Hite FasTrax doors that operate at speeds of up to 100 inches per second. Of those, eight are FasTrax Clean doors, which are ideal for use in and around cleaning and processing rooms due to their ability to withstand daily cleanings and wash downs. FasTrax Clean doors feature a one-piece radial header machined from a single block of UHMW plastic, meeting clean-up standards required by the USDA and FDA. The door itself is made from a smooth polypropylene, making it more resistant to acids and bases with a lower water absorption rate than vinyls and urethanes. The lightweight UHMW side frames stand off from the door to minimize surface-to-surface contact where bacteria can grow, and also can be easily removed for wash down.
The other three FasTrax doors are used in packaging and finishing environments that don't require wash-down capabilities. Wirtz said these doors do an excellent job of separating the cold environments of the storage and shipping areas from the warmer environments related to packaging and processing.
Masters Gallery Foods hasn't just talked the talk; they've walked the walk. Bundling various pieces of new technology offered by Rite-Hite, the cheese processor has been able to increase productivity while being environmentally conscious and protecting the employees at its newly built Oostburg, Wisconsin, cheese processing facility.
Jon Schumacher is the director of marketing for Rite-Hite Doors. He has been with the company for 20+ years and is a member of the Door and Access Systems Manufacturers Association (DASMA).