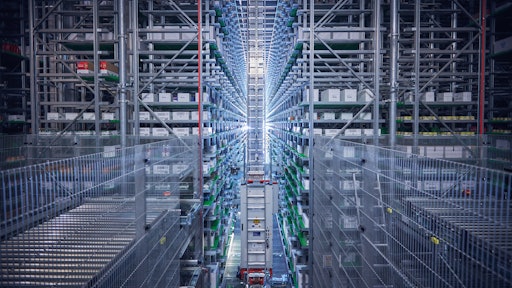 Omnichannel. E-commerce. Labor and workforce issues that run the gamut from dealing with an aging workforce to safety and ergonomics to increasing labor costs and a shortage of manpower.
All of these things added together create a climate ripe for change, especially in the areas of warehouse automation.
Food Logistics reached out to companies heavily involved in the food-and-beverage warehouse and distribution center (DC) industry to get their take on things like the integration of automated storage and retrieval systems (ASRS), the barriers to investing in warehouse automation, the return on investment (ROI) of such automation, the things to consider as they design facilities and operations with ultimate flexibility and scalability in mind, and the technologies that can help facilities support the cold chain and multi-temp zones.
The following is what these industry experts had to say about where the industry is headed in terms of warehouse automation.
George Swartz
Vice President of Sales and Client Services
HED: The Top 3 Warehouse Trends
As the food and beverage marketplace becomes more complex and fragmented, distributors are being forced to pay careful attention to three key trends and their associated implications:
1.) The Changing Labor Landscape–Warehouse labor continues to be problematic for food and beverage distributors and the trend is expected to continue throughout 2017 and beyond. The pool of quality labor is shrinking and millennials are not stepping up to fill the void. This situation is creating a need to reduce distributors' dependence on labor, which is making warehouse automation more attractive and easier to cost justify. In the past, technology additions like ASRS traditionally took many years to payback, but with the high cost of attracting, recruiting and training associates, these complex solutions can now be paid back in as little as three to four years, based on reduced headcount, improved productivity and the avoidance of costs associated with high associate turnover.
2.) Investments in Enterprise Resource Planning (ERP) and Warehouse Management System (WMS) Solutions–After a long spending drought, food and beverage distributors have begun upgrading and implementing aging operating systems with state-of-the-art systems from SAP, Oracle, JDE and other providers. In addition, these distributors are upgrading their WMS. Both of these systems are enabling food and beverage distributors to add automation, enabled by Warehouse Control Systems (WCS) or Warehouse Execution Systems (WES).
3.) Embracing Omnichannel–Omnichannel fulfillment is having a trickle-down effect on food and beverage distributors, as consumers increasingly order these items online. As this trend grows, food and beverage retailers are turning to distributors to fulfill direct-to-consumer (D2C) orders. This is changing the face of distributors as they scramble to reconfigure DCs to handle small pick orders. This is especially complex for wine and spirits distributors who are searching for automated solutions that can handle individual 'bottle-picks.'
Mark Diehl
Account and Business Development Manager
BEUMER Group
HED: ASRS Pushes Automation in U.S.
Automated storage and retrieval system (ASRS) integration in the food and beverage distribution arena has been heavily implemented in Europe for years—typically due to its high labor and land costs. In Europe, ASRS has helped reduce labor needs and has led to smaller footprints--the largest ROI contributors. In the United States, ASRS installations are being implemented more and more, often for the same reasons—to drive decreased costs from less labor and a smaller footprint. Lack of available labor and greater service level requirements are driving this marketplace down the road to higher levels of automation.
Many new applications are using crossbelt sorters as a means of transportation (in lieu of standard conveyor) in applications with ASRS shuttles and mini-loads. The crossbelt solution seamlessly connects receiving, static storage, ASRS buffer storage and shipping. This solution provides high throughput, greater accuracy and utilizes less labor than a manual system. It requires less land and provides faster turnaround of customer orders for retail or direct to consumer.
Tom Steininger
Market Development Director
HED: Better Warehouse Planning
The challenges and opportunities in the food and beverage industry seem endless. And while it can be confusing to sift through the plethora of automation and technology choices, readying the warehouse for the future is not insurmountable with the right planning and foresight. The challenges before us all point to opportunities that involve automation--not automation for automation's sake, but well-thought, cost-effective implementations that will bring benefit to food and beverage companies now and scale to their needs in the future. As you plan for the future of your warehouse and DC, consider the following:
Omnichannel distribution requires systems that can predict changes to the SKU mix and anticipate how to migrate from a pallet, to a case, to an each-lot size.
Meeting Food Safety Modernization Act (FSMA) requirements makes the use of systems with software that integrates seamlessly into the customer networks absolutely vital.
The constant growth in shopper expectations necessitates systems that improve order accuracy and maximize precious shelf space.
Labor challenges require systems that enhance picking efficiency by reducing product "touches."
Future growth depends on systems that can accommodate new technologies such as blockchain, the Internet of Things (IoT), and advanced analytics as well as the enhancements for proven technologies like RFID.
Most importantly, food and beverage companies will need the right partner with the expertise to help determine automation solutions that are right for them.
Bob Douglas
Service Manager
HED: Filling the Talent Gap
Contrary to the commonly held belief that warehouse automation is destroying job opportunities, today's job market isn't vanishing, but rather evolving. While some jobs (such as manual order picking) have been rendered obsolete due to automation, workers are still needed–for higher-level, more tech-related jobs used to properly maintain and operate these sophisticated systems.
One of the problems which companies, including those in the food and beverage industry, are facing is that it is becoming increasingly difficult to fill warehouse positions due to the limited skillset of today's talent pool. In fact, in the 2016 MHI Industry Report, 58 percent of survey respondents cited "hiring and retaining a skilled workforce" as the No. 1 challenge in their supply chains. MHI also reported that approximately 600,000 manufacturing positions in the United States went unfilled in 2016 due to a lack of qualified workers. To bridge this talent gap, companies need to educate the next generation of job seekers so that they have the skills needed to fill these new high-tech positions.
Further complicating the talent gap issue is the changing demographic of today's workforce. Baby boomers who have received proper training are retiring, and without readily available resources and educational opportunities, new graduates are displaying a lack of interest in the logistics and supply chain industries. Therefore, companies need to reach out to young, potential employees and ensure that the proper resources and training are available to prepare them for the increasingly high-tech supply chain jobs. In the end, the right automation technology paired with the right workers will position companies for a successful future.
Dave Williams
Director of Software and Solutions Delivery
Westfalia Technologies
www.westfaliausa.com
HED: Supporting the Cold Chain
Humans are not designed to work in sub-zero temperatures, yet the majority of refrigerated and frozen food facilities employ manual operations, requiring workers to withstand frigid conditions. This is not only risky for employees, but for warehouse operations as a whole. With workers needing frequent "warm-up" breaks when working in coolers and/or freezers, the organization is quick to realize the inefficiencies in time, labor and energy usage. To help mitigate these inefficiencies, forward-thinking food companies are turning to warehouse automation to decouple their order fulfillment workforce from sub-zero environments.
Technologies, such as a high-density automated storage and retrieval system (ASRS), can pick products in cold environments without the need to stop for breaks, thereby promoting greater efficiencies in warehouse operations and order fulfillment in the cold chain, and safer work conditions for all.
With an ASRS, refrigerated and frozen food facilities can also store more product in the same (and often smaller) building footprint. In many cases, an ASRS can reduce the overall building footprint by as much as 50 percent and/or enable increased storage capacity of an existing facility by 30 to 50 percent. By improving space utilization, there is less area to cool and often fewer refrigeration units are needed. Also, by retrofitting an existing warehouse with an ASRS, food and beverage companies can eliminate the need for new construction and while providing room for growth of inventory.
The efficiency of an ASRS also allows companies to employ more just-in-time (JIT) order fulfillment strategies to bring products out for staging and loading closer to when the trucks arrive. This keeps the product in the proper climate controlled environment as long as possible, which helps to reduce possible product quality degeneration and spoilage. Truck turn-around at the dock is dramatically improved, which also adds efficiencies to the entire cold chain.
Norman Leonhardt
Director, Business Development
WITRON
HED: Why Automate?
Warehouse automation in all industry sectors is experiencing a surge in demand due to multiple trends in the warehouse labor market. In many regions of the United States, the workforce is aging rapidly. Since warehouse jobs are often physically demanding, the pool of eligible workers becomes limited. At the same time, lower birth rates resulted in fewer young people entering the labor market, and those who do, usually see warehouse jobs as unattractive.
Another key factor is the increase in labor costs. Higher wages for warehouse workers particularly derive from two major causes. One is the establishment of new minimum wages in various states over the next few years. At the start of 2017, 19 states had increased their respective minimum wage.
The second cause is the increased demand for warehouse labor due to the booming e-commerce business. Companies like Amazon hire thousands or warehouse workers (full time and temporary) forcing other companies to increase their wages to remain attractive for new and existing employees.
Subsequently, companies are looking for solutions to be more independent from increasing labor costs and an aging labor force, which makes investing into software and mechanized solutions and even fully automated warehouses very appealing.
Another factor initially disregarded when looking at automation technology is the additional quality brought to the workplace. WITRON has experienced positive factors such as better worker retention and more pride among workers for their jobs when automation comes into place. Higher quality jobs are created in the areas of software and electromechanical engineering, at the same time improved ergonomics and software supported picking makes jobs such as picking and replenishment a lot more attractive.
Especially in freezer and cooler warehouses, food producers and retailers are looking for automation solutions. Labor hours in freezer chambers are usually limited as workers can only stay in the cold for a short time. Apart from freezers being an unpopular area to work in, there is often a surcharge on wages in these areas, which makes looking for alternatives found in automation even more attractive.
Automated warehouse solutions oftentimes have a stigma of being inflexible and thus a risky investment if throughput is either higher or lower than initially predicted. Quite the opposite is true, as automation can create a lot of new flexibility, especially when it comes to throughput volume and SKU numbers. Many automated solutions do not need a classic pick-front where all goods have to be presented to a human picker at all times. Dynamic pick-slots, goods to person picking stations or even fully automated pick, pack or palletizing processes are a great alternative. Because they do not need a pick-front, large amounts of SKUs can be easily added to a warehouse assortment without any need for reconfiguration or reconstruction.
The same goes for throughput volume. Automation technology does not sleep, so it can be used 24 hours a day. Thus, adding another shift can increase the throughput without any additional investment.
Paul Laman
Vice President of Food and Beverage Group
DMW&H
www.dmwandh.com
What is the impact of omnichannel and e-commerce on the food and beverage warehouse or distribution center?
The food and beverage industry has been impacted by the explosion in e-commerce orders, just like other industries. BI Intelligence predicts that through 2018, online grocery sales will grow at a compound annual growth rate of 21.1 percent, reaching nearly $18 billion by the end of the forecast period. In comparison, offline grocery sales will rise by 3.1 percent annually during the same period. With a rise in online grocery shopping, retailers are looking at different fulfillment methods for filling orders. For example, Instacart, which promises to deliver groceries from local stores within two hours, hires college students to fill orders, giving them mobile tools to speed order fulfillment. Other retailers use a dark store concept, which is a big grocery warehouse with no customers, but order pickers who fill orders from there. Still other retailers use the traditional grocery store for fulfilling orders while allowing consumers to pick up orders at stores instead of delivering them to their homes.
With the demand for gluten-free, Paleo, vegetarian or other specialty products that cannot be found in traditional food stores, distributors are adding more and more SKUs to their online offerings. Because of the Amazon-effect, most consumers expect these items to arrive the next day. Fulfillment processes will have to be updated for distributors to keep up with demand and the increase in orders of specialty items. Plus, new vendors are popping up that offer meal kits or prepared meals for delivery. These "instant dinner" vendors must use refrigerated warehouses and trucks to keep food from spoiling.
For the beverage industry, craft beers and unique liquors are exploding in popularity, which means wine and spirits distributors must find room within their warehouse operations to carry these items. Then, they must deploy material handling equipment, from conveyors to sortation units to ASRS, etc. to move the products from storage to the consumer's home, storefront or other pick-up location.
What labor and workforce issues are you seeing among distributors in the food and beverage industry?
Distributors are facing increased pressure from customers who want to place smaller and more frequent orders. SKU proliferation has extended the tail of slow movers, resulting in significant volumes of split-case bottle picking. So, facilities are handling various SKU ranges differently with varying degrees of automation. Picking orders is one of the biggest consumers of labor in the warehouse. As order volume grows, more and more labor must be added for picking and packing.
Voice-picking systems come in handy when it comes to case picking as workers are hands-free and able to carry boxes or cases or bottles more easily.
What are the barriers to investing in warehouse automation? Conversely, what's the ROI?
In the grocery industry, margins are very slim, which may deter some food and beverage distributors from adding automation. But because it is often hard to find skilled labor, adding automation may be the only way that food and beverage distributors can keep up with demand.
How can facilities optimize design and operations for ultimate flexibility and scalability?
Utilizing data collected across multiple supply chain processes can create a data pool of warehouse fulfillment analysis so that businesses can understand their current operations, then plan for future operations that need to incorporate flexibility and scalability. Designing a DC that is both flexible and scalable requires careful analysis of the data, and then the creation of a multi-year expansion plan. Instead of buying everything at once, it is better to expand for incremental growth by using flexible components. Add a conveyor that can be moved or install a sortation system that can be used in other areas of the facility at other times. By buying equipment incrementally, businesses prevent overinvesting and keep capital costs within check.
John Clark
Director of North American Marketing
Egemin Automation Inc.
What labor and workforce issues are you seeing among distributors in the food and beverage industry?
Looking forward, companies will continue to have trouble attracting and retaining workers. This is especially true for material handling and supply chain jobs. When you add in the difficult environment of cold/frozen storage jobs, that retention is even harder. Warehouse automation solutions allow for companies to get workers out of harsh conditions and reallocate them to more value-added positions. An Automatic Guided Vehicle (AGV), for example, can replace the action of a worker who simply picked up a load from Location A and moved it to Location B all day long. Automation allows companies to focus on having their people add value and not just 'do stuff.'
What are the barriers to investing in warehouse automation? Conversely, what's the ROI?
Automation solutions for food and beverage may need climate-controlled solutions. Depending on the solution, the ROI can range from months to years. An AGV-based solution, for example can offer payback in as little as one year.
AGVs allow for incremental automation and faster ROI automation. Oftentimes, full-blown 'lights out' automation isn't the right solution for a company. An AGV solution can be easily and quickly implemented and deliver a faster ROI. They can operate in deep freeze environments, and also can be adapted for multi-zone climates.
What do you see AGV's helping with in the future?
Another area where we are seeing more traction for the use of AGVs is in automatic trailer loading and unloading of product. An AGV can drive product into a trailer and load or unload it without human intervention. This can include stacking the product to completely fill the trailer.
Luther Webb
Director, Operations and Solutions Consulting
What is the impact of omnichannel and e-commerce on the food and beverage warehouse or distribution center?
In an industry where the majority of shoppers prefer to view and touch an item prior to purchase, grocery retail has not embraced the omnichannel philosophy as fast as softlines and hardlines retailers. However, with 60 percent or more of shoppers willing to buy groceries online, the industry is poised to take the leap forward and take advantage of lessons learned by others.
The omnichannel strategy for food and beverage will change the operation and automation of the traditional grocery DC, in which large orders of predominately case quantities are picked to satisfy store shelves. This includes the breadth of product offerings segregated by niche consumer habits (i.e. boutique brands, organic, etc.) and high-velocity staple goods for online purchases, specific subsets of daily staple stock items ready for fast, convenient customer pickup at neighborhood shops and convenience stores, and manufacturers/suppliers providing direct-to-consumer service for specialty sizes and flavors. These effects will be far-reaching and will affect even the super and hypermarkets as they begin to operate as 'hubs' for pick-pack-ship orders destined for homes, lockers and other local destinations.
As the distribution network morphs through these changes, more automation is necessary, such as pick-to-light systems to handle additional volumes of "each" picks, goods-to-operator solutions to improve throughput among the dilution of order profiles, and high speed shipping/sortation systems that can accommodate the complexity of myriad deliveries and service levels. "Quality, quality, quality," will be the mantra among operations to ensure that customers are delivered the best and freshest products.
How can facilities optimize design and operations for ultimate flexibility and scalability?
In today's world of digital commerce, optimization begins at the supply chain level, as push philosophies give way to demand-driven models in which instability becomes a key design driver. Demand-driven supply chain operations and solutions need the flexibility to account for dynamic consumer behaviors, evolving technologies, an unpredictable marketplace and the importance of resource agility. Traditionally, DC designs were based almost entirely on analyzing historical receipts, order information and inventory data to develop a baseline and then applying peaking, seasonal factors, sales growth and SKU growth over a 5- to 10-year design horizon.
Some key factors to look for in a flexible and scalable design are:
A storage system that can adapt to changing inventories and different purchasing habits.
The ability of the warehouse execution system (WES) to collect and report on the "right data."
The limitation of bottlenecks and throughput throttles.
The modularity of subsystems and implementation.
An adaptive WES with user variable rules and real-time access to dynamic conditions and status.
What labor and workforce issues are you seeing among distributors in the food and beverage industry?
Whether it be baby -boomers exiting the labor pool, a younger generation that hasn't found interest in the supply chain / distribution industry or increases in wages and benefits, the primary concern of most clients is the availability and cost of labor. Add to this situation the extreme volume peaks that occur across as few as 15 to 35 days during the e-commerce holiday season and the spikes driven by shortened delivery promises, and fulfillment centers can find themselves unable to satisfy customer demand. In order to remain competitive, clients are starting to extend their ROI models from 18-36 months to 60-84 months. They are also changing their traditionally labor-centric ROI models to include the soft yet very real financial implications of not shipping orders on time.
To reduce their bottomline costs and avoid the risk of labor availability, clients are investing in higher levels of automation. These include:
Shuttle systems capable of storing inventories of thousands of SKUs and make them readily available for replenishment and/or picking.
Goods-to-operator solutions that eliminate walk time and double or sometimes triple productivity per associate.
Vision systems that can quickly and accurately identify products, and reduce or eliminate the need for costly labels.
Robotic picking technologies.
Autonomous vehicles that can transport products between processes.
The key is integrating the technologies with the right WES software and applying them in a manner that has the flexibility to accommodate changes in order profiles and inventories.
Todd DeVries
Account Manager, Food and Beverage
Retrotech's (KION)
What is the impact of omnichannel and e-commerce on the food and beverage warehouse or distribution center?
Popularity for online purchases of food and beverage products is on a significant rise. Even if the purchase is created online without any delivery service (Buy Online, Pick Up in Store), there is still an order fulfillment process that needs to take place.
Software integration across various islands of automation and even sites can be necessary to fulfill replenishment demands for a store shelf or to complete a shopping cart order. Raw materials as well as finished goods to support e-commerce vending of food and beverages can be stored and retrieved very efficiently in automated storage type environments, but must be managed and optimized with a solid WCS system.
Advancements and increased popularity in omnichannel and e-commerce have put pressure on warehouses and DCs to be even more precise with their ability to fulfill small, complex orders. As consumers lean on e-commerce rather than brick-and-mortar shopping, food and beverage DCs similarly have to lean on automation to coordinate everything from order picking and packaging to traceability. Different products have different packaging and delivery needs, and those all have to be accounted for.
What labor and workforce issues are you seeing among distributors in the food and beverage industry?
Human intervention often can be a problem in any order fulfillment operation, whether it be an order for store fulfillment or an online order for a household or person. When dealing with food and beverages through ecommerce order fulfillment to the consumer, additional care must be taken when picking and packing someone's grocery or meal order.
It's important to have a picking process and quality control process in place that is arrayed across the product flow path that ensure the order is accurate, is put into its shipping container with care, and gets a last look before it goes out the door to make certain the customer doesn't get their groceries with the milk placed on the eggs.
In terms of how the products are faced in the warehouse and then ultimately are picked, automation must be driven by intelligent order fulfillment software, taking the decision out of the order packer's hands and making it a linear and intuitive process. This will provide order fulfillment efficiency as well as a positive consumer experience.
For store fulfillment operations, automation will have a major influence on not only the pick-and-pack process, but inventory management capabilities that can maximize the utilization of space, minimize shrinkage and loss, reduce labor, and effectively regulate and manage inventory levels. Full case picking too often has been overlooked and there are significant gains to be had with the right technology for a particular part of the store fulfillment process. A good example is automated palletizing of mixed case goods for truck loading. Done right, the ROI can be very positive when looking at not only labor reduction, but also improved operations at the dock and daily throughput.
What are the barriers to investing in warehouse automation? Conversely, what's the ROI?
Thin profit margins and expensive capital projects don't go hand in hand very well. Upfront cost is almost always the biggest barrier to investing in warehouse automation. However, if funding can be worked out, a strong ROI case can be made to improve profits while maintaining competitiveness. As consumer buying practices evolve forcing a much different fulfillment process, opportunities are exposed. Look for the positive market trends, then embrace automation that will leapfrog the initiative. Often a good integrator can develop automation solutions through live-retrofits that don't impact production. Additionally, simulation and emulation programs can prove a system, address changes and tweaks, in advance of a go-live. By getting the bugs out in advance, risks can be reduced as well as potential hiccups during go-live that could cost money.
How can facilities optimize design and operations for ultimate flexibility and scalability?
The first step to improving a facility is to gain an accurate evaluation of current operations. When you walk through your facility, what observations can be made that are glaring opportunities for improvement? Do you have an apparent bottleneck that is clearly compromising the overall performance of the operation? Define the need, then vet the solution. Can it be addressed with technology or maybe just an operational and flow path improvement? Is there an automation opportunity or is at automated already but needs to be optimized with a software improvement?
Once you've identified the problem, you can vet options to design and integrate the right fit solution, giving caution to scale it for your business in a way that the solution can be leveraged as close to 100 percent as possible. It is important to be careful not to engineer a solution for a peak or seasonal challenge. Peaks should be looked at independently altogether.
Matthias Merz
VP of Food Retail Group
SSI Schaefer
www.ssi-schaefer.com)
What is the impact of omnichannel and e-commerce on the food and beverage warehouse or distribution center?
The original, traditional food and beverage distribution centers were designed for store delivery. The new requirements due to the omnichannel and e-commerce revolution have changed things radically. Now successful DCs must be able to handle such things as much lower order sizes and dynamic ranges of shipping containers. These factors have a much bigger impact on automation logistics in the food and beverage market than it has on other merchandise, like electronics or fashion products.
What labor and workforce issues are you seeing among distributors in the food and beverage industry?
Due to the mostly manual processes used in food and beverage logistics, there is a lot of room for improvement in regard to topics like ergonomics and safety. The demographic challenges are similar to other ecommerce areas, there are no special issues for food ecommerce.
What are the barriers to investing in warehouse automation? Conversely, what's the ROI?
The ROI in this market is actually very good. Many operations are currently manual due to the young age of the business model. We are not in a situation yet where you replace older automation concepts and products with newer ones. Many companies have started the business with very labor intensive (but flexible) processes to check out the customer's expectations and acceptance. As the business model matures and the order numbers rise, automation can provide exceptional ROIs.
The main barrier is determining whether or not order volumes are stable and high enough to justify the investment. Even bigger players like Amazon are struggling to answer this question.
How can facilities optimize design and operations for ultimate flexibility and scalability?
The first requirement is a fast and easy individual picking solution for the different areas. The number of areas for products that need special attention is increasing. With these rising numbers, the key challenge is going to be administering a smart and highly automated way to consolidate the orders from the various areas at the shipping dock. This means not only different temperature zones but also special products like, misted or tropical.
What about supporting the cold chain? Or multi-temp zones?
Automation is an extremely important factor in facility design when it comes to the cold chain and multi temp zones because it allows items to be quickly traced, as well as handled faster than in manual operations. This limits the exposure time to warmer temperatures which is critical when dealing with perishable foods and beverages.
Randy Jennings
Director of Food and Beverage Sales
Swisslog Logistics
What is the impact of omnichannel and e-commerce on the food and beverage warehouse or distribution center?
Food and beverage distribution and ecommerce fulfillment are two distinct segments of the market with different business models and warehouse requirements. Food and beverage distribution is more focused on maintaining inventory while e-commerce is focused on moving product as quickly as possible. As a result, food and beverage distribution processes are optimized for pallet handling—they operate most efficiently when they can distribute full pallets of the same product—while ecommerce operations are optimized for case picking.
The growth of omnichannel and ecommerce fulfillment, along with the proliferation of SKUs in many product categories, is forcing some food and beverage distributors to deliver more layered and rainbow pallets, which requires case picking. These value-added services can be addressed in a limited manner through automation, but typically require additional personnel, which adds to costs. So, while ecommerce fulfillment centers are aggressively implementing automation that allows them to increase pick efficiency and throughput, food and beverage distribution centers have fewer options to cost-effectively automate case picking. As the industry continues to evolve, new case picking automation solutions will emerge that allow distributors to more efficiently deliver value-added services, but for now distributors are forced to either pass increased costs onto their customers or find other ways to improve efficiency in their operations.
What labor and workforce issues are you seeing among distributors in the food and beverage industry?
The labor challenge facing the industry is real and well documented. The drug testing provisions of the FSMA could intensify the challenge of attracting and retailing workers. However, there is another trend in the industry that has not gotten as much attention: On the management level, the generation of decision makers who were skeptical of technology are aging out of the workforce. They are being replaced by a new generation of managers that are much more comfortable with technology and are seeking out automation to address labor force and other challenges.
Increasingly warehouse management recognizes that there is technology out there that can improve conditions in the workplace and are necessary to stay competitive. There is not only a declining resistance to automation but also a genuine willingness to explore ways to use automation to improve operations. This represents a major shift in the market.
The result is increased demand for solutions that get the most out of the current workforce while also minimizing the tasks that can make warehouse work particularly demanding. One example is temperature-controlled storage. With cold-storage temperatures regulated at minus 20 degrees Fahrenheit, cold storage operators are deploying ASRS that eliminate the need for personnel to spend time in extremely cold environments. This has benefits to the business in terms of efficiency and costs, but also protects workers from harsh cold storage environments.
What's new in ASRS systems?
The trend in ASRS is toward more dynamic systems. This applies to light goods and pallet-based systems. We are seeing increased demand for fully automated solutions from automated storage to mixed case orders dispatch.
What are the barriers to investing in warehouse automation? Conversely, what's the ROI?
The barriers that limited deployment of automation are being overcome by the combination of new approaches and a new attitude by management that recognizes the value automation can deliver to the business. The people rising to management positions today are being more aggressive in finding ways to overcome previous obstacles, including the longer ROIs that were difficult to justify. In particular, we are seeing more warehouses adopt a hybrid or semi-automated approach in which automation is deployed to support average throughputs with manual processes being used to handle peak demands. This minimizes initial investment and accelerates ROI.
A similar approach is gaining traction in beverage distribution, which has been especially hard hit by SKU proliferation. In this approach, fast- and slow-moving SKUs are stored in separate zones. Picking of fast-moving SKUs is supported by limited automation while slower-moving SKUs, because they are consolidated, can be efficiently picked manually.
A third factor is the challenge third-party logistics providers (3PLs) face in deploying automation. They typically work on limited contracts, which can make it difficult to justify long-term investments in automation. However, with automation now recognized as essential to efficient warehouse management, we have seen some manufacturers enter into much longer-term contracts with their supply chain partners to enable those partners to make investments in automation with limited risk.
How can facilities optimize design and operations for ultimate flexibility and scalability?
The first step is to gain an understanding of facility requirements down to the SKU level. How does demand vary by time of day and season? What SKUs move fastest and what SKUs move slowest? In addition, it's important to understand, as much as possible, what future requirements might be. This analysis can provide the foundation for a smart approach to automation that minimizes risk and investment through a modular approach that focuses automation where it can deliver the most value.
Another aspect of this is business intelligence. Warehouse management systems can now provide visibility into operations through standardized data aggregations and appropriate visualization, allowing managers to proactively plan strategies to flex their operations with changes in demand.
The combination of careful planning, focused use of automation and ongoing visibility into operations provide food and beverage distributors the tools to optimize design and operations for ultimate flexibility and scalability.
What about supporting the cold chain? Or multi-temp zones?
Cold-chain distribution is a distinct segment of the food and beverage industry with unique requirements. As mentioned previously, automation has an additional benefit in these applications by protecting workers from harsh environments. Automated storage and retrieval in temperature-controlled facilities keeps forklift drivers from having to enter sub-zero storage areas while still maintaining full compliance with cold-chain storage regulations.
C. Neuwirth
Vice President of Marketing and Sales
www.unex.com
What is the impact of omnichannel and e-commerce on the food and beverage warehouse or distribution center?
According to the National Beer Wholesalers Association (NBWA), in 1996 the average beer distributor carried 190 unique SKUs from an average of nine different beer suppliers. By 2011, that number had ballooned to 536 SKUs from 18 different beer suppliers. Most estimates place the average SKUs today in the thousands. SKU proliferation has had a widespread impact on warehouse operations and is leaving beer wholesalers asking what can be done to accommodate this tenfold increase in SKUs. There is the opportunity for increased revenue derived from a larger product offering, but that comes with the challenge of being able to store these products efficiently in a warehouse that was originally designed to house 190 SKUs.
Storing kegs in and of itself is not easy. The awkward shape, combined with the weight of the kegs has made storing and flowing kegs a long-standing issue in the world of beer wholesaling. The UNEX Keg-Flow Span Track addresses the flowing challenges that many wholesalers are familiar with, but it also saves wholesalers valuable space as an alternative to palletized storage. A 1/6 keg can be stored in much the same manner as you would store cases on flow rack. Keg flow helps consolidate floor space and improve stock rotation with first in, first out (FIFO) storage. When you pull a keg out for distribution, there is another one that slides in right behind it. And because each lane is labeled, it minimizes the chance of a mispick and reduces overall operating cost by reducing incorrect orders.
What labor and workforce issues are you seeing among distributors in the food and beverage industry?
In the DC, workplace injuries aren't just detrimental to employee health and safety; they can also have a significant impact on productivity. With workers sidelined and unable to work, companies face serious productivity losses--not to mention costly worker compensation insurance premiums. In addition to serious injuries, such as falls, slips, and trips, warehouse workers run the risk of developing musculoskeletal disorders (MSDs), including muscle strains, lower back injuries, carpal tunnel syndrome, tendinitis, and more. U.S. Bureau of Labor Statistics data, in fact, shows MSDs are twice as common in the warehousing and distribution sector as they are in other private-sector industries.
Here are a handful of actionable tips for DCs to drive productivity gains with ergonomics:
Review worker tasks for risk factors (awkward/static postures, repetitive/quick motions, excessive force, compression or contact stress, etc.).
Control risk factors with ergonomic solutions (adjustable height workstations, anti-fatigue mats, lifts or hoists to reduce awkward positions, etc.).
Understand how to make the workplace work ergonomically (issues frequently encountered include work surfaces that are the wrong size or at the wrong height, uncomfortable chairs, shelves and bins that are too high or out of reach, and awkward hand tools).
Continually monitor workflow and make ergonomic improvements as necessary.
Aside from making ergonomic adjustments to workstations while workers are standing in place, it's also critical to factor in how much a worker needs to move around the warehouse in order to perform industrial tasks.
In a distribution or warehousing operation, the most common working concept is "person-to-goods" order picking, which means that order pickers move to storage locations, often pushing or pulling carts and reading orders off paper. These pickers spend significant amounts of time (up to 60 percent) walking between storage, so reducing that time-spend is an excellent idea. Automated solutions (automated storage and retrieval, robotic picking systems, etc.) and manual systems (carton and gravity flow systems, pallet flow systems, etc.) can help to make accuracy and productivity improvements in these cases.
What are the barriers to investing in warehouse automation? Conversely, what's the ROI?
There are many mom-and-pop warehouses today and often, cost is a huge barrier for automation for them. They can get by without automation by using gravity-flow conveyors that move products from place to place within the warehouse. However, many variables effect the efficiency of a carton flow solution: load characteristics, operating conditions, and many other factors play a part in designing the proper conveyor solution for your specific operation.
First, let's tackle load characteristics. The size, weight and conveying surface are all variables that must be considered. Firm, flat bottoms are recommended for use with skatewheel. If your cartons are susceptible to imprinting, you may want to look into roller options, or increase the amount of wheels per axle in your conveyor. Some items will not carry at all on skatewheel, such as containers with ring-banded bases, pails, drums with chines and most bagged items. Skatewheel performs best when flowing cartons or totes with solid, uniform surfaces.
Operating conditions are another major factor. Gravity conveyors work best in clean and dry indoor applications. Humid conditions will affect your cardboard cartons, so if you're looking to outfit your facility in Orlando, an increase in the amount of wheels per axle may be required. Some skatewheels have bearings that are lightly lubricated and are effective in environments as cold as minus 20 degrees F.
Load capacity will change based on which selection you make. Steel is a great option for permanent conveyor lines that require a tough, durable frame. Aluminum works best when flowing lighter product, and allows for more portability due to its light weight. Load capacity also will be impacted by the distance between supports. For example, a steel frame supported every five feet has more than three times the load capacity than a steel frame supported every 10 feet.
How can facilities optimize design and operations for ultimate flexibility and scalability?
Using a dynamic storage unit, such as the UNEX Flow Cells increase space utilization by 50 percent and pick rates by up to 30 percent. Flow Cell units decrease reach distance while simultaneously increasing pick access, shaving valuable seconds off of the order picking process. Flow Cell's first in, first out design allows the unit to be replenished without interfering with the order picker's work. The return lanes allow for the order picker to dispose of or move totes and cartons without stepping away from their work stations.
What about supporting the cold chain? Or multi-temp zones?
Adding a new freezer or cooler space for grocery distribution operations is expensive so if you can optimize storage within your existing space more efficiently, you can pick faster and hold more product in the same amount of space.