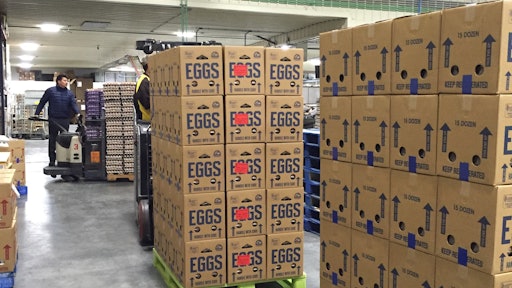 While the Food Safety Modernization Act (FSMA) has focused much attention on sanitation and traceability in the food supply chain, when it comes to pallets, these are only some of the concerns facing today's food supply chain decision makers.
The FSMA requires that transportation equipment be adequately cleanable for intended use to prevent food from becoming contaminated. The law's recordkeeping requirements are also expected to encourage pallet users to ask suppliers to provide more information about their manufacturing and delivery processes.
Beyond legal requirements, food and beverage (f&b) companies are looking to validate safety and quality assurance programs in their supply chains. Hence, companies are requiring pallet suppliers to verify that they have safety and quality control systems in place.
The SKU explosion is also having an impact on pallets since f&b manufacturers are introducing a larger variety of products that have different packaging and handling needs. Pallet suppliers say f&b products sometimes require customized pallets.
The growth of automation in food manufacturing and distribution has also impacted pallet configurations in some situations.
Quality control requirements
For wood pallets, the dominant material, food processors are increasingly concerned that incoming lumber is stored in a covered storage environment, and that finished pallets are covered when not in use, says Rick LeBlanc, a pallet industry consultant based in Vancouver, British Columbia, Canada.
"For direct food contact, there will be sanitation and swabbing protocols to assure safety and the monitoring history," LeBlanc says. "For secondary or tertiary usage, pallets should still undergo ongoing visual inspection to confirm pallets are clean and dry, (with) no protruding nails or slivers, etc. This should be a documented part of employee training and supervisory oversight."
Ralph Rupert, manager of unit load technology at Millwood Inc., a Vienna, Ohio-based provider of pallets, unit load and material handling systems, says customization of pallets is growing in the food industry as product manufacturers handle a wider array of ingredients. Rupert, who served on the faculty at the Center for Packaging And Unit Load Design at Virginia Tech in Blacksburg, Va., says standard 48-by-40-inch pallets are common among retailers, but manufacturers are increasingly opting for customized solutions.
A large sack of powdered material can be better supported by a 36-square-inch pallet, for example.
Rupert says one food manufacturer was using different pallet designs in eight separate manufacturing facilities. "Each plant had developed their own pallet construction for that same product," he says.
Customization is especially needed in food ingredient manufacturing facilities.
Automation drives customization
Another factor driving customization is automation, which is increasing in food manufacturing facilities. Rupert says manufacturing environments often have tighter tolerances on account of automation.
Mark White, who operates the White & Company consultancy, based in Blacksburg, Va., agrees with Rupert, saying that automation and robotics in the food industry will have as much impact on pallet design as sanitation. Pallet design will have to accommodate automated processes in manufacturing and distribution. Exactly how pallet design will change is not clear. "Automation is going to require a change of pallets and packaging," he says.
Rupert agrees with LeBlanc that food safety rules are causing pallet users to ask for more documentation about pallet suppliers. "The pallet industry is starting to come around to that documentation," he said.
Safety concerns weigh heavily
Safety is also high on everyone's agenda.
Irvington, N.Y.-based PECO Pallet Inc., a provider of wood pallet pooling services, became the first pallet company in North America to be certified by the Arlington, Va.-based Safe Quality Food Institute (SQFI) for Level 2 Hazard Analysis Critical Control Points (HACCP)-based food safety plans. SQF certification is part of the Global Food Safety Initiative (GFSI). To qualify for the SQF Certification for Level 2 Food Safety, PECO Pallet had to demonstrate that it meets certified requirements to identify hazards and minimize food safety risks in its environment and products. Seventeen different supporting programs and procedures evaluated PECO Pallet, ranging from sanitation and chemical controls to personnel training and transportation programs. The audit found HACCP quality systems and controls me or exceeded FDA food safety requirements.
The plastic-versus-wood debate continues with regard to both sanitation and sustainability.
"Research is all over the map," says LeBlanc with regard to the wood versus plastic sanitation debate.
Most observers recognize that food products are designed so that the pallet – regardless of its material – does not have direct contact with the food or interior packaging.
On the question of sustainability, plastic and wood are both recyclable.
Wood is sustainable
When wood pallets reach the end of their service life, they are ground into other products like mulch, animal bedding, or biofuel, says Brad Gething, Ph.D., director of science and technology integration at the National Wooden Pallet & Container Association, based in Alexandria, Va. "Virtually no material that remains within the industry loop reaches a landfill," he says.
Efficiency is also optimized from a material usage standpoint, as the pallet designer can use the Pallet Design System (PDS), an engineering design software program that analyzes pallet performance, including strength, stiffness and durability. PDS can design a pallet specifically for its intended use, so no material is wasted.
"Consequently, a pallet supplier or user can determine the predicted safe maximum working load of a pallet as well as an estimation of the pallet service life," Gething says. "With this information, pallets can be designed to move through the supply chain effectively, without failure, which ensures worker safety and maximizes operational efficiency."
Plastic has its advocates
Plastic pallets nonetheless do have their supporters.
Worley & McCullough Inc., a Monte Vista, Colo.-based grower/shipper that generates more than 1.5 million hundred-weight potato shipments to retailers throughout North America, recently converted from a wood pallet to plastic pallets from iGPS Logistics, based in Orlando, Fla. iGPS uses RFID technology to read barcodes on each pallet.
"As a company, we are committed to promoting health, sustainability, family and our collective future – and by transitioning to the iGPS plastic pallets, we can ensure that we not only have the sturdier plastic pallet to handle distribution of our Colorado potatoes, but also a safer and more environmentally friendly means of transporting them to our clients," says Erin Cooper, grower relations and food safety manager. "Given the safety and cleanliness of plastic pallets, along with the ability to track and trace deliveries throughout the distribution system, made it easy to adopt the iGPS plastic pallets as our mode of choice for shipping."
"Materials included in the manufacture of non-wood pallets, and their potential impact on food safety, are well understood," says Kaley Parkinson, director of applied technology sales at Pleasant Prairie, Wis.-based Rehrig Pacific Company. "And, generally speaking, by their very nature stay consistent from pallet to pallet. Now that we are truly seeing food fall into this category, we expect to see an increase in the demand for a more consistent transportation option."
Silveira Farms, a grower in Orland, Calif., that has a packing and shipping operation (Classic Yam Inc.) to serve supermarkets, continues to use wood pallets. Robert Silveira, owner and president, recognizes that plastic pallets are easier to clean and do not hold moisture. But so far, the company is only using plastic for containers.
Ryan Overcash, director of sales and marketing at Polymer Solutions International Inc., based in Newton Square, Pa., observes companies finding the best uses for both wood and plastic pallets in their supply chains. Companies rely on pooled and one-way pallets for outbound shipment since they cannot get the pallet back. For receiving raw materials, the same company will choose to switch from wood to plastic pallets upon entry to the plant due to the strict safety and cleanliness guidelines when product is entering the production areas.
Some companies find the investment in plastic pallets makes more sense in a system where the pallets are reused, Overcash says. There are pallet inverters specifically designed to replace wood pallets with plastic pallets for use in an environment where sanitation is a paramount concern.
In the past year, Overcash has noticed more companies are taking the extra measure of washing plastic pallets, which is a good sign. "We're seeing customers being a little more hands on with it," he says.
Smaller footprint venues rise
Beyond the questions of sanitation and sustainability, retailers are moving to smaller footprint stores and looking to make better use of their space – factors that could drive some new pallet designs, says White, the consultant. White and other observers note that the United States is following Europe's lead in moving to smaller stores.
CHEP USA, global provider of container and pallet pooling services based in Atlanta, Ga., has introduced its 40-by 24-inch "half pallet" to the U.S. market, says Jason Adlam, vice president of national sales. The half pallet, made of wood with metal brackets, offers merchandising opportunities to retailers and their product manufacturer suppliers. The half pallet makes sense in any heavily trafficked area.
The half pallet not only promotes brand visibility; it is easier to move so it reduces the amount of labor in the retail environment. "Reduction in labor is a key benefit to a retail environment," Adlam says. The product has already been used in Europe and Canada.
ORBIS Corporation, the Oconomowoc, Wis.-based plastic pallet manufacturer, recently introduced Pally, a wheeled pallet, to the U.S. market for smaller retail formats, says Andrea Nottestad, marketing manager for retail supply chain. The Pally offers the mobility of a dolly with the functionality of a static pallet. It can be wheeled through a front entrance. It can also move to different locations within a store.
The easy-to-move pallet makes sense in a store that is doing double duty as an omni-channel fulfillment center, Nottestad notes. It is also stackable.
"You can have it static to store product and also use it for transport unit loads," she says.
"It can eliminate the multiple touches in delivery that occurs," Nottestad says. "Fewer touches reduces product damage, reduces ergonomic issues and reduces the time significantly."
Pally addresses sanitation by being able to move easily so workers can clean work spaces and retail floors. It minimizes the dust and debris associated with alternative packaging.
White, the consultant, says the block style pallets are gradually replacing the stringer pallets in the food supply chain. He sees this as a tradeoff between cost (favoring the stringer pallet) and efficiency (favoring the block style). The block style pallets are easier to move and consume less space. He estimates about 60 percent of the pallets in the U.S. food sector are block style.
Technology solutions expand
Technology solutions for managing pallets are also growing.
Pallets and logistics services from Mississauga, Ontario-based Axios Mobile Assets Corp. support food shipments to more than 20 national chain DCs in the U.S. Midwest. The company is expanding its pooling operations into Northeast and Southeast states. Axios pallets will soon have a sensor to measure temperature, shock and vibration. The company manages its pallet pooling service using proprietary software.
"We're as much an IoT (Internet of Things) company as we are a pallet pooler," says Richard MacDonald, president and CEO.
The Axios solution reduces the risk of transmitting avian influenza and other serious contamination threats by sanitizing pallets after each use, says MacDonald. "The vendor gets a clean pallet every single time," he says.
"Our biosecurity attributes, plus the fact that we have the only pallet pooling solution to generate verified carbon credits (VM0020), is proving attractive to a wide range of participants within the cold and perishable foods supply chain," he adds.
Axios pallets are thermo set, which are lighter and more rigid than thermo form pallets, MacDonald says.
MacDonald further notes that his company's pallet sanitization process recently obtained certification under the SQF program.
SIDEBAR
Walmart Introduces Wood Grain RPCs To Its Produce Supply Chain
Walmart has recently begun introducing wood-grain reusable plastic containers (RPCs) for its wet and dry produce, initially including apples, potatoes, onions and citrus items. The company is switching from black RPCs, says Tony Mosco, North American vice president of sales at Polymer Logistics, based in Riverside, Calif., one of Walmart's RPC suppliers.
"Wood-grain RPCs are one of many changes we're making to improve our overall fresh produce customer experience," says Dorn Wenninger, vice president of produce for Walmart US.
Grimmway Farms, Bakersfield, Calif., Pure Hot House Foods Inc., Leamington, Ontario, Canada, and Calavo Growers Inc., Santa Paula, Calif., recently shipped the first truckloads of product in wood-grain RPCs this month. Classic Yam Inc. in Orland, Calif., is the first sweet potato grower to ship in wood grain containers.
"With the arrival of the new RPCs at Walmart stores, we expect a significant sales lift as shoppers feel like they are at a country produce stand and buy more," says Mosco.
Mosco says Walmart has an exclusive on the wood-grain RPCs for the time being, but other retailers have expressed interest.
IFCO Systems US LLC, based in Tampa, Fla., an RPC service provider, says Walmart likes merchandising with wood-grain RPCs. Dan Walsh, president of IFCO RPC North America, says IFCO tracks the shipments by load as opposed to individual units. "It's a one-touch solution that ensures the customers get a better quality product." he says.
SIDEBAR
…And Curtains!
Randall Manufacturing recently installed GREEN InsulWall® at Palmer Candy's main production, packaging and warehouse facility located in Sioux City, Iowa. The installation of GREEN InsulWall® has provided 18,700 square-feet of additional cooler space for its booming chocolate business; effective temperature and humidity control for temperature-sensitive chocolate; and improved flexibility to expand cooler areas for seasonality and future growth.
Gearing up for Valentine's Day while avoiding the dreaded chocolate 'bloom'
Valentine's Day, which is just around the corner, means big business for chocolate companies. In the U.S. alone, more than 58 million pounds of chocolate candy are sold during Valentine's week. That's $345 million in sales in just one week. This makes up more than 5 percent of chocolate candy sales for the year, according to Nielsen research.
Chocolate is very sensitive to fluctuations in temperature. When a whitish coating called a 'bloom' appears on chocolate's surface the perception is that the chocolate is not fresh or old, though it is completely safe to eat. The longer chocolate is stored and the higher the storage temperature, the more likely chocolate fat blooming will be observed.
"Chocolate products are notoriously tricky to store due to their temperature sensitivity. Here in the Midwest we also experience seasonal temperature fluctuations that impact our internal environment," said Marty Palmer, president and CEO of Palmer Candy. "GREEN InsulWall® has provided effective temperature and humidity control for our chocolate products to help avoid chocolate fat bloom and even melting, especially during one of our busiest seasons - Valentine's Day."
Future modularity and efficient space management
With the ability to be taken down and stored or expanded, GREEN InsulWall® provides flexibility and modularity not found in rigid panels or traditional dry wall solutions. GREEN InsulWall®'s five-foot-wide panels are constructed with recycled insulation encased in 18 ounce, durable vinyl, seamed together with industrial Velcro®. Its modular design allows facilities, like Palmer Candy, to configure and reconfigure temperature-controlled space easily, quickly, and cost-effectively.
"GREEN InsulWall's ease of installation, ease of expansion, and demonstrated ability to maintain set-point temperatures and humidity provides Palmer Candy with a flexible wall solution to meet needs today and tomorrow," notes Kristine Grudis, warehouse sales manager for Randall Manufacturing. "GREEN InsulWall® has been used in a wide variety of applications where temperature-control is paramount- chocolates, organic produce, pharmaceuticals, and packaging processes, etc."
For More Information:
Axios Mobile Assets Corp., axiosma.com
Center for Packaging And Unit Load Design, unitload.vt.edu/
CHEP, https://solutions.chep.com
IFCO Systems US, LLC, ifco.com
iGPS Logistics, igps.net
Millwood Inc., millwoodinc.com
National Wooden Pallet & Container Association, palletcentral.com
ORBIS Corporation, orbiscorporation.com
PECO Pallet, pecopallet.com
Polymer Logistics, polymerlogistics.com
Polymer Solutions International Inc., prostackcom
Rehrig Pacific Company, rehrigpacific.com
Safe Quality Food Institute, sqfi.com
White & Company, whiteandcompany.net